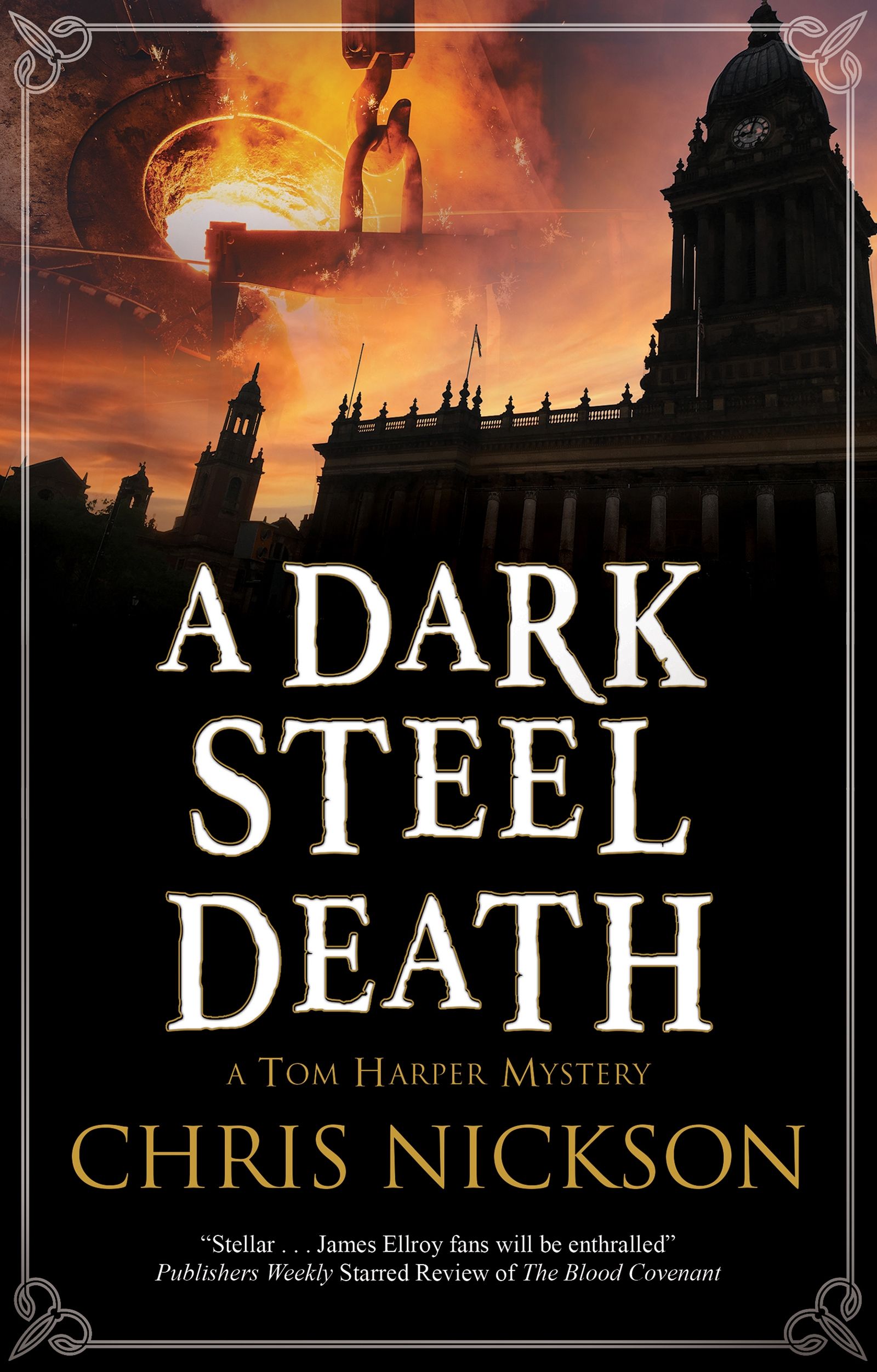 A Dark Steel Death
by Chris Nickson
Tom Harper must catch a traitor intent on disrupting the war effort and bringing terror to the streets of Leeds in this page-turning mystery.
Leeds. December, 1916. Deputy Chief Constable Tom Harper is called out in the middle of the night when a huge explosion rips through a munitions factory supplying war materials, leaving death and destruction in its wake. A month later, matches and paper to start a fire are found in an army clothing depot. It's a chilling discovery: there's a saboteur running loose on the streets of Leeds.
As so many give their lives in the trenches, Harper and his men are working harder than ever – and their investigation takes a dark twist with two shootings, at the local steelworks and a hospital. With his back against the wall and the war effort at stake, Harper can't afford to fail. But can he catch the traitor intent on bringing terror to Leeds?
Reviews
"Nickson does his usual superb job of evoking the period and . . . reinforces his place in the front rank of historical mystery authors"
Publishers Weekly Starred Review of A Dark Steel Death
"A gritty police procedural with well-drawn characters"
Kirkus Reviews
"Nickson does a superb job using the grim living and working conditions for the city's poor as a backdrop for a memorable and affecting plot. James Ellroy fans will be enthralled"
Publishers Weekly Starred Review of The Blood Covenant
"A realistic, well-written historical procedural that will draw fans of Charles Todd's Ian Rutledge mysteries"
Booklist on Brass Lives
"Solid . . . a convincing portrait of pre-WWI Leeds. Historical procedural fans will be pleased"
Publishers Weekly on Brass Lives
"Harper's ninth case is an excellent mystery buoyed by characters you care about"
Kirkus Reviews on Brass Lives
"Superior . . . Even minor characters are fully fleshed out in this trip down the mean streets of early 20th-century Leeds. Nickson's consistent high quality across multiple series continues to impress"
Publishers Weekly Starred Review of The Molten City
Editions
A Dark Steel Death by Chris Nickson is available in the following formats
| | | | | | |
| --- | --- | --- | --- | --- | --- |
| Hardback | 9780727850478 | 6th September 2022 | 147 X 222mm | 224 | $29.99 |
| Hardback | 9780727850478 | 6th September 2022 | 150 X 228mm | 224 | £20.99 |
| Hardback | 9780727850478 | 6th September 2022 | 145 X 222mm | 224 | $29.99 |
| Hardback | 9780727850478 | 6th September 2022 | 145 X 222mm | 224 | £20.99 |
| Ebook | 9781448307623 | 6th September 2022 | N/A | 224 | $24.99 |
| Ebook | 9781448307623 | 6th September 2022 | N/A | 224 | £20.99 |
| Format | ISBN | Publication Date | Dimensions | Pages | Price |
The Tom Harper Mystery Series