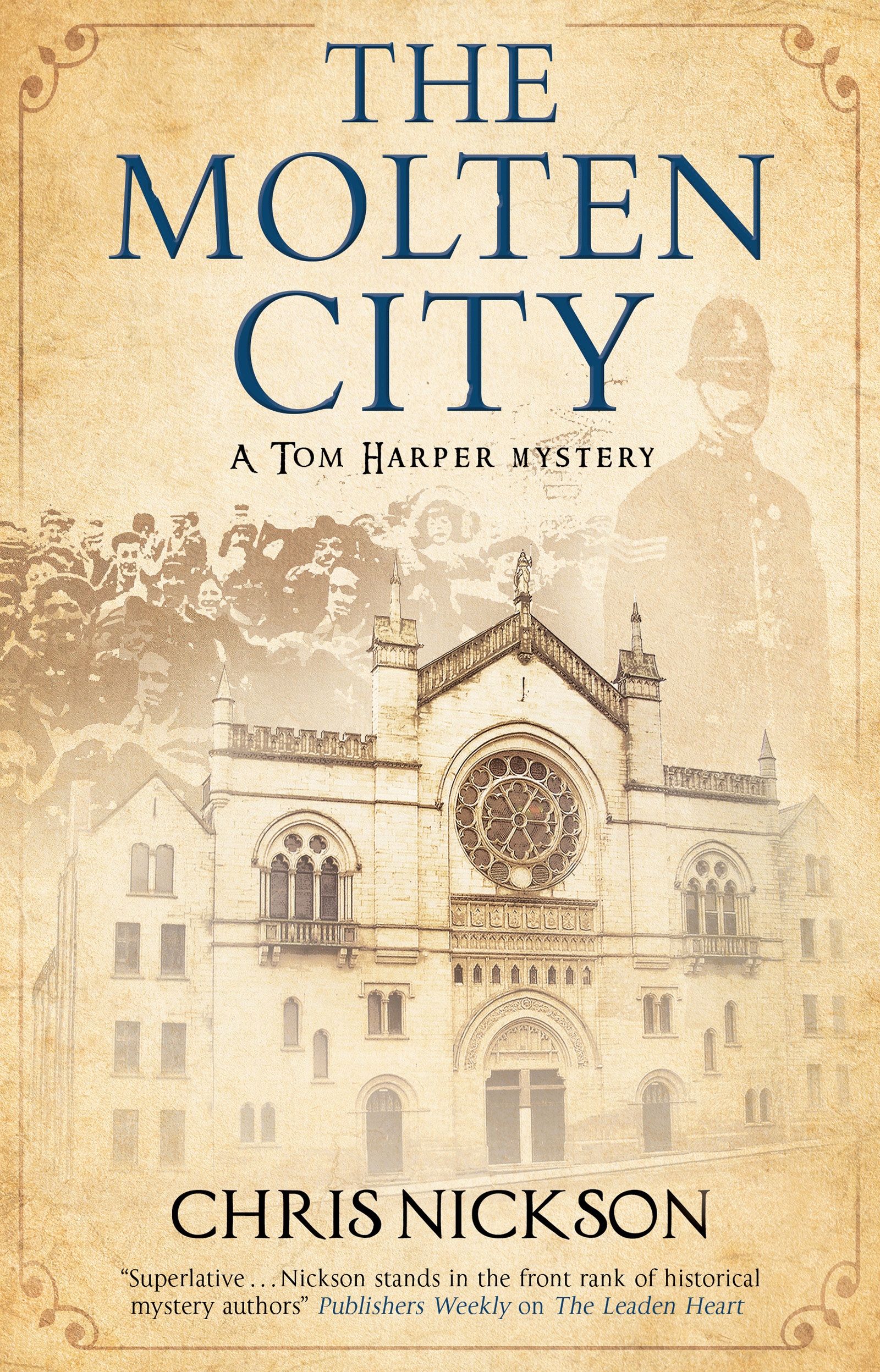 The Molten City
by Chris Nickson
"Superior … Even minor characters are fully fleshed out in this trip down the mean streets of early 20th-century Leeds. Nickson's consistent high quality across multiple series continues to impress" – Publishers Weekly Starred Review

Detective Superintendent Tom Harper senses trouble ahead when the prime minister plans a visit. Can he keep law and order on the streets while also uncovering the truth behind a missing child?
Leeds, September 1908. There's going to be a riot. Detective Superintendent Tom Harper can feel it. Herbert Asquith, the prime minster, is due to speak in the city. The suffragettes and the unemployed men will be out in the streets in protest. It's Harper's responsibility to keep order. Can he do it?
Harper has also received an anonymous letter claiming that a young boy called Andrew Sharp was stolen from his family fourteen years before. The file is worryingly thin. It ought to have been bulging. A missing child should have been headline news. Why was Andrew's disappearance ignored?
Determined to uncover the truth about Andrew Sharp and bring the boy some justice, Harper is drawn deep into the dark underworld of child-snatching, corruption and murder as Leeds becomes a molten, rioting city.
Reviews
"Superior … Even minor characters are fully fleshed out in this trip down the mean streets of early 20th-century Leeds. Nickson's consistent high quality across multiple series continues to impress"
Publishers Weekly Starred Review
"Offers authentic period ambience, engaging characters, and a realistic look at the challenges of policing without high technology … A good read in this reliably entertaining series"
Booklist
"Social commentary and period detail enhance a solid, thoughtful procedural"
Kirkus Reviews
"Superlative . . . Nickson stands in the front rank of historical mystery authors"
Publishers Weekly Starred Review of The Leaden Heart
"Nickson's latest and perhaps finest is a breathless race for the truth from start to finish"
Kirkus Reviews Starred Review of The Leaden Heart
"A tense, well-crafted police procedural with authentic period ambience, a clever plot, and an engaging husband-and-wife duo"
Booklist on The Tin God
"An excellent character-driven procedural. Nickson uses the historical battle for women's rights to expose the prejudice and misogyny that still persist today"
Kirkus Reviews on The Tin God
Editions
The Molten City by Chris Nickson is available in the following formats
| | | | | | |
| --- | --- | --- | --- | --- | --- |
| Hardback | 9780727889768 | 7th July 2020 | 147 X 223mm | 224 | $28.99 |
| Hardback | 9780727889768 | 31st March 2020 | 147 X 223mm | 224 | £20.99 |
| Ebook | 9781448304226 | 1st May 2020 | N/A | 224 | $10.99 |
| Ebook | 9781448304226 | 1st May 2020 | N/A | 224 | £7.99 |
| Hardback - Large Print | 9781448307012 | 24th February 2022 | 145 X 225mm | 336 | $36.95 |
| Hardback - Large Print | 9781448307012 | 30th December 2021 | 145 X 225mm | 336 | £22.99 |
| Paperback | 9781780296975 | 30th November 2021 | 138 X 215mm | 224 | $17.95 |
| Paperback | 9781780296975 | 30th September 2021 | 138 X 215mm | 224 | £12.99 |
| Format | ISBN | Publication Date | Dimensions | Pages | Price |
The Tom Harper Mystery Series