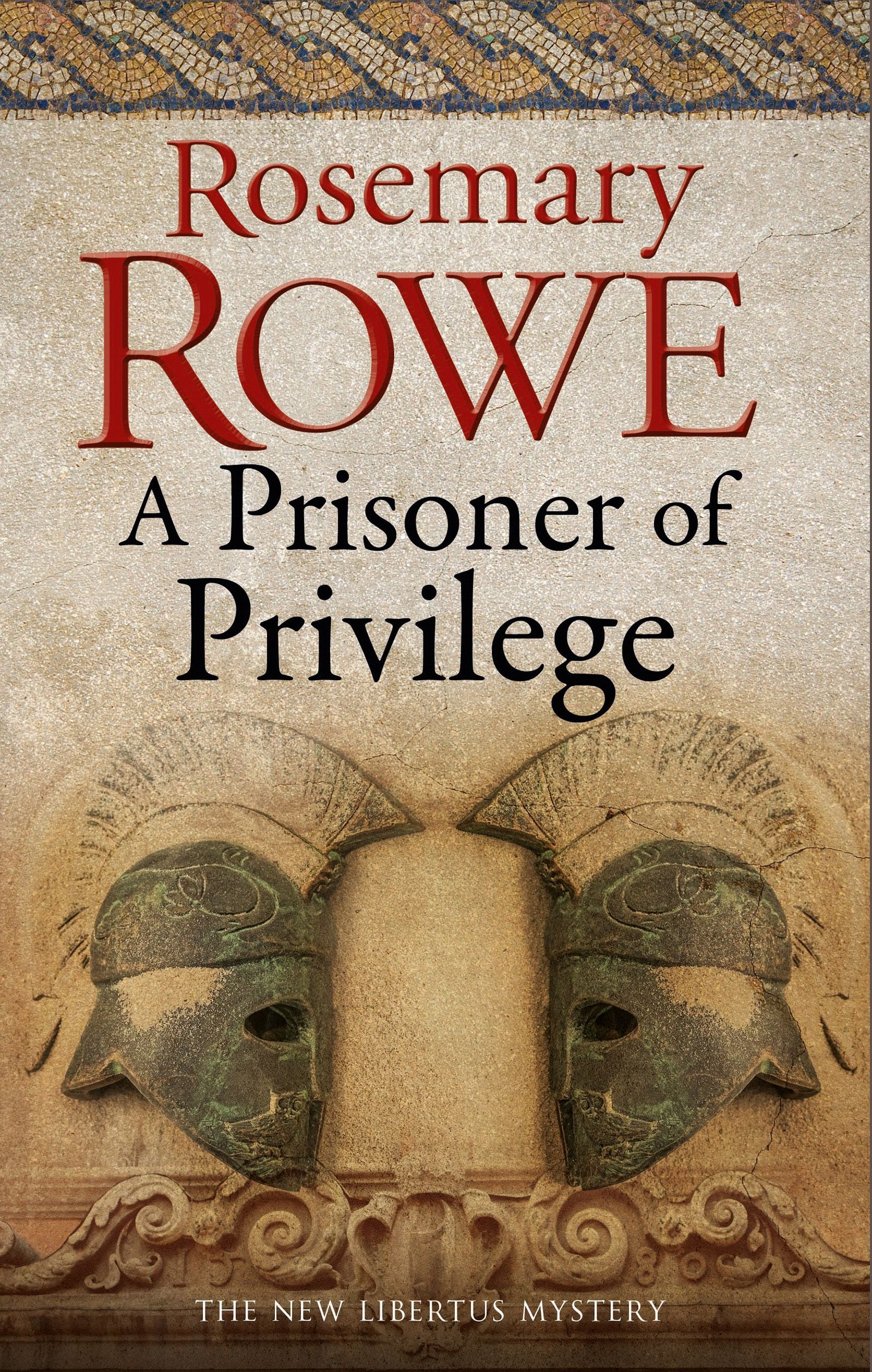 A Prisoner of Privilege
by Rosemary Rowe
"Rowe's 18th series whodunit surpasses her own high standard … Rowe's series remains a welcome complement to Ruth Downie's Medicus mysteries, which provide a different perspective on Roman Britain" – Publishers Weekly Starred Review

The arrival of a high-ranking spy for the Emperor Severus spells trouble for Libertus in this gripping historical mystery set in 2nd century Britain.
On a misty day in February, CE 194, Libertus, pavement maker by trade and now reluctant councillor, is summoned to meet his patron at the local public baths. Marcus Septimus is concerned because a distant cousin from Rome has announced his impending arrival and Marcus is convinced he is a spy for the Emperor Severus, despatched to Glevum to investigate reports of an 'act of treason.'
Meanwhile, Libertus has concerns of his own. The local money-lender has been seeking his counsel, but before they can meet, a violent and untimely death occurs … and before long Libertus finds himself a prisoner of his new-found rank, fighting for the truth amidst accusations of treason and murder.
Reviews
"Rowe's 18th series whodunit surpasses her own high standard … Rowe's series remains a welcome complement to Ruth Downie's Medicus mysteries, which provide a different perspective on Roman Britain"
Publishers Weekly Starred Review
"A gripping adventure … Meticulously researched historical details, well-drawn characters, and a clever plot that will keep even the most seasoned reader guessing"
Booklist
"Rowe has used the turmoil of this period within the Roman Empire, and particularly its impact in Britannia, to craft the plot skillfully ... the events feel realistic, and the superb dialogue and descriptions make us feel as if we are among the characters living in Roman Britain. Highly recommended"
Historical Novel Society
Editions
A Prisoner of Privilege by Rosemary Rowe is available in the following formats
| | | | | | |
| --- | --- | --- | --- | --- | --- |
| Hardback | 9780727888907 | 1st September 2019 | 148 X 223mm | 240 | $28.99 |
| Hardback | 9780727888907 | 31st May 2019 | 148 X 223mm | 240 | £20.99 |
| Hardback | 9780727888907 | 1st September 2019 | 148 X 223mm | 240 | $28.99 |
| Hardback | 9780727888907 | 31st May 2019 | 148 X 223mm | 240 | £20.99 |
| Ebook | 9781448302307 | 1st July 2019 | N/A | 240 | $16.99 |
| Ebook | 9781448302307 | 1st July 2019 | N/A | 240 | £11.99 |
| Ebook | 9781448302307 | 1st July 2019 | N/A | 240 | $10.99 |
| Ebook | 9781448302307 | 1st July 2019 | N/A | 240 | £7.99 |
| Hardback - Large Print | 9780727892430 | 31st March 2020 | 145 X 222mm | 320 | $36.95 |
| Hardback - Large Print | 9780727892430 | 31st January 2020 | 145 X 222mm | 320 | £22.99 |
| Hardback - Large Print | 9780727892430 | 31st March 2020 | 145 X 222mm | 320 | $36.95 |
| Hardback - Large Print | 9780727892430 | 31st January 2020 | 145 X 222mm | 320 | £22.99 |
| Paperback | 9781780296135 | 7th April 2020 | 140 X 215mm | 240 | $17.95 |
| Paperback | 9781780296135 | 31st January 2020 | 140 X 215mm | 240 | £12.99 |
| Paperback | 9781780296135 | 7th April 2020 | 140 X 215mm | 240 | $17.95 |
| Paperback | 9781780296135 | 31st January 2020 | 140 X 215mm | 240 | £12.99 |
| Format | ISBN | Publication Date | Dimensions | Pages | Price |
The Libertus Mystery of Roman Britain Series