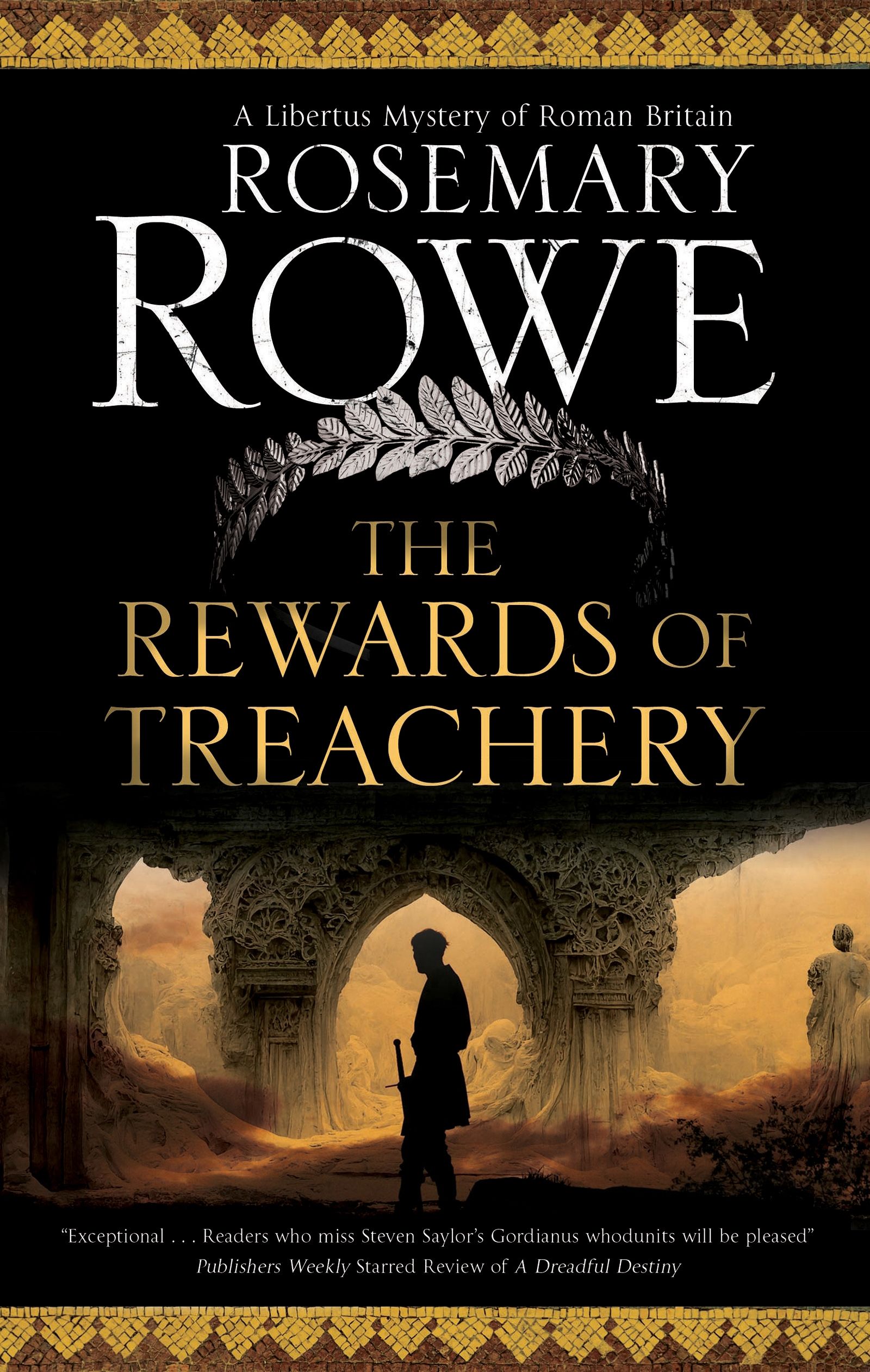 The Rewards of Treachery
by Rosemary Rowe
A stolen valuable is just the beginning of a trail of strange events Junio has to uncover in this skilfully plotted historical mystery set in 2nd century Britain.
Late summer, CE 198. With Glevum an uneasy place since the current Emperor seized power, and with rebel Celts still actively opposing Roman rule, tension remains as Caesar turns his attention to stamping out all remaining threats to his authority.
Junio, Libertus's adopted son, tries to be inconspicuous and focus on his workshop and growing family. This becomes difficult when Libertus's patron, Marcus Septimus, seeks Junio's advice about a valuable cloak-clasp which has disappeared – together with the jeweller who was repairing it.
Unwillingly dragged into investigating this, Junio finds himself faced with a string of murders, betrayal and revenge, and his own small son in dreadful jeopardy! What secret was the missing jeweller hiding? What danger lurks in the ill-omened cave? And what part does the mysterious Celtic visitor who suddenly appears play in this tale of treachery?
Reviews
"Brilliant . . . A mastery of period detail matches the engrossing plot"
Publishers Weekly Starred Review
"[Rowe's] larger-than-life characters combine with a gripping plot to make this a fine choice for historical mystery fans"
Booklist
"Ancient rituals, Roman politics, and brutal murders combine in a fascinating mystery"
Kirkus Reviews
"Perhaps the finest installment yet in Rowe's excellent historical-mystery series, A Dreadful Destiny boasts colorful characters, rich historical detail, taut suspense, and a deeply moving conclusion"
Booklist Starred Review of A Dreadful Destiny
"Exceptional ... Rowe's mastery of the period enable her to provide a vivid backdrop, and the riveting plot delivers more than one emotional gut punch. Readers who miss Steven Saylor's Gordianus whodunits will be pleased"
Publishers Weekly Starred Review of A Dreadful Destiny
"This installment in Rowe's long-running series produces a major surprise that promises an interesting future for her hero"
Kirkus Reviews on A Dreadful Destiny
"Surpasses her own high standard … a welcome complement to Ruth Downie's Medicus mysteries"
Publishers Weekly Starred Review of A Prisoner of Privilege
"Meticulously researched historical details, well-drawn characters, and a clever plot, will keep even the most seasoned reader guessing"
Booklist on A Prisoner of Privilege
"Superb ... Rowe perfectly balances character and plot"
Publishers Weekly Starred Review of The Price of Freedom
"Fine period detail, nicely rounded characters, light humor, and a clever plot make for an excellent read"
Booklist on The Price of Freedom
Editions
The Rewards of Treachery by Rosemary Rowe is available in the following formats
| | | | | | |
| --- | --- | --- | --- | --- | --- |
| Hardback | 9781448308330 | 4th April 2023 | 147 X 224mm | 240 | $31.99 |
| Hardback | 9781448308330 | 4th April 2023 | 147 X 224mm | 240 | £21.99 |
| Ebook | 9781448310401 | 4th April 2023 | N/A | 240 | $14.99 |
| Ebook | 9781448310401 | 4th April 2023 | N/A | 240 | £12.99 |
| Paperback | 9781448310555 | 26th December 2023 | 138 X 216mm | 240 | $18.99 |
| Paperback | 9781448310555 | 26th October 2023 | 138 X 216mm | 240 | £13.99 |
| Format | ISBN | Publication Date | Dimensions | Pages | Price |
The Libertus Mystery of Roman Britain Series