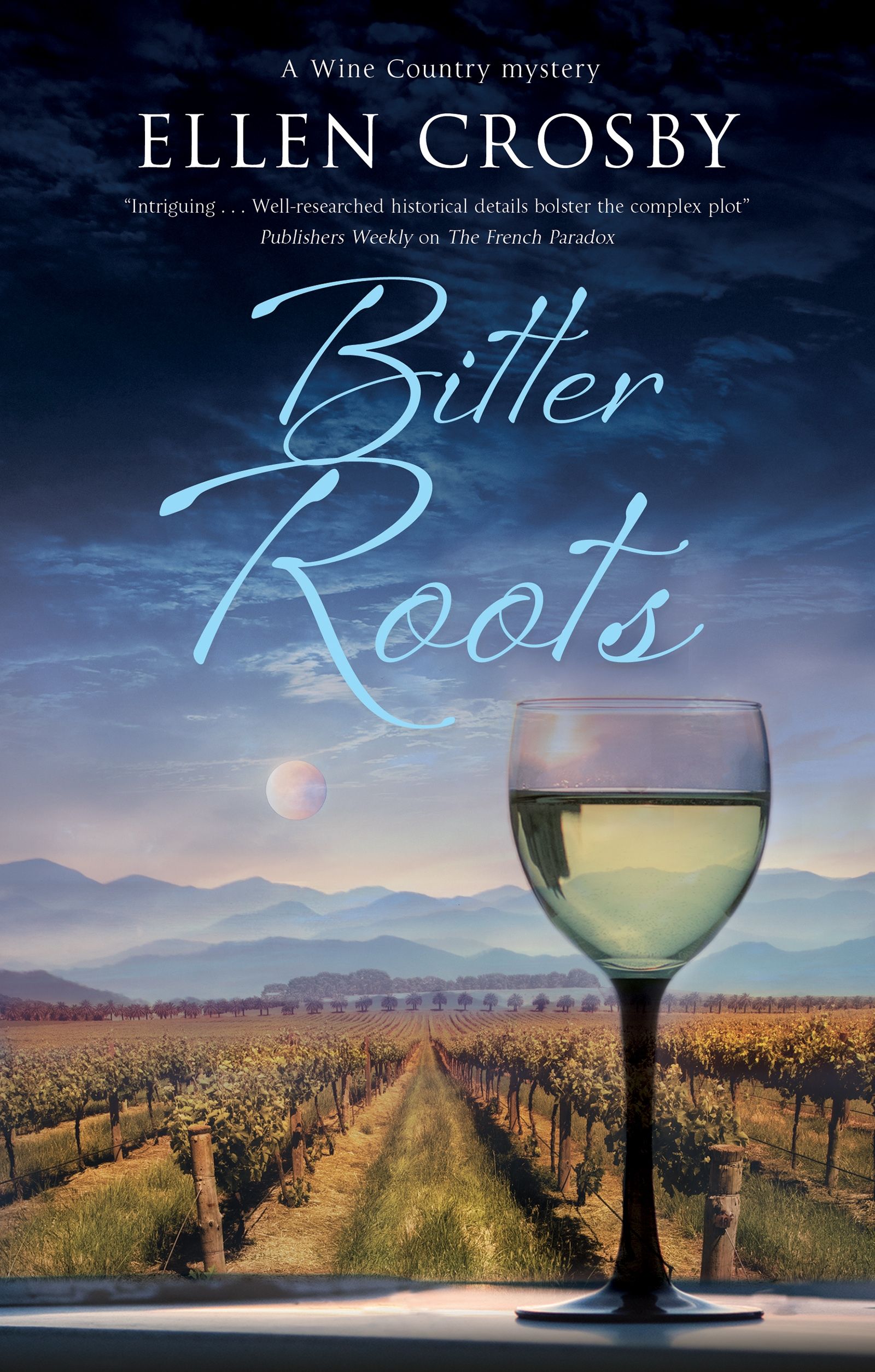 Bitter Roots
by Ellen Crosby
The brutal murder of a beautiful vineyard expert and a devastating storm force Virginia winemaker Lucie Montgomery to confront painful changes on the eve of her wedding.
In just over a week vineyard owner Lucie Montgomery and winemaker Quinn Santori will be married in a ceremony overlooking what should be acres of lush flowering grapevines. Instead they are confronted by an ugly swathe of slowly dying vines and a nursery owner who denies responsibility for selling the diseased plants. With neighboring vineyards facing the same problem, accusations fly and the ugly stand-off between supplier and growers looks set to escalate into open warfare.
When Eve Kerr, a stunning blonde who works at the nursery, is found dead a few days later, everyone wonders if someone in the winemaking community went too far. What especially troubles Lucie is why Eve secretly arranged to meet Quinn on the day she was murdered – and whether Lucie's soon-to-be husband knows something he's not telling her.
Then a catastrophic storm blows through, destroying everything in its path. With no power, no phones, and no wedding venue, Lucie needs to find out who killed Eve and what her death had to do with Quinn.
Reviews
"Crosby scores another compulsively readable vino-themed mystery"
Publishers Weekly
"A treat for oenophile mystery fans"
Booklist
"Crosby's reliable character-driven series once more offers a good mystery and relevant social commentary"
Kirkus Reviews
"Intriguing ... Well-researched historical details bolster the complex plot"
Publishers Weekly on The French Paradox
"The lifestyles of the rich and famous dovetail neatly with art history in Crosby's newest character-driven mystery"
Kirkus Reviews on The French Paradox
"Wine lore and mystery, both historical and modern, combine in an enthralling read "
Kirkus Reviews on The Angels' Share
"Crisp and elegant ... The disparate plot threads come together in an exciting and satisfying conclusion. Crosby knows how to keep the reader guessing"
Publishers Weekly on The Angels' Share
"Entwined with fascinating facts about wine and winemaking, this satisfying addition to the series will please oenophiles"
Booklist on The Angels' Share
Editions
Bitter Roots by Ellen Crosby is available in the following formats
| | | | | | |
| --- | --- | --- | --- | --- | --- |
| Hardback | 9780727891020 | 5th April 2022 | 145 X 223mm | 240 | $28.99 |
| Hardback | 9780727891020 | 27th January 2022 | 145 X 223mm | 240 | £21.99 |
| Ebook | 9781448308064 | 1st March 2022 | N/A | 240 | $14.99 |
| Ebook | 9781448308064 | 1st March 2022 | N/A | 240 | £12.99 |
| Hardback - Large Print | 9781448309443 | 31st January 2023 | 142 X 220mm | 336 | $36.95 |
| Hardback - Large Print | 9781448309443 | 24th November 2022 | 142 X 220mm | 336 | £22.99 |
| Paperback | 9781448308071 | 29th November 2022 | 135 X 215mm | 240 | $17.95 |
| Paperback | 9781448308071 | 29th September 2022 | 135 X 215mm | 240 | £12.99 |
| Format | ISBN | Publication Date | Dimensions | Pages | Price |
The Wine Country mystery Series