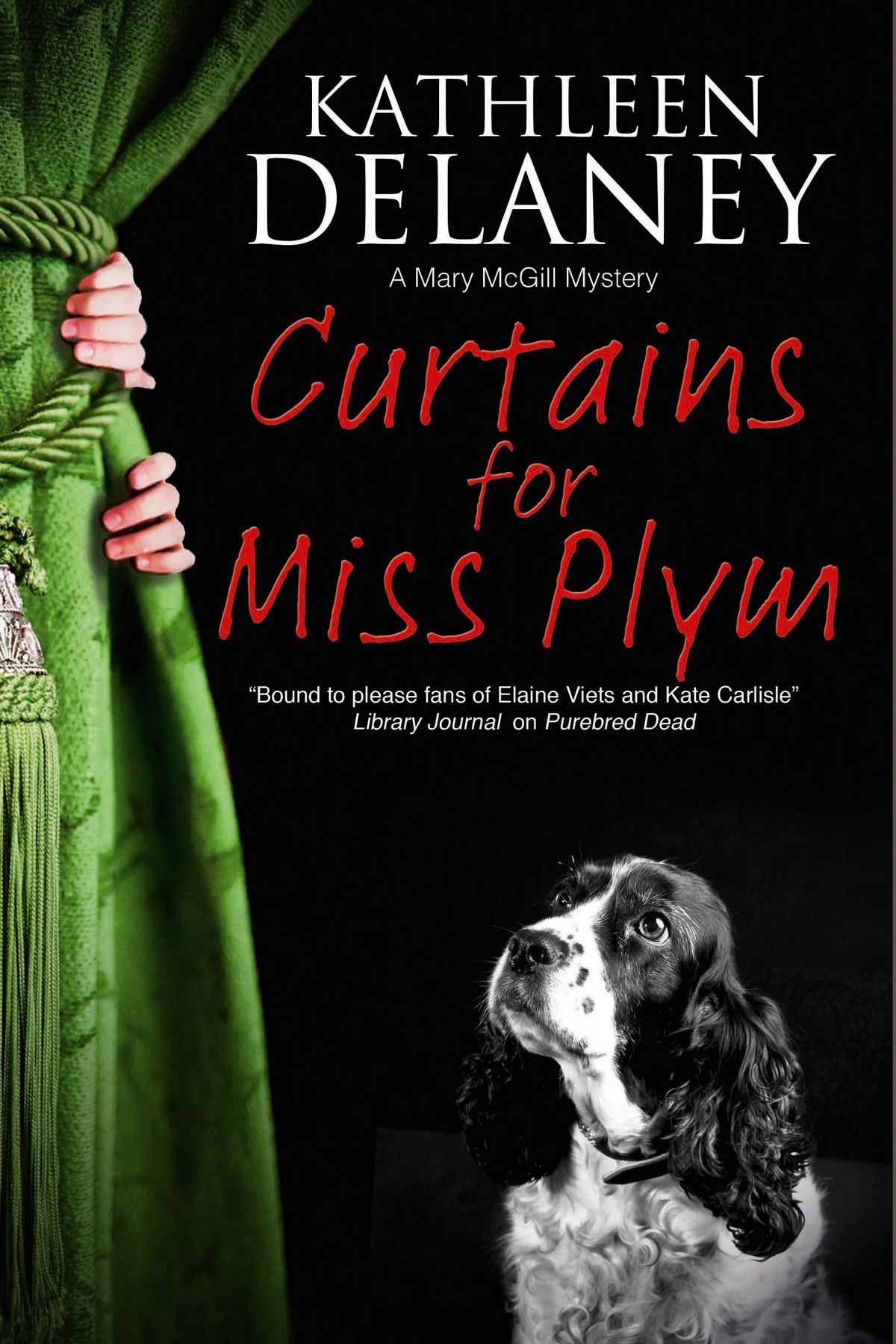 Curtains for Miss Plym
by Kathleen Delaney
Preparations for Santa Louisa's annual spring rummage sale are thrown into chaos when organizer Mary McGill and her devoted cocker spaniel Millie come across a dead body on the premises.
Still wearing her pink nightdress and slippers, what on earth was Miss Emilie Plym doing in a locked church hall in the dead of night? And who on earth would want to harm a sweet-natured but confused elderly lady who wouldn't hurt a fly?
As Mary questions the victim's nearest and dearest, she discovers that not everyone had Miss Plym's best interests at heart, and that at least one of those who should have been caring for her is hiding a shocking secret.
Reviews
"I love the comfortable tone and the evenly paced flow in this story that kept me engrossed in all the action from beginning to end. The mystery was executed in a style that had me hunkering down to see what happens next. The author did a good job on the narrative, the dialogue, and setting up the suspects with multiple direction changes that prolong the telling of this drama, making me more curious as to how this will all play out. I like the cast and the small town atmosphere and how it all meshed together in a delightful and easy read."
Dru Ann Love, reviewer
"This second in the series embodies the spirit of an English village cozy mystery while placing it firmly on American soil. Mary is a woman of a certain age, with an enviable level of intelligence and confidence. Her nephew-in-law may be the town's chief of police, but Mary never abuses this connection and prides herself in following the law, ignoring gossip, and maintaining a strict regimen of planned order. She has a soft heart and compassionate soul though, and along with very strong writing this second in the series is sure to satisfy fans of pet-loving, small town mysteries."
Kings River Life Magazine
"I fell in love with Mary McGill's character. She is strong, and as an amateur detective she is tireless in her efforts to benefit the community. There were twists and surprises. . . I recommend this to anyone who loves a cozy mystery, and will ask our library to add it to our collection."
L Latimer, librarian
"Mary and Millie are such engaging characters"
Kirkus Reviews
"Plenty of wit and humor round out this intelligent, appealing mystery"
Booklist
"Animal lovers will enjoy this dog-focused cozy with its appealing characters, both two- and four-legged"
Publishers Weekly
Editions
Curtains for Miss Plym by Kathleen Delaney is available in the following formats
| | | | | | |
| --- | --- | --- | --- | --- | --- |
| Hardback | 9780727885746 | 31st December 2015 | 146 X 223mm | 384 | £20.99 |
| Hardback | 9780727885746 | 1st April 2018 | 146 X 223mm | 384 | $28.99 |
| Ebook | 9781780107387 | 1st April 2016 | N/A | 256 | $10.99 |
| Ebook | 9781780107387 | 1st April 2016 | N/A | 256 | £8.99 |
| Paperback | 9781847516824 | 30th November 2016 | 145 X 215mm | 256 | £12.99 |
| Format | ISBN | Publication Date | Dimensions | Pages | Price |
The Mary McGill Canine Mystery Series