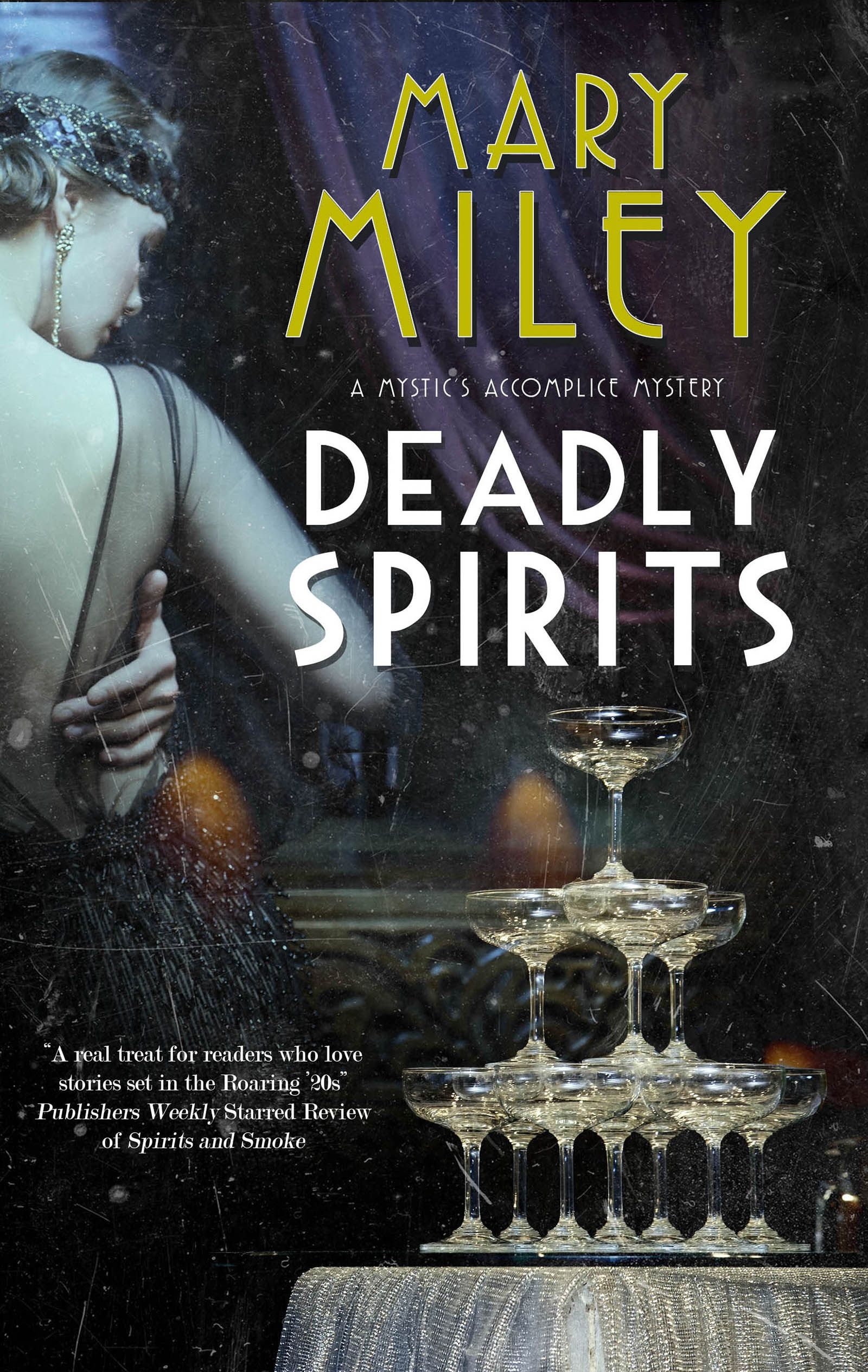 Deadly Spirits
by Mary Miley
Medium's assistant – and reluctant sleuth – Maddie Pastore is shocked when her long-lost sister is accused of murder, in this twisty, atmospheric mystery set in 1920s Chicago.
Summer, 1924. Young widow Maddie Pastore has been working for fraudulent spiritual medium Madame Carlotta for nearly a year – if 'work' you could call it. Investigating Carlotta's clients, and attending seances as her shill, keeps Maddie and her young son Tommy fed and clothed, and she's grown to love the kind, well-meaning spiritualist like family.
Still, Maddie – estranged from her abusive parents for over a decade – can't help but wonder what fates befell her brothers and sisters. So when she lucks into two free tickets to a glamorous Chicago speakeasy and recognizes the star performer as her pretty little sister Sophie, she's beyond delighted.
But before Maddie can meet with Sophie again, the telephone rings. It's Sophie's husband, calling in a panic to tell her that his wife is locked in the Cook County jail, charged with first-degree murder . . .
Enter a dark and deadly world of seances and speakeasies, populated by fake mediums, sultry singers and dangerous mobsters! An ideal pick for readers who enjoy glitzy Jazz Age mysteries with feisty female sleuths.
Reviews
"Plenty of Roaring '20s ambience and enough red herrings to keep things mysterious"
Kirkus Reviews on Deadly Spirits
"Gripping . . . Readers will hope to see a lot more of the resourceful Maddie"
Publishers Weekly
"This is a real treat for readers who love stories set in the Roaring '20s"
Publishers Weekly Starred Review of Spirits and Smoke
"Fans of fast-paced historical mysteries will appreciate Miley's latest"
Library Journal Starred Review of Spirits and Smoke
"All the colorful characters and historic details from the heroine's debut"
Kirkus Reviews on Spirits and Smoke
"Skillfully combines the tantalizing atmosphere of a speakeasy- and mob-filled Chicago, historical figures, and an intriguing mystery"
Library Journal Starred Review of The Mystic's Accomplice
"Appealing . . . This historical mystery series is off to a flying start"
Publishers Weekly on The Mystic's Accomplice
"Plentiful historical detail and a sparkling cast of characters"
Kirkus Reviews on The Mystic's Accomplice
Editions
Deadly Spirits by Mary Miley is available in the following formats
| | | | | | |
| --- | --- | --- | --- | --- | --- |
| Hardback | 9781448306848 | 6th September 2022 | 147 X 222mm | 224 | $29.99 |
| Hardback | 9781448306848 | 6th September 2022 | 147 X 222mm | 224 | £20.99 |
| Hardback | 9781448306848 | 6th September 2022 | 145 X 225mm | 224 | $29.99 |
| Hardback | 9781448306848 | 6th September 2022 | 145 X 225mm | 224 | £20.99 |
| Ebook | 9781448306855 | 6th September 2022 | N/A | 224 | $24.99 |
| Ebook | 9781448306855 | 6th September 2022 | N/A | 224 | £20.99 |
| Ebook | 9781448306855 | 6th September 2022 | N/A | 224 | $14.99 |
| Ebook | 9781448306855 | 6th September 2022 | N/A | 224 | £12.99 |
| Paperback | 9781448306862 | 30th May 2023 | 140 X 216mm | 224 | $18.99 |
| Paperback | 9781448306862 | 30th March 2023 | 140 X 216mm | 224 | £13.99 |
| Format | ISBN | Publication Date | Dimensions | Pages | Price |
The Mystic's Accomplice mystery Series