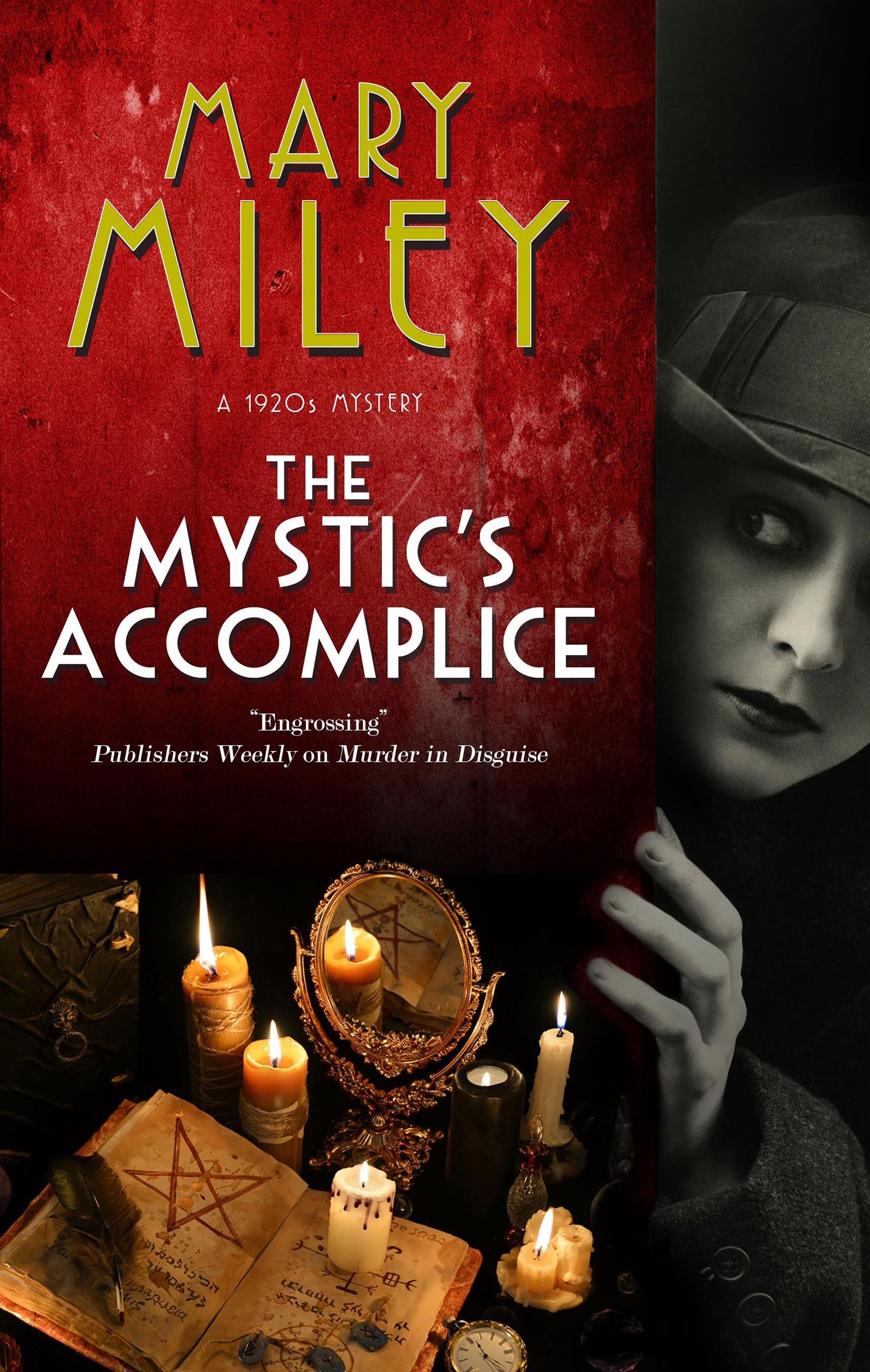 The Mystic's Accomplice
by Mary Miley
The first historical mystery in award-winning author Mary Miley's 1920s Chicago-set series introduces reluctant sleuth Maddie Pastore and takes readers into a dark and dangerous world of mobsters, speakeasies and seances.
It's 1924, and Maddie Pastore has it made. A nice house, a loving husband with a steady job – even if it is connected to Chicago's violent Torrio-Capone gang – and a baby on the way. But then Tommy is shot dead, and she learns her husband had a secret that turns her life upside down.
Penniless and grieving, Maddie is sure of only two things: that she will survive for the sake of her baby, and that she'll never turn to the mob for help. So when she's invited to assist a well-meaning but fraudulent medium, she seizes the chance. She's not proud of her work investigating Madam Carlotta's clients, but she's proud of how well she does it.
When Maddie unearths potential evidence of a dark crime, however, she faces a terrible dilemma: keep quiet and let a murderer go unpunished, or follow the trail and put herself and her baby in mortal danger . . .
Reviews
"Skillfully combines the tantalizing atmosphere of a speakeasy- and mob-filled Chicago, historical figures, and an intriguing mystery"
Library Journal Starred Review
"Plentiful historical detail and a sparkling cast of characters "
Kirkus Reviews
"Miley smoothly inserts real-life notables such as Al Capone and philanthropist Jane Addams into the twisty plot. This new historical mystery series is off to a flying start"
Publishers Weekly
Publishers Weekly on Murder in Disguise
Publishers Weekly on Renting Silence
"A little sparkle, a hint of sex, some wily Prohibition-era shenanigans, and one smart cookie in the lead make this a great read"
Booklist on Renting Silence
"With an appealing, resourceful amateur detective, and fascinating period details, this entertaining historical will delight those who like the 1920s-set mysteries of Suzanne Arruda and George Baxt"
Library Journal on Renting Silence
"Readers who enjoy Jacqueline Winspear and Carola Dunn will want to follow this series"
Booklist on Silent Murders
Editions
The Mystic's Accomplice by Mary Miley is available in the following formats
| | | | | | |
| --- | --- | --- | --- | --- | --- |
| Hardback | 9780727850423 | 1st June 2021 | 144 X 214mm | 224 | $28.99 |
| Hardback | 9780727850423 | 31st March 2021 | 144 X 214mm | 224 | £20.99 |
| Ebook | 9781448305216 | 1st May 2021 | N/A | 224 | $10.99 |
| Ebook | 9781448305216 | 1st May 2021 | N/A | 224 | £7.99 |
| Hardback - Large Print | 9781448308804 | 26th April 2022 | 144 X 222mm | 320 | $36.95 |
| Hardback - Large Print | 9781448308804 | 25th August 2022 | 144 X 222mm | 320 | £22.99 |
| Paperback | 9781780297835 | 24th February 2022 | 140 X 216mm | 224 | $17.95 |
| Paperback | 9781780297835 | 30th December 2021 | 140 X 216mm | 224 | £12.99 |
| Format | ISBN | Publication Date | Dimensions | Pages | Price |
The Mystic's Accomplice mystery Series