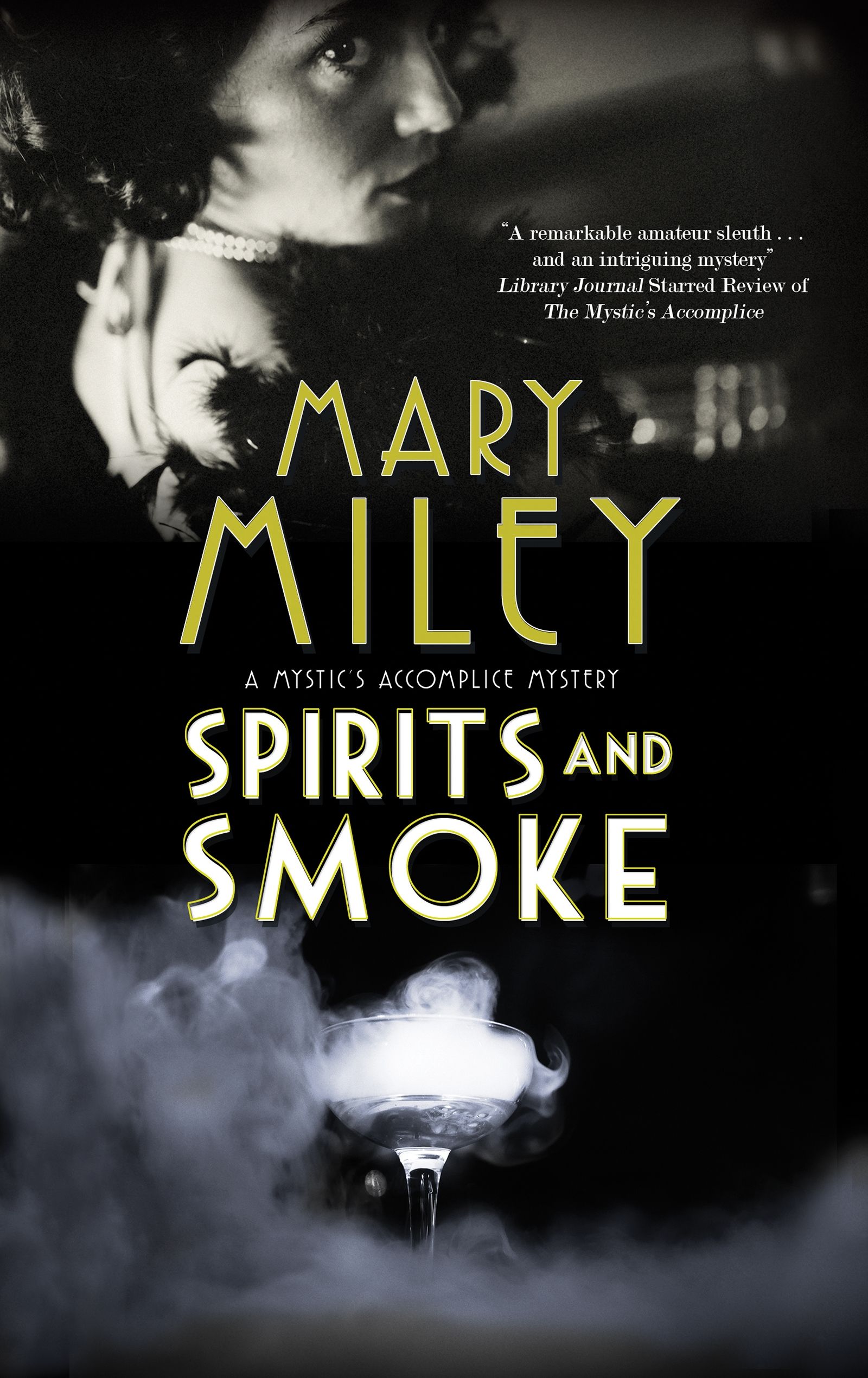 Spirits and Smoke
by Mary Miley
Deadly drinks, vicious gangsters, missing money . . . Reluctant sleuth Maddie Pastore is back with a bang, in the second Mystic's Accomplice historical mystery set in 1920s Chicago.
"Miley's storytelling skills do justice to her clever, gutsy, and endearing protagonist. This is a real treat for readers who love stories set in the Roaring '20s"- Publishers Weekly Starred Review
December, 1924. Young widow Maddie Pastore feels fortunate to be employed by the well-meaning but fraudulent medium Carlotta Romany. Investigating Carlotta's clients isn't work she's proud of, but she's proud of how well she does it.
Maddie's talents, however, draw them unwelcome attention: sharp-eyed Officer O'Rourke from the Chicago Police. He doesn't believe in spiritualism – but in a city packed with mobsters, con artists and criminals, he'll take any help he can get.
It's not long before Maddie has a case to bring him. Why did teetotal banker Herman Quillen die of alcohol poisoning? And who is the gold-toothed man claiming to be his brother, and demanding the spirits reveal where Herman hid his money?
All Maddie wants is to uncover the truth – but to her horror, she's soon mixed up in a tangled web of secrets and deception that leads to the heart of Chicago's violent gangs . . . and she'll need all her wits about her if she, and her loved ones, are going to make it out again alive.
Spirits and Smoke, the sequel to The Mystic's Accomplice, is an ideal pick for readers who enjoy Jazz Age mysteries with feisty female sleuths, sparkling historical detail and Prohibition high-jinks.
Reviews
"This is a real treat for readers who love stories set in the Roaring '20s"
Publishers Weekly Starred Review
"Fans of fast-paced historical mysteries will appreciate Miley's latest"
Library Journal Starred Review
"All the colorful characters and historic details from the heroine's debut, fortified by a stronger mystery"
Kirkus Reviews
"Appealing ... This new historical mystery series is off to a flying start"
Publishers Weekly on The Mystic's Accomplice
"Plentiful historical detail and a sparkling cast of characters"
Kirkus Reviews on The Mystic's Accomplice
Publishers Weekly on Murder in Disguise
"A little sparkle, a hint of sex, some wily Prohibition-era shenanigans, and one smart cookie in the lead make this a great read"
Booklist on Renting Silence
"With an appealing, resourceful amateur detective, and fascinating period details, this entertaining historical will delight those who like the 1920s-set mysteries of SUZANNE ARRUDA and GEORGE BAXT"
Library Journal on Renting Silence
"Readers who enjoy JACQUELINE WINSPEAR and CAROLA DUNN will want to follow this series"
Booklist on Silent Murders
Editions
Spirits and Smoke by Mary Miley is available in the following formats
| | | | | | |
| --- | --- | --- | --- | --- | --- |
| Hardback | 9780727850430 | 4th January 2022 | 140 X 225mm | 224 | $28.99 |
| Hardback | 9780727850430 | 28th October 2021 | 140 X 225mm | 224 | £20.99 |
| Ebook | 9781448306329 | 1st December 2021 | N/A | 224 | $14.99 |
| Ebook | 9781448306329 | 1st December 2021 | N/A | 224 | £12.99 |
| Hardback - Large Print | 9781448309511 | 28th February 2023 | 142 X 224mm | 320 | $36.95 |
| Hardback - Large Print | 9781448309511 | 29th December 2022 | 142 X 224mm | 320 | £22.99 |
| Paperback | 9781448306336 | 30th August 2022 | 140 X 217mm | 224 | $17.95 |
| Paperback | 9781448306336 | 30th June 2022 | 140 X 217mm | 224 | £12.99 |
| Format | ISBN | Publication Date | Dimensions | Pages | Price |
The Mystic's Accomplice mystery Series