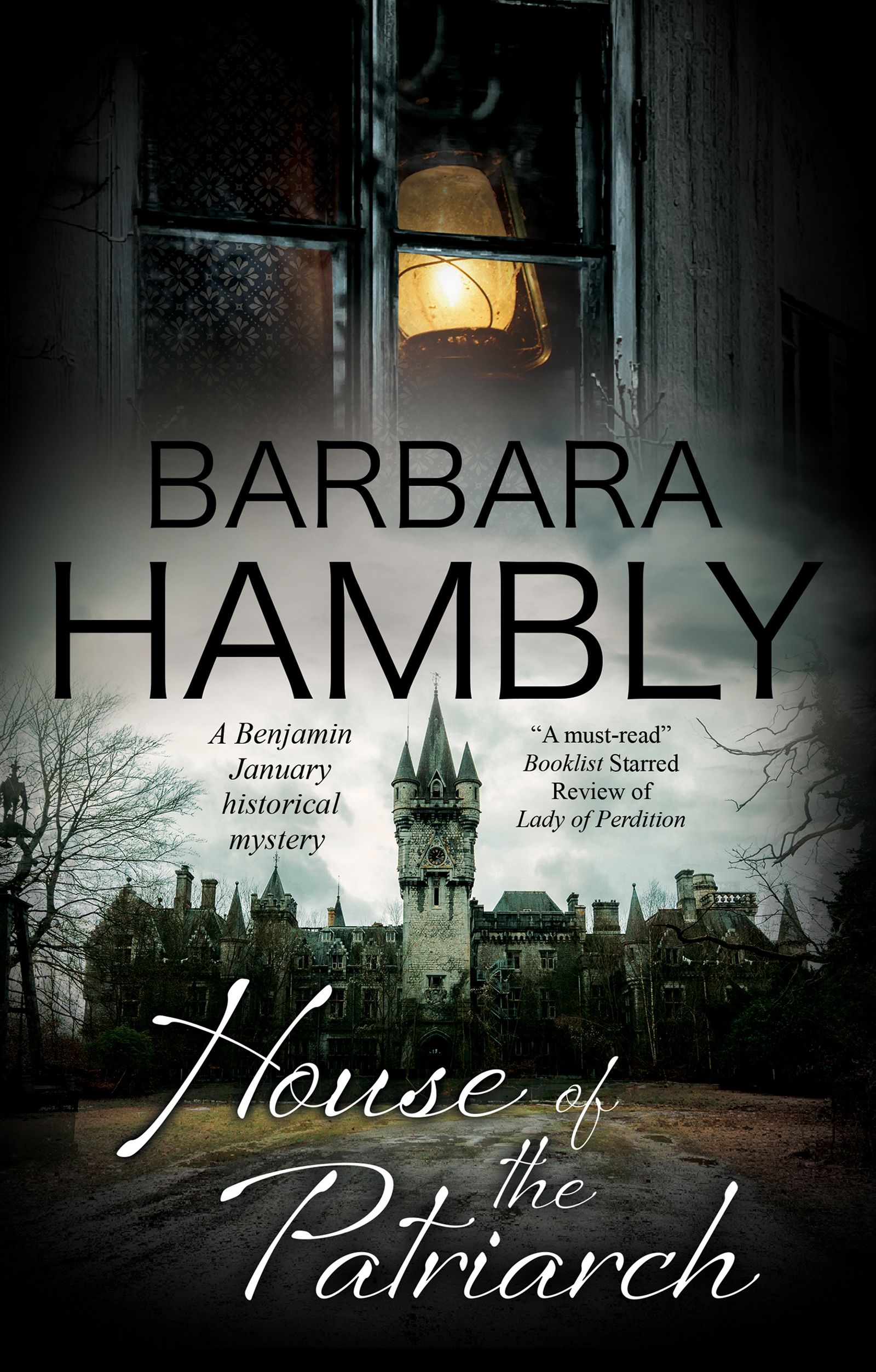 House of the Patriarch
by Barbara Hambly
No one can talk to the dead . . . can they? Free man of color Benjamin January gets caught up in a strange, spiritual world that might lead to his own demise, as he hunts for a missing teenager in this gripping, atmospheric historical mystery.

New Orleans, 1840. Freshly home from a dangerous journey, the last thing Benjamin January wants to do is leave his wife and young sons again. But when old friends Henri and Chloë Viellard ask for his help tracking down a missing girl in distant New York, he can't say no.
Three weeks ago, seventeen-year-old Eve Russell boarded a steam-boat – and never got off it. Mrs Russell is adamant Eve's been kidnapped, but how could someone remove a teenager from a crowded deck in broad daylight? And why would anyone target Eve?
The answer lies in New York, a hotbed of new religions and beliefs, of human circuses and freak shows . . . and of blackbirders, who'll use any opportunity to kidnap a free man of color and sell him into slavery. January's determined to uncover the truth, but will he ever be able to return to New Orleans to share it?
Reviews
"Outstanding … Hambly's masterful historical detail, scrupulous character portrayal, and psychological analysis of human frailties contribute handsomely to her storytelling. This long-running series shows no signs of losing steam"
Publishers Weekly Starred Review
"In Hambly's expert hands, New York is a dark, threatening place, in many ways a foreign land to January … Hambly lays bare the dark underbelly of American society in the mid-nineteenth century. A fine entry in an impressive series"
Booklist
"A fascinating, sadly timely tale of the hero's struggles with his rage over the treatment of Black people"
Kirkus Reviews
"A stark and occasionally brutal story, and Hambly tells it superbly, in prose that is vivid and empathetic. For fans of this fine series, this is a must-read"
Booklist Starred Review of Lady of Perdition
"A riveting exploration of a little-known period of Texas history intensified by gut-wrenching depictions of people's enduring inhumanity"
Kirkus Reviews on Lady of Perdition
"Deeply researched . . . Hambly's well-wrought denunciation of slavery and her skillful defense of women's rights resound from January's times to our own"
Publishers Weekly on Lady of Perdition
"An atmospheric, beautifully written mystery"
Kirkus Reviews on Cold Bayou
Editions
House of the Patriarch by Barbara Hambly is available in the following formats
| | | | | | |
| --- | --- | --- | --- | --- | --- |
| Hardback | 9780727889904 | 5th January 2021 | 145 X 223mm | 256 | $28.99 |
| Hardback | 9780727889904 | 30th October 2020 | 145 X 223mm | 256 | £20.99 |
| Ebook | 9781448304530 | 3rd August 2020 | N/A | 256 | $10.99 |
| Ebook | 9781448304530 | 3rd August 2020 | N/A | 256 | £8.99 |
| Hardback - Large Print | 9781780291741 | 27th July 2021 | 145 X 223mm | 384 | $36.95 |
| Hardback - Large Print | 9781780291741 | 31st May 2021 | 145 X 223mm | 384 | £22.99 |
| Paperback | 9781780297286 | 27th September 2021 | 140 X 215mm | 256 | $18.99 |
| Paperback | 9781780297286 | 29th July 2021 | 140 X 215mm | 256 | £13.99 |
| Format | ISBN | Publication Date | Dimensions | Pages | Price |
The Benjamin January Historical Mystery Series