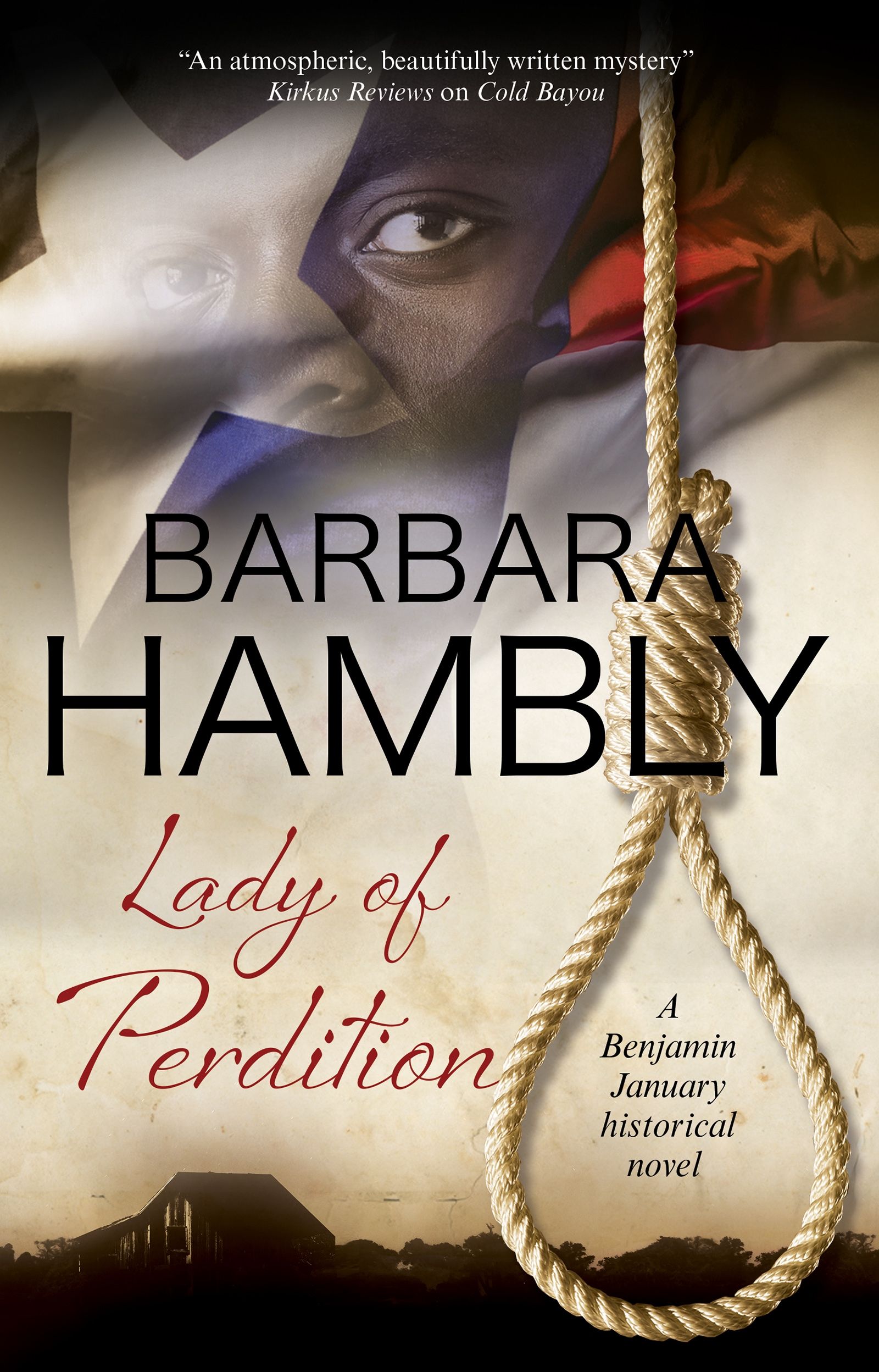 Lady of Perdition
by Barbara Hambly
"A stark and occasionally brutal story, and Hambly tells it superbly, in prose that is vivid and empathetic. For fans of this fine series, this is a must-read" – Booklist Starred Review

Benjamin January heads to the "Slaveholders' Republic" of Texas to locate a kidnapped girl and help a woman who saved him from the noose.

April, 1840. Benjamin January knows no black person in their right mind would willingly go to the Republic of Texas but when his former pupil Selina Bellinger is kidnapped and enslaved, he has no choice. Once there he is saved from being hanged by Valentina Taggart, wife of the wealthy landowner of Rancho Perdition.
After Valentina is accused of the murder of her husband, she in turn calls on Benjamin for help. To do so, he must abandon the safe haven of New Orleans, where people know he's a free man, to return to the self-proclaimed "Slaveholders' Republic".
In a land still disputed between vengeful Comanche, disgruntled Mexican Tejanos, Americans who want to join the United States and those who want to keep Texas free, January must uncover what happened to Valentina's husband. Behind lies, betrayals and rising political tensions lies the answer . . . but finding it could cost Ben his life.
Reviews
"A stark and occasionally brutal story, and Hambly tells it superbly, in prose that is vivid and empathetic. For fans of this fine series, this is a must-read"
Booklist Starred Review
"Deeply researched … Hambly's well-wrought denunciation of slavery and her skillful defense of women's rights resound from January's times to our own"
Publishers Weekly
"A riveting exploration of a little-known period of Texas history intensified by gut-wrenching depictions of people's enduring inhumanity"
Kirkus Reviews
"While murders, rapes, thefts, and violence were commonplace in that era, their inclusion in this novel into a twin mystery is made compelling by the addition of the historical details, and the exposition of the plight of the unfortunate, the black population, and particularly the treatment of women. Highly recommended"
Historical Novel Review
"An atmospheric, beautifully written mystery"
Kirkus Reviews on Cold Bayou
"Readers will learn a lot about the unique culture of antebellum Louisiana"
Publishers Weekly on Cold Bayou
"Fascinating ... This well-researched mystery offers readers an appealing cast of characters, a suitably complex plot, and some eye-opening historical details"
Publishers Weekly on Murder in July
"January is a wonderful character ... Hambly does a fine job of painting January's world realistically"
Booklist on Murder in July
"Outstanding ... In addition to the slavery issue, Hambly focuses on broader social concerns, with panache and sensitivity"
Publishers Weekly Starred Review of Drinking Gourd
Editions
Lady of Perdition by Barbara Hambly is available in the following formats
| | | | | | |
| --- | --- | --- | --- | --- | --- |
| Hardback | 9780727889096 | 7th January 2020 | 145 X 223mm | 256 | $28.99 |
| Hardback | 9780727889096 | 30th September 2019 | 145 X 223mm | 256 | £20.99 |
| Ebook | 9781448303458 | 1st November 2019 | N/A | 256 | $9.99 |
| Ebook | 9781448303458 | 1st November 2019 | N/A | 256 | £7.99 |
| Hardback - Large Print | 9780727892713 | 27th October 2020 | 145 X 225mm | 368 | $36.95 |
| Hardback - Large Print | 9780727892713 | 31st August 2020 | 145 X 225mm | 368 | £23.99 |
| Paperback | 9781780296463 | 24th November 2020 | 130 X 195mm | 256 | $17.95 |
| Paperback | 9781780296463 | 30th September 2020 | 130 X 195mm | 256 | £13.99 |
| Format | ISBN | Publication Date | Dimensions | Pages | Price |
The Benjamin January Historical Mystery Series