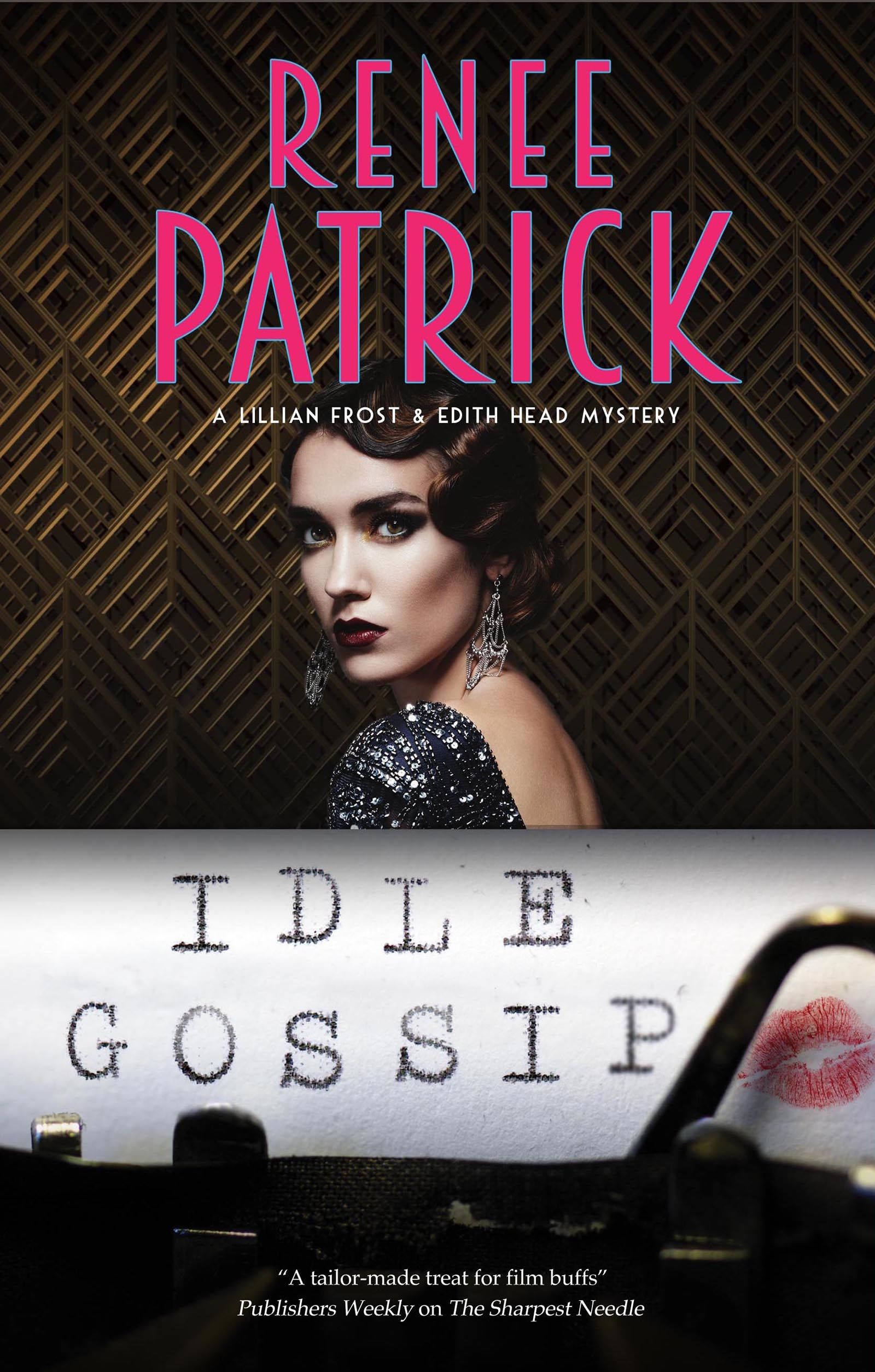 Idle Gossip
by Renee Patrick
Gossip columnist Lorna Whitcomb knows every dirty secret in Hollywood . . . except who killed her tipster. Sleuthing duo Lillian Frost and Edith Head investigate in this head-turning mystery.
1940, Los Angeles. Hollywood's famous gossip columnist, Lorna Whitcomb, has summoned Lillian Frost and her sleuthing partner, costume designer extraordinaire Edith Head, to her office. Lorna's 'leg man' Sam Simcoe – the man who finds the scandalous material for her column – is in trouble. Tipster Glenn Hoyle has been murdered, and Sam is the LAPD's only suspect. But Sam didn't just find Glenn's body when he paid him a visit. Hiding in a wastebasket was a list of three names – a starlet, a producer and a director – and Sam's sure Glenn had an explosive story on all of them. Was it just idle gossip, or could it explain his murder?
Lorna wants Edith and Lillian to find Glenn's killer before her powerful enemies strike. In a town full of secrets, Edith and Lillian must expose the dirtiest one of all: who killed Glenn Hoyle?
Reviews
"Hollywood history buffs will have fun"
Publishers Weekly
"Entertaining . . . Patrick elegantly weaves Hollywood gossip and history into the well-crafted plot. This is a tailor-made treat for film buffs"
Publishers Weekly on The Sharpest Needle
"A solid mystery, but it's the imaginative blending of real and fictional history that really sells the book . . . The emergence of Head as a fully fleshed character, along with evermore-engaging, Hollywood-based stories, has made [this series] something quite special"
Booklist on The Sharpest Needle
"Patrick skillfully stitches together bits of authentic Hollywood history and provides star turns for the likes of Bette Davis and Fred MacMurray in this exuberant tale of murder, revenge, and sartorial splendor"
Publishers Weekly on Script for Scandal
"A meaty, densely packed presentation of Tinseltown riven by potentially murderous factions on the brink of World War II"
Kirkus Reviews on Script for Scandal
"The story, concerning a bank robbery, is genuinely gripping. Well done"
Booklist on Script for Scandal
Editions
Idle Gossip by Renee Patrick is available in the following formats
| | | | | | |
| --- | --- | --- | --- | --- | --- |
| Hardback | 9780727850492 | 3rd May 2022 | 146 X 224mm | 224 | $28.99 |
| Hardback | 9780727850492 | 24th February 2022 | 146 X 224mm | 224 | £20.99 |
| Hardback | 9780727850492 | 3rd May 2022 | 146 X 224mm | 224 | $28.99 |
| Hardback | 9780727850492 | 24th February 2022 | 146 X 224mm | 224 | £20.99 |
| Ebook | 9781448308941 | 1st April 2022 | N/A | 224 | $24.99 |
| Ebook | 9781448308941 | 1st April 2022 | N/A | 224 | £20.99 |
| Ebook | 9781448308941 | 1st April 2022 | N/A | 224 | $14.99 |
| Ebook | 9781448308941 | 1st April 2022 | N/A | 224 | £12.99 |
| Paperback | 9781448308934 | 27th December 2022 | 138 X 216mm | 224 | $17.95 |
| Paperback | 9781448308934 | 27th October 2022 | 138 X 216mm | 224 | £12.99 |
| Paperback | 9781448308934 | 27th December 2022 | 140 X 215mm | 224 | $17.95 |
| Paperback | 9781448308934 | 27th October 2022 | 140 X 215mm | 224 | £12.99 |
| Format | ISBN | Publication Date | Dimensions | Pages | Price |
The Lillian Frost and Edith Head mystery Series