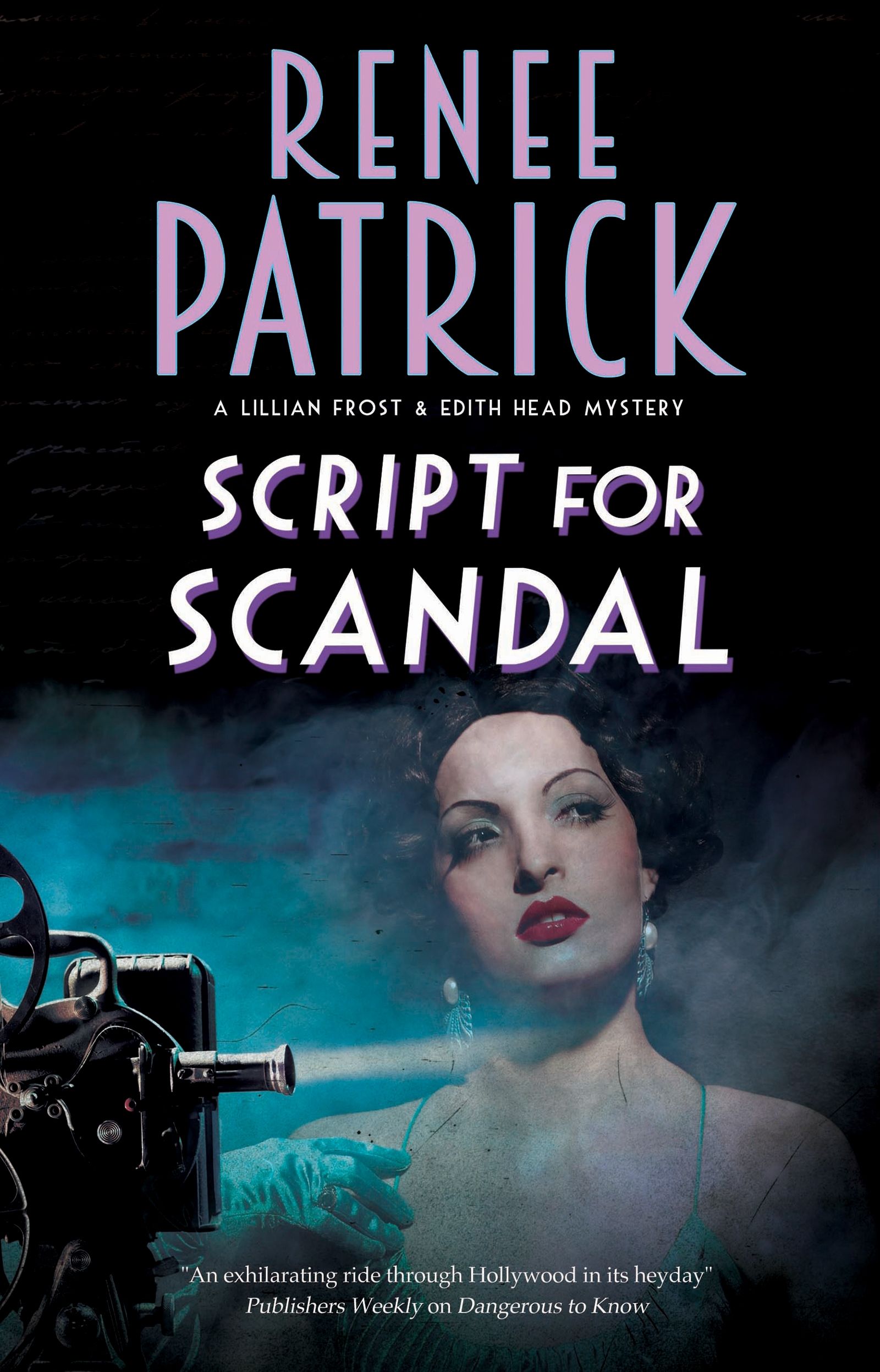 Script for Scandal
by Renee Patrick
Sleuthing duo Lillian Frost and Edith Head investigate a behind-the-scenes scandal in this delightful Golden Age of Hollywood mystery.

1939, Los Angeles. Lillian Frost is shocked when her friend, glamorous costume designer Edith Head, hands her the script to a new film that's about to start shooting. Streetlight Story is based on a true crime: the California Republic bank robbery of 1936. Lillian's beau, LAPD detective Gene Morrow, was one of the officers on the case; his partner, Teddy, was tragically shot dead.
It seems the scriptwriter has put Gene at the centre of a scandal, twisting fact with fiction – or has he? With Gene reluctant to talk about the case, the movie quickly becoming the hottest ticket in town, a suspicious death on the Paramount studio lot and the police reopening the investigation into Teddy's death, Lillian is determined to find answers. Can Lillian and Edith uncover the truth of what happened that fateful day and clear Gene's name?
Reviews
"Patrick skillfully stitches together bits of authentic Hollywood history and provides star turns for the likes of Bette Davis and Fred MacMurray in this exuberant tale of murder, revenge, and sartorial splendor"
Publishers Weekly
"A meaty, densely packed presentation of Tinseltown riven by potentially murderous factions on the brink of World War II"
Kirkus Reviews
"The story, concerning a bank robbery, is genuinely gripping. Well done"
Booklist
"A delightful and entertaining story with unexpected twists and turns ... If you enjoy a fast-paced detective story with a sprinkle of humor, this might be the perfect book for you"
Historical Novels Review
"An exhilarating ride through Hollywood in its heyday … Lovers of old movies, fabulous gowns, and historical gossip will be enchanted"
Publishers Weekly on Dangerous to Know
"The story is intricate and surprising, and the partnership between Head and her good friend Frost sets the stage for many further adventures"
Booklist on Dangerous to Know
"A champagne-flavored frolic of a first mystery set during Hollywood's golden age … Sure to delight fans of old Hollywood and Turner Classic Movies"
Library Journal on Design for Dying
"The warm working relationship that develops between Lillian and Edith will leave readers eager to see more of their adventures"
Publishers Weekly on Design for Dying
"Vibrant, stylish and crackling, Design for Dying is both a gift to devotees of Golden Age Hollywood and a mystery lover's delight. It's a delicious cocktail, one you won't want to end"
Megan Abbott, bestselling author
Editions
Script for Scandal by Renee Patrick is available in the following formats
| | | | | | |
| --- | --- | --- | --- | --- | --- |
| Hardback | 9780727889102 | 7th January 2020 | 149 X 224mm | 240 | $28.99 |
| Hardback | 9780727889102 | 30th September 2019 | 149 X 224mm | 240 | £21.99 |
| Ebook | 9781448303496 | 1st November 2019 | N/A | 240 | $10.99 |
| Ebook | 9781448303496 | 1st November 2019 | N/A | 240 | £8.99 |
| Hardback - Large Print | 9780727892904 | 24th November 2020 | 145 X 224mm | 384 | $36.95 |
| Hardback - Large Print | 9780727892904 | 30th November 2020 | 145 X 224mm | 384 | £22.99 |
| Paperback | 9781780296500 | 29th December 2020 | 140 X 216mm | 240 | $17.95 |
| Paperback | 9781780296500 | 30th October 2020 | 140 X 216mm | 240 | £12.99 |
| Format | ISBN | Publication Date | Dimensions | Pages | Price |
The Lillian Frost and Edith Head mystery Series