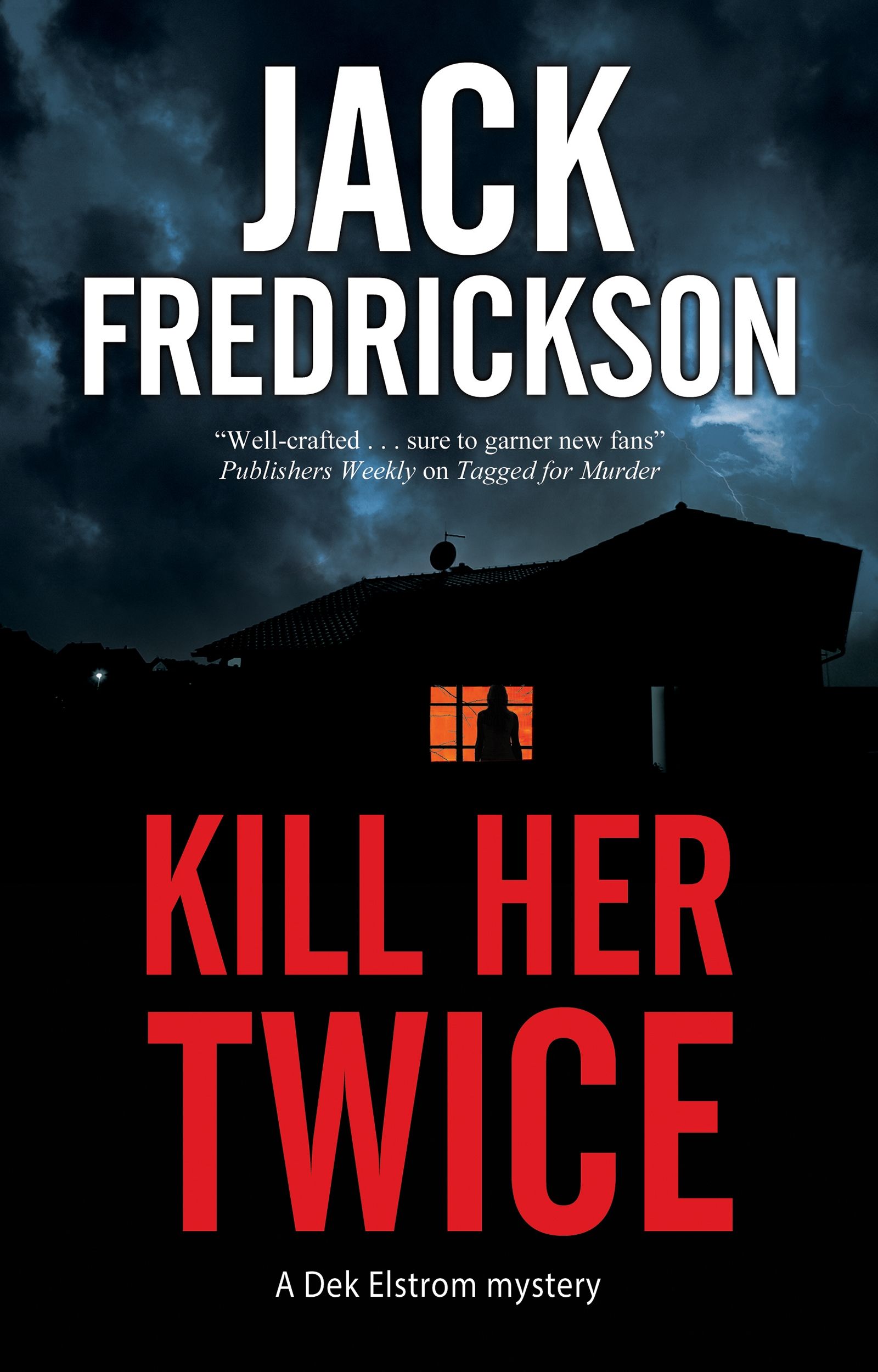 Kill Her Twice
by Jack Fredrickson
Chicago PI Dek Elstrom is called into action when a man acquitted of his wife's murder asks Dek to investigate the strange circumstances around her death.

A shocking chain of events occur after midnight one night on a quiet suburban street in West Chicago. The first neighbor hears a woman scream. The second sees the lights in the Tripps' house being switched on, one by one, room after room. The third receives a call from a voice he doesn't recognize, screaming at him to come over right away. But to where?
When the police arrive on the street, Sara Tripp is discovered brutally murdered. Her husband, Martin Tripp, is put on trial for her murder and acquitted. Martin is convinced Sara was scared of something before she died, and he wants private investigator Dek Elstrom to find out what it was. As Dek investigates, he makes a series of disturbing discoveries. Can he get to the truth of what really happened that terrifying night?
Reviews
"A sleek Windy City noir with a distinctly retro feel"
Kirkus Reviews
"Well-crafted... sure to garner new fans for this delightfully eccentric detective series"
Publishers Weekly on Tagged for Murder
"The writing here is splendid, echoing genre veteran Loren D. Estleman, and Dek Elstrom is the kind of guy we genuinely like spending time with"
Booklist on Hidden Graves
"A satisfyingly hard-boiled crime novel"
Publishers Weekly on Hidden Graves
"The criminals are clever and the detective even more clever, making Fredrickson's sixth case one of his best"
Kirkus Reviews on Hidden Graves
"Fans of hard-boiled detective fiction will find a lot to like"
Publishers Weekly on The Confessors' Club
Editions
Kill Her Twice by Jack Fredrickson is available in the following formats
| | | | | | |
| --- | --- | --- | --- | --- | --- |
| Hardback | 9780727850638 | 5th April 2022 | 145 X 224mm | 224 | $28.99 |
| Hardback | 9780727850638 | 27th January 2022 | 145 X 224mm | 224 | £20.99 |
| Hardback | 9780727850638 | 5th April 2022 | 145 X 224mm | 224 | $28.99 |
| Hardback | 9780727850638 | 27th January 2022 | 145 X 224mm | 224 | £20.99 |
| Ebook | 9781448308361 | 1st March 2022 | N/A | 224 | $24.99 |
| Ebook | 9781448308361 | 1st March 2022 | N/A | 224 | £20.99 |
| Ebook | 9781448308361 | 1st March 2022 | N/A | 224 | $14.99 |
| Ebook | 9781448308361 | 1st March 2022 | N/A | 224 | £12.99 |
| Paperback | 9781448308378 | 29th November 2022 | 138 X 216mm | 224 | $17.95 |
| Paperback | 9781448308378 | 29th September 2022 | 138 X 216mm | 224 | £12.99 |
| Paperback | 9781448308378 | 29th November 2022 | 140 X 215mm | 224 | $17.95 |
| Paperback | 9781448308378 | 29th November 2022 | 140 X 215mm | 224 | $19.95 |
| Paperback | 9781448308378 | 29th September 2022 | 140 X 215mm | 224 | £12.99 |
| Format | ISBN | Publication Date | Dimensions | Pages | Price |
The Dek Elstrom Mystery Series