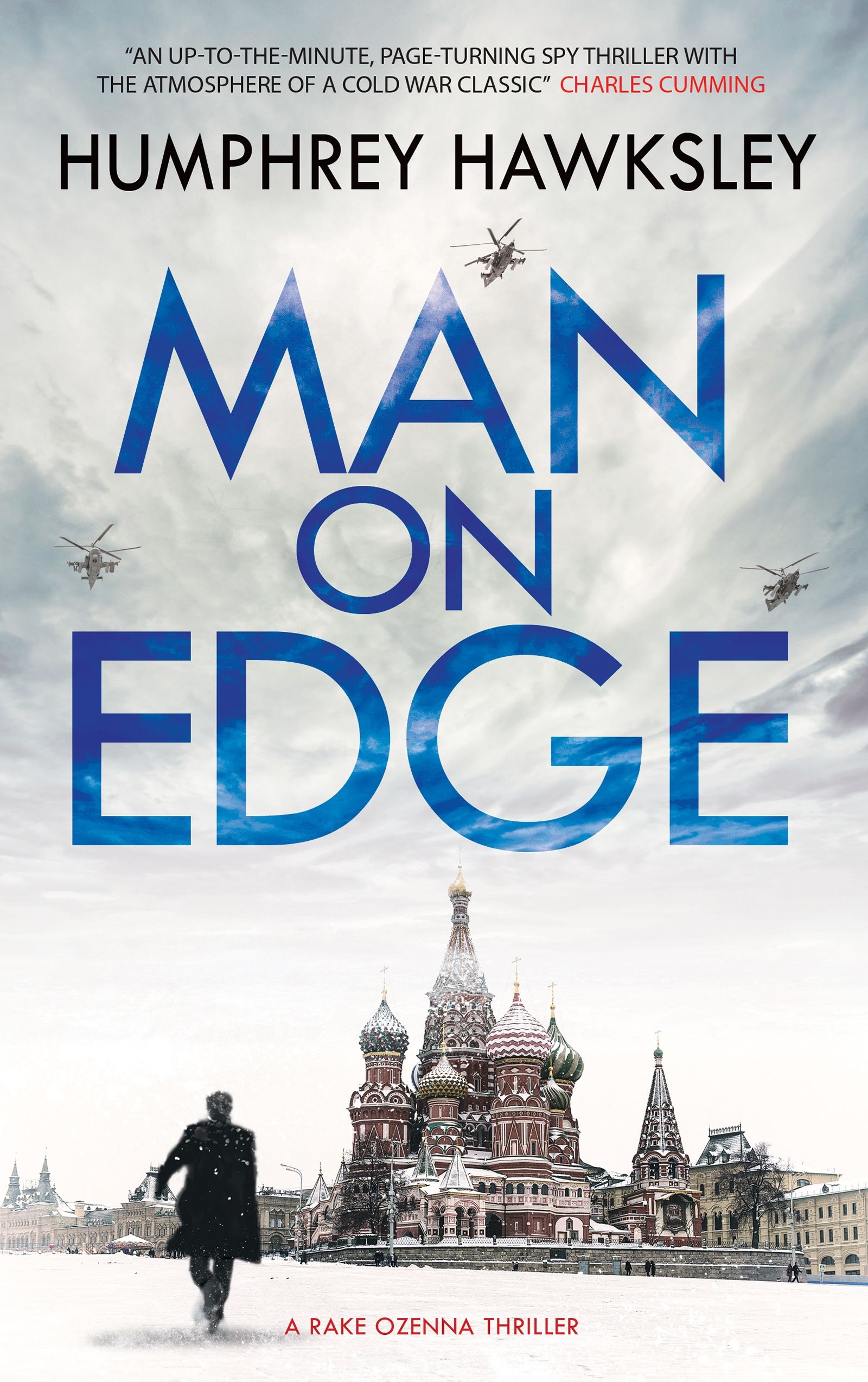 Man on Edge
by Humphrey Hawksley
Where are the military secrets that could destroy America? Rake Ozenna must act fast to prevent a global catastrophe.
"Everything readers want in a political thriller" –Library Journal
A senior Russian naval officer is murdered in Moscow. Before he dies, he slips a file to his niece, American trauma surgeon Carrie Walker.
With deadly Russian agents on her trail, Carrie runs for her life.
Hunted and alone, Carrie turns to Rake Ozenna for help. As the enemy closes in, Rake uncovers a Kremlin plan of catastrophic global impact. To stop it, he first needs to bring Carrie to safety . . . and neutralise those pursuing her.
_______________________________________
"Plenty of fast-paced action [that] will hook thriller fans" –Booklist
"Gripping and addictive" –San Francisco Review of Books
"An easy and entertaining read" –Financial Times
"Hawksley's second thriller is as exciting as the first" –Crime Review
"A well written, fast-paced, and cleverly-plotted page-turner" –Nelson DeMille
"An up-to-the-minute, page-turning spy thriller" –Charles Cumming
"A deftly crafted and simply riveting read from beginning to cliff-hanger ending" –Midwest Book Review
Reviews
"A multilayered tale with plenty of fast-paced action will hook thriller fans"
Booklist
"A hard-as-nails hero, an out-of-the-ordinary location, and oodles of high-action encounter – it's everything readers want in a political thriller"
Library Journal
"Hawksley has a newsman's writing style that makes for an easy and entertaining read. The scene-setting is vivid, the geopolitics a balanced backdrop"
Financial Times
"Gripping and addictive ... Fine prose, stunning characters who capture and retain our interest, and insights into the realm of global politics and derring-do ... Highly recommended"
San Francisco Review of Books
"Hawksley's second thriller is as exciting as the first ... There are several unexpected killings in a very brutal manner which bring to mind some of the more bloody episodes in some of Iain M Banks' stories, or Game of Thrones"
Crime Review
"Reminiscent of the very best Cold War fiction, filled with intrigue, double-dealing, and ingenious political intrigue. Hawksley's hero, Rake Ozenna, is smart and tough, and we're glad to have him on our side. A well written, fast-paced, and cleverly-plotted page-turner"
Nelson DeMille
"The pace is furious, the casualty list breathtaking, and the plotters exactly whom you suspected"
Kirkus Reviews
"A deftly crafted and simply riveting read from beginning to cliff-hanger ending"
Midwest Book Review
"Knuckle-whitening suspense, bloody violence, dirty tricks, and plenty of surprising twists make this a gripping, can't-put-it-down read"
Booklist on Man on Ice
"Authentic settings, non-stop action, backstabbing villains, and rough justice … Keeps you ready for the gut punch"
Steve Berry, New York Times bestselling author on Man on Ice
Editions
Man on Edge by Humphrey Hawksley is available in the following formats
| | | | | | |
| --- | --- | --- | --- | --- | --- |
| Hardback | 9780727889140 | 3rd March 2020 | 144 X 222mm | 288 | $28.99 |
| Hardback | 9780727889140 | 29th November 2019 | 144 X 222mm | 288 | £20.99 |
| Hardback | 9780727889140 | 3rd March 2020 | 144 X 222mm | 288 | $28.99 |
| Hardback | 9780727889140 | 29th November 2019 | 144 X 222mm | 288 | £20.99 |
| Ebook | 9781448303649 | 1st January 2020 | N/A | 288 | $6.99 |
| Ebook | 9781448303649 | 1st January 2020 | N/A | 288 | £4.99 |
| Ebook | 9781448303649 | 1st January 2020 | N/A | 288 | $6.99 |
| Ebook | 9781448303649 | 1st January 2020 | N/A | 288 | £4.99 |
| Paperback | 9781780296661 | 23rd February 2021 | 140 X 216mm | 288 | $17.95 |
| Paperback | 9781780296661 | 31st December 2020 | 140 X 216mm | 288 | £12.99 |
| Paperback | 9781780296661 | 23rd February 2021 | 140 X 216mm | 288 | $17.95 |
| Paperback | 9781780296661 | 31st December 2020 | 140 X 216mm | 288 | £12.99 |
| Format | ISBN | Publication Date | Dimensions | Pages | Price |
The Rake Ozenna Thriller Series