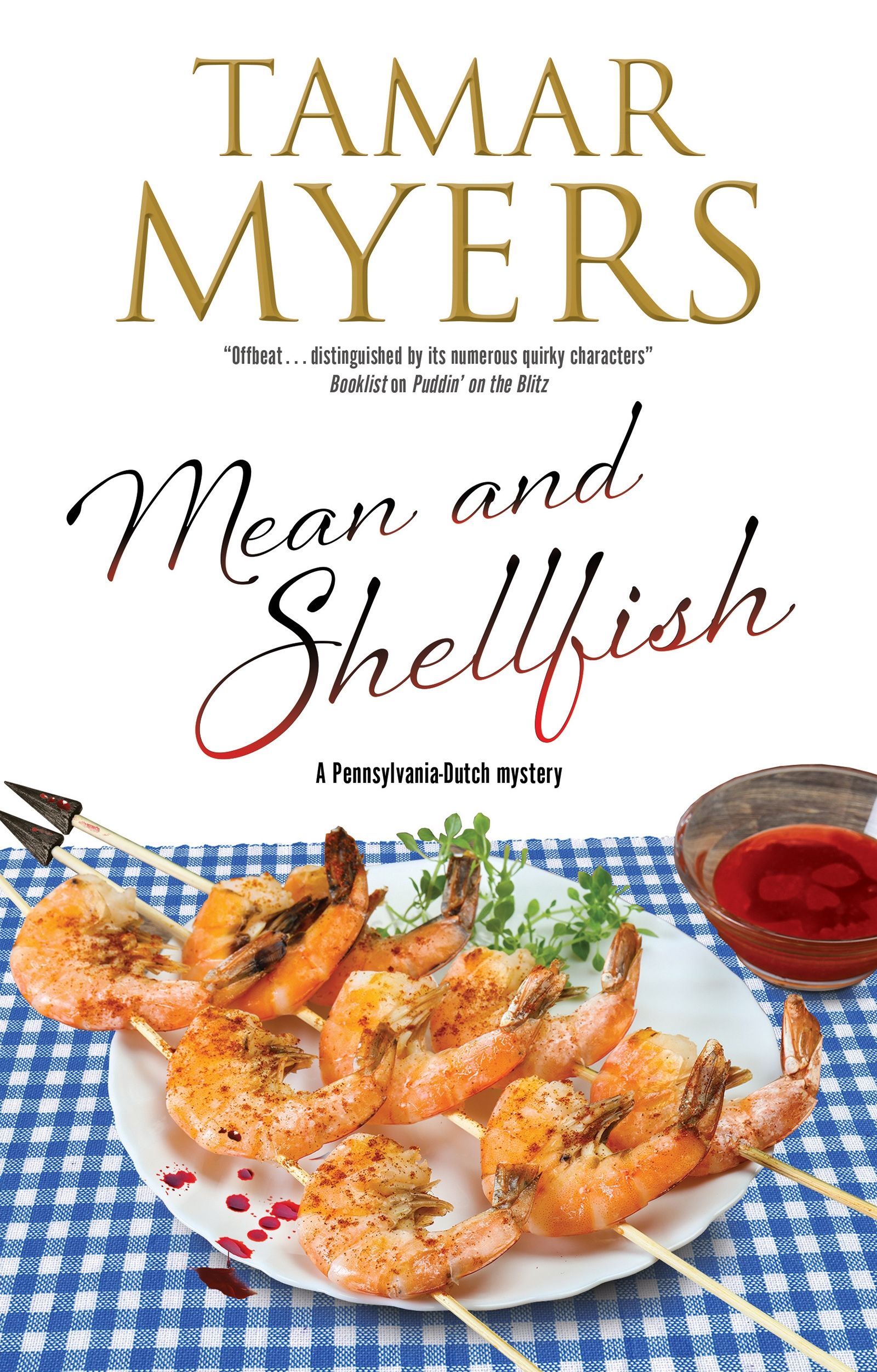 Mean and Shellfish
by Tamar Myers
Hernia's fourth Billy Goat Gruff Festival is derailed by murder and a series of outrageous pranks in this hilariously entertaining cozy mystery filled with quirky characters – the latest delectable offering in the longrunning Pennsylvania-Dutch mystery series featuring the irrepressible Magdalena Yoder.

The annual Billy Goat Gruff Festival is the undisputed highlight of Hernia's social calendar. But when Magdalena Yoder, village mayor and owner of the PennDutch Inn, had the brainwave four years ago, little did she realize that it would soon attract visitors from far and wide – even Australia, as the unexpected arrival of Gabe's long-lost cousin, Miriam, at the inn confirms.
Unfortunately, the shock of Miriam's one-legged appearance is soon usurped by a gruesome discovery, followed by a series of bizarre pranks as the festivities take place. As chaos ensues, Magdalena is spurred into finding a killer. But is the festival really the target, or is it Magdalena herself?
A deliciously laugh-out-loud, kooky culinary cozy full of unexpected twists that will entertain and intrigue from start to finish, perfect for fans of Diane Mott Davidson.
Reviews
"This offbeat cozy, filled with laugh-out-loud humor, is distinguished by its numerous quirky characters, the beautifully described Pennsylvania Dutch setting and culture, and the unlikely but richly evoked Mennonite-Jewish relationship between Magdalena and Gabe"
Booklist on Puddin' on the Blitz
"Those who like broad humor will best appreciate this one"
Publishers Weekly on Puddin' on the Blitz
"Quirky characters abound in this mystery in which the acerbic, opinionated Magdalena's first-person account drives this at times laugh-out-loud cozy"
Booklist on Tea with Jam and Dread
"Filled with the author's trademark double entendres and bawdy humor, this tale of deceit, revenge, and murder is sure to please fans of willful, wordy and winsome Magdalena"
Publishers Weekly on Tea with Jam and Dread
"A charming mystery series very much in the vein of Alexander McCall Smith's No.1 Ladies' Detective Agency"
Booklist on The Headhunter's Daughter
"If you enjoy cozies with unrelenting slapstick humor, the Pennsylvania-Dutch mysteries are your cup of tea"
Booklist on Batter Off Dead
Editions
Mean and Shellfish by Tamar Myers is available in the following formats
| | | | | | |
| --- | --- | --- | --- | --- | --- |
| Hardback | 9780727889294 | 4th May 2021 | 150 X 224mm | 224 | $28.99 |
| Hardback | 9780727889294 | 26th February 2021 | 150 X 224mm | 224 | £20.99 |
| Ebook | 9781448305100 | 1st April 2021 | N/A | 224 | $14.99 |
| Ebook | 9781448305100 | 1st April 2021 | N/A | 224 | £12.99 |
| Hardback - Large Print | 9781780291963 | 26th October 2021 | 145 X 225mm | 320 | $36.95 |
| Hardback - Large Print | 9781780291963 | 26th August 2021 | 145 X 225mm | 320 | £22.99 |
| Paperback | 9781780297729 | 26th October 2021 | 140 X 218mm | 224 | $17.95 |
| Paperback | 9781780297729 | 26th August 2021 | 140 X 218mm | 224 | £12.99 |
| Format | ISBN | Publication Date | Dimensions | Pages | Price |
The Pennsylvania-Dutch mystery Series