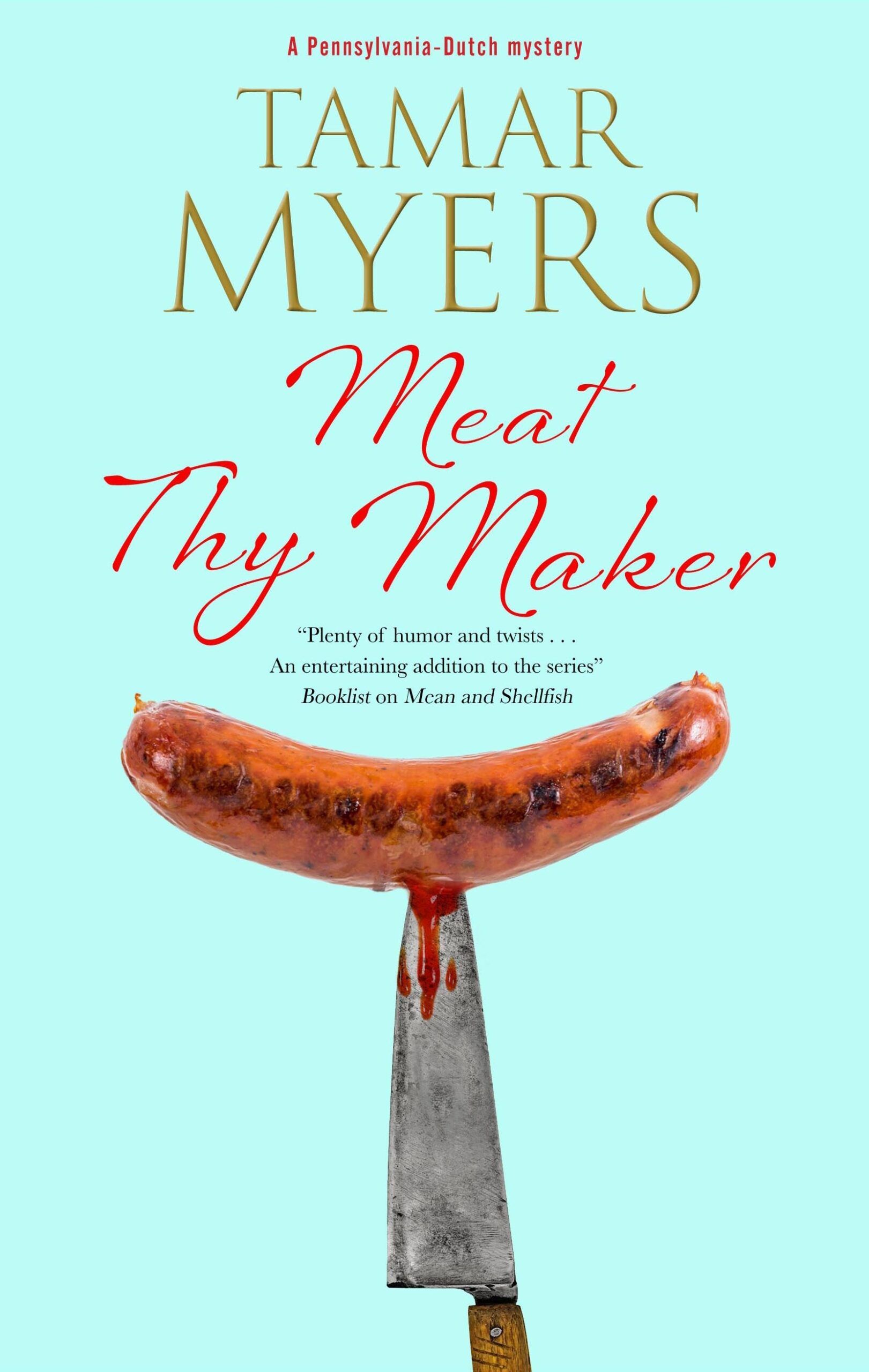 Meat Thy Maker
by Tamar Myers
Sausages to kill for . . . The competition to go into business with Hernia's finest sausage makers is getting hotter than Magdalena Yoder's frying pan in this sizzling culinary cozy.
Schmucker Brothers' Sausages are the talk of the town. The good folk of Hernia are obsessed with the delectable meaty treats, and the prospect of going into partnership with the brothers is proving equally irresistible to investors far and wide, including Magdalena Yoder's current guests at the Penn-Dutch Inn – grocery store chain CEOs Christine Landis and Kathleen Dooley, restaurant owner Terry Tazewell, and Mr Duckworth Limehouse.
All four are in town to pitch a business deal to the Schmuckers. But after a visit to the brothers' pork factory, one of the would-be investors is found slaughtered back at the inn, and Mags must catch a murderer intent on turning her guests juicy pork dreams to rashers! Could there be more to the Schmuckers' sausages than meets the eye?
Reviews
"Another zany but pointed look at the Amish and Mennonite lifestyle grafted onto a modest mystery"
Kirkus Reviews
"Of all Magdalena's rollicking adventures, this one contains the best mystery"
Kirkus Reviews on Death by Tart Attack
"Magdalena's humorous commentary and the details of Amish life have long driven this series, and they continue to provide the appeal here"
Booklist on Death by Tart Attack
"Plenty of humor and twists . . . An entertaining addition to the series"
Booklist on Mean and Shellfish
"Magdalena retains her wry sense of humor . . . Fans of wackier culinary cozies will have fun"
Publishers Weekly on Mean and Shellfish
Editions
Meat Thy Maker by Tamar Myers is available in the following formats
| | | | | | |
| --- | --- | --- | --- | --- | --- |
| Hardback | 9781448308668 | 3rd January 2023 | 146 X 224mm | 224 | $30.99 |
| Hardback | 9781448308668 | 3rd January 2023 | 146 X 224mm | 224 | £21.99 |
| Ebook | 9781448310098 | 3rd January 2023 | N/A | 224 | $14.99 |
| Ebook | 9781448310098 | 3rd January 2023 | N/A | 224 | £12.99 |
| Hardback - Large Print | 9781448312214 | 28th November 2023 | 145 X 222mm | 320 | $38.99 |
| Hardback - Large Print | 9781448312214 | 12th October 2023 | 145 X 222mm | 320 | £23.99 |
| Paperback | 9781448310081 | 26th September 2023 | 140 X 215mm | 224 | $18.99 |
| Paperback | 9781448310081 | 27th July 2023 | 140 X 215mm | 224 | £13.99 |
| Format | ISBN | Publication Date | Dimensions | Pages | Price |
The Pennsylvania-Dutch mystery Series