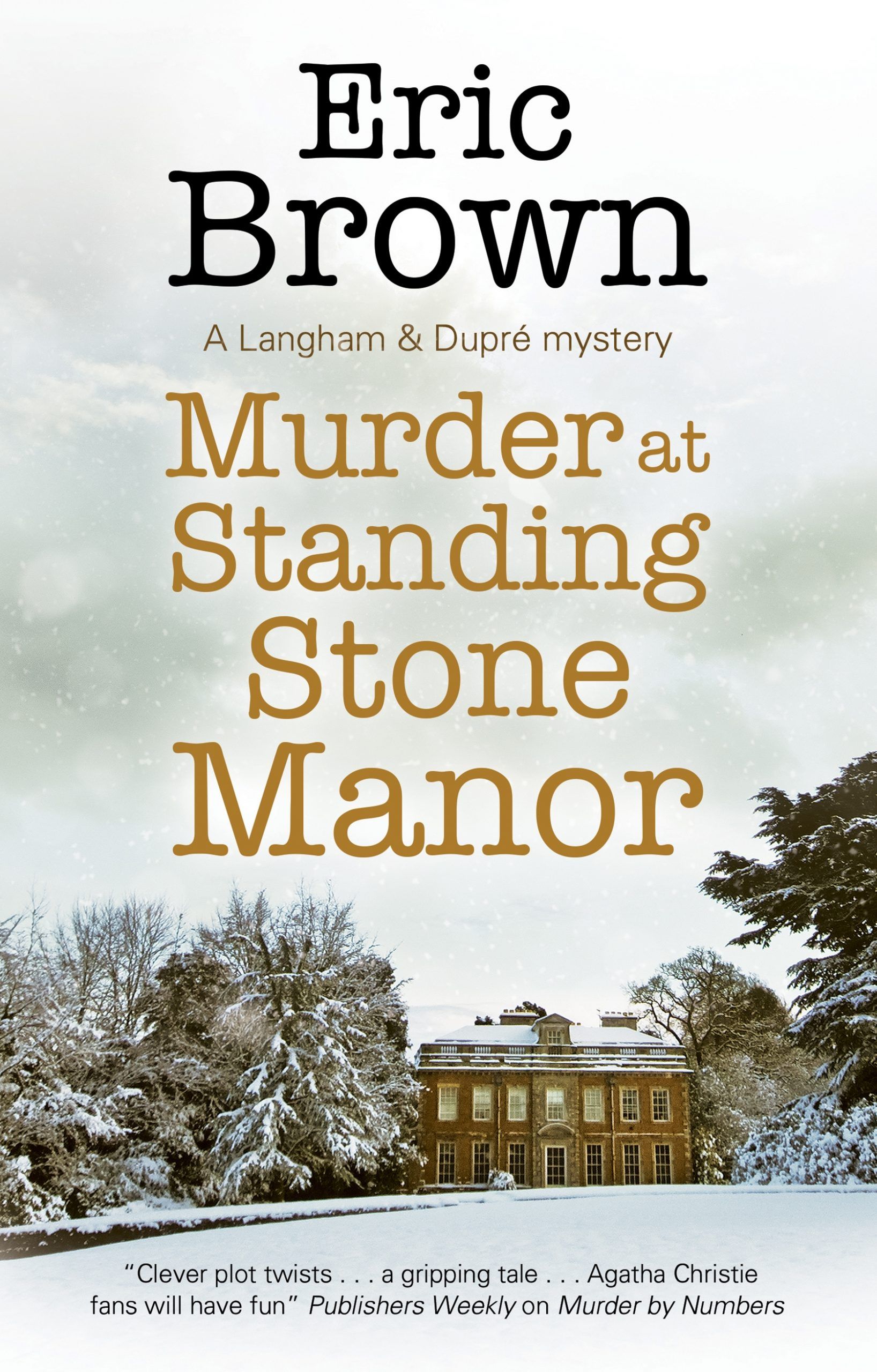 Murder at Standing Stone Manor
by Eric Brown
Donald Langham and Maria Dupré must navigate a rocky road to find a killer when a body is found next to a standing stone.

Newlyweds Donald Langham and Maria Dupré have moved to the country. They're excited about starting a new life in the picturesque village of Ingoldby-over-Water – and about meeting their new neighbours.
But they've barely moved into Yew Tree Cottage when their new neighbour at Standing Stone Manor, Professor Edwin Robertshaw, invites Donald over to discuss some 'fishy business'. Shortly after, a body is found by the professor's precious standing stone in the manor grounds.
Donald and Maria discover tensions, disputes and resentment raging below the surface of this idyllic village, but can they find out which of the villagers is a cold-blooded killer?
Reviews
"Character-driven and filled with red herrings, a most enjoyable classic British read"
Kirkus Reviews
"Brown ... has a real knack for historical mystery; his version of Britain in the 1950s, especially the social strata that existed at the time, is vividly re-created and striking in its verisimilitude"
Booklist on Murder by Numbers
"Clever plot twists spin the dramatic premise into a gripping tale. Agatha Christie fans will have fun"
Publishers Weekly on Murder by Numbers
"A classic English mystery with plenty of unexpected plot twists"
Kirkus Reviews on Murder by Numbers
"Another fine entry in a reliably entertaining series"
Booklist on Murder Served Cold
"Appealing characters, lively dialogue, and some thought-provoking observations on post-WWII social changes in Britain"
Publishers Weekly on Murder Served Cold
Editions
Murder at Standing Stone Manor by Eric Brown is available in the following formats
| | | | | | |
| --- | --- | --- | --- | --- | --- |
| Hardback | 9780727850560 | 7th September 2021 | 147 X 222mm | 224 | $28.99 |
| Hardback | 9780727850560 | 24th June 2021 | 147 X 222mm | 224 | £20.99 |
| Ebook | 9781448305445 | 1st August 2021 | N/A | 224 | $14.99 |
| Ebook | 9781448305445 | 1st August 2021 | N/A | 224 | £12.99 |
| Hardback - Large Print | 9781448309092 | 27th September 2022 | 145 X 222mm | 320 | $36.95 |
| Hardback - Large Print | 9781448309092 | 28th July 2022 | 145 X 222mm | 320 | £22.99 |
| Paperback | 9781780298061 | 31st May 2022 | 139 X 215mm | 224 | $17.95 |
| Paperback | 9781780298061 | 31st March 2022 | 139 X 215mm | 224 | £13.99 |
| Format | ISBN | Publication Date | Dimensions | Pages | Price |
The Langham & Dupré Mystery Series