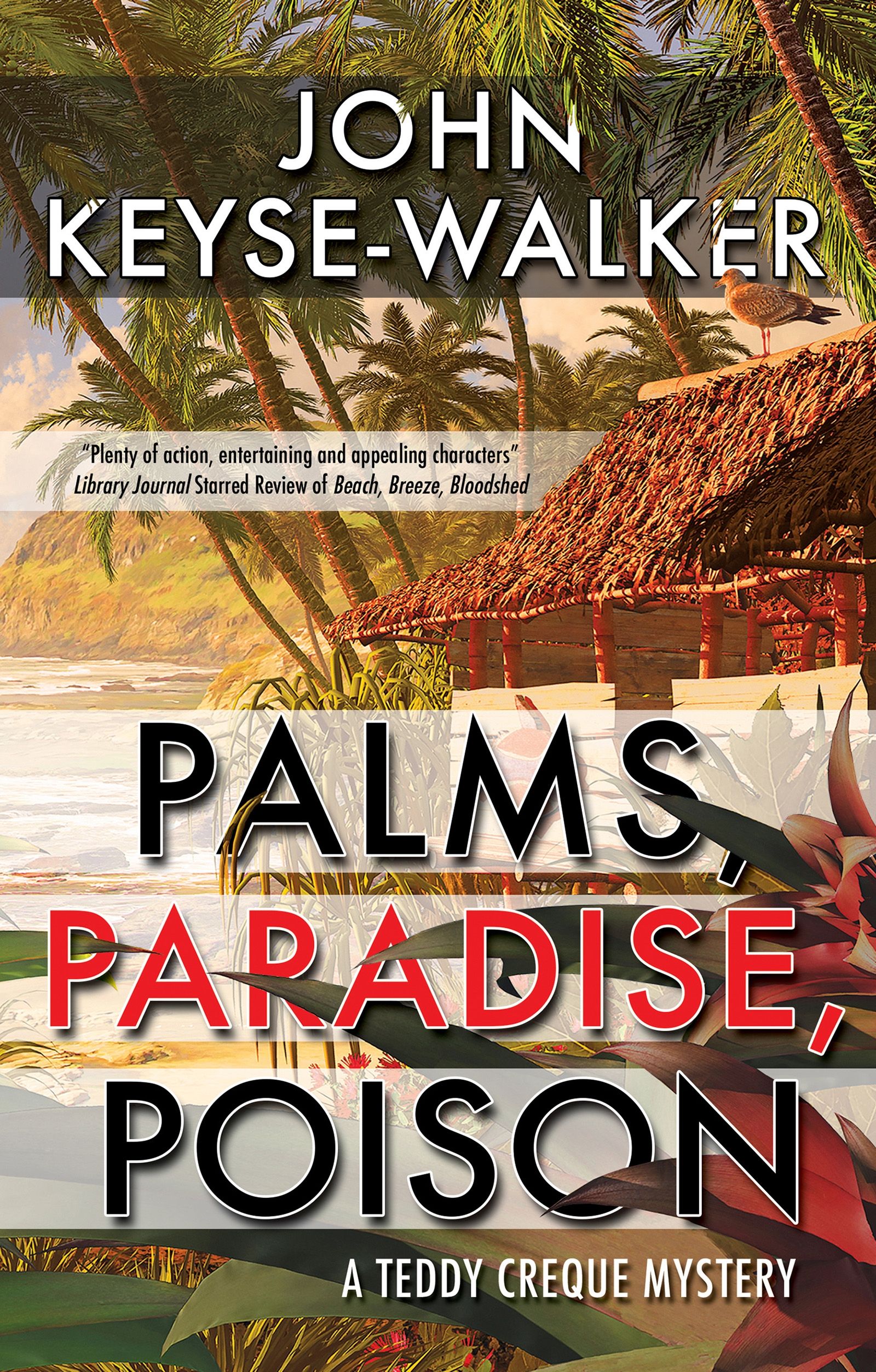 Palms, Paradise, Poison
by John Keyse-Walker
Sea, storm, superstition . . . Constable Teddy Creque investigates a death with seemingly supernatural causes in this witty, atmospheric mystery set on a Caribbean island paradise.
"The battle between rational, supernatural, and criminal provides a tropical treat like no other" – Kirkus Reviews Starred Review
Constable Teddy Creque, the sole police officer on the tiny, sun-soaked island of Anegada, is used to weathering storms. So when Hurricane Leatha hits the Caribbean with brutal force, his main concern is keeping the island's two hundred residents safe.
Teddy expects the power to go out. He expects the phone lines to go down. But he doesn't expect the radioed message from the Royal Virgin Islands Police Force headquarters, informing him of a dangerous escaped prisoner. Queen Ya-Ya is a practitioner of ancient Afro-Cuban rites – and rumor has it she can kill with magic.
Teddy doesn't believe in magic, and when he easily recaptures the dignified, imposing Queen Ya-Ya, he doesn't believe his prisoner is dangerous either. But when she mysteriously kills a man from inside her locked cell, before vanishing once more into the night, Teddy is forced to reconsider . . .
This page-turning mystery from award-winning author John Keyse-Walker takes readers on an exciting journey from the storm-tossed British Virgin Islands to the heart of Cuba, and is a perfect pick for readers who like their mysteries international, atmospheric and adventurous.
Reviews
"The battle between rational, supernatural, and criminal provides a tropical treat like no other."
Kirkus Reviews Starred Review
"A principled hero, solid details of police work and the practices of Palo Mayombe and Sateria, and lushly described settings permeated by unease and possible supernatural phenomena combine to distinguish this ambiguous, unusual mystery"
Booklist
"Keyse-Walker smoothly integrates Caribbean lore and culture into the narrative, which is peopled with distinctive, well-wrought characters . . . Readers will look forward to Teddy's further adventures"
Publishers Weekly
"Plenty of action, entertaining and appealing characters, and colorful depictions of island life ... A solid read-alike of AGATHA CHRISTIE's A Caribbean Mystery and BOB MORRIS's 'Zack Chasteen' series"
Library Journal Starred Review of Beach, Breeze, Bloodshed
"An intriguing look at island life with a likable hero whom readers will want to get to know better"
Booklist on Beach, Breeze, Bloodshed
"Spectacular as a Caribbean sunset, Keyse-Walker's debut is a well-paced puzzler no one should miss"
Kirkus Reviews Starred Review of Sun, Sand, Murder
"Features a beautiful Caribbean setting, vibrant characters, lively plotting and pacing, and a memorable villain who will surprise you"
Library Journal on Sun, Sand, Murder
"A strong debut that vividly evokes its Caribbean locale"
Booklist on Sun, Sand, Murder
Editions
Palms, Paradise, Poison by John Keyse-Walker is available in the following formats
| | | | | | |
| --- | --- | --- | --- | --- | --- |
| Hardback | 9780727850805 | 4th January 2022 | 140 X 225mm | 224 | $28.99 |
| Hardback | 9780727850805 | 28th October 2021 | 140 X 225mm | 224 | £20.99 |
| Ebook | 9781448306282 | 1st December 2021 | N/A | 224 | $14.99 |
| Ebook | 9781448306282 | 1st December 2021 | N/A | 224 | £12.99 |
| Paperback | 9781448306299 | 30th August 2022 | 140 X 210mm | 224 | $17.95 |
| Paperback | 9781448306299 | 30th June 2022 | 140 X 210mm | 224 | £12.99 |
| Format | ISBN | Publication Date | Dimensions | Pages | Price |
The Teddy Creque Mystery Series