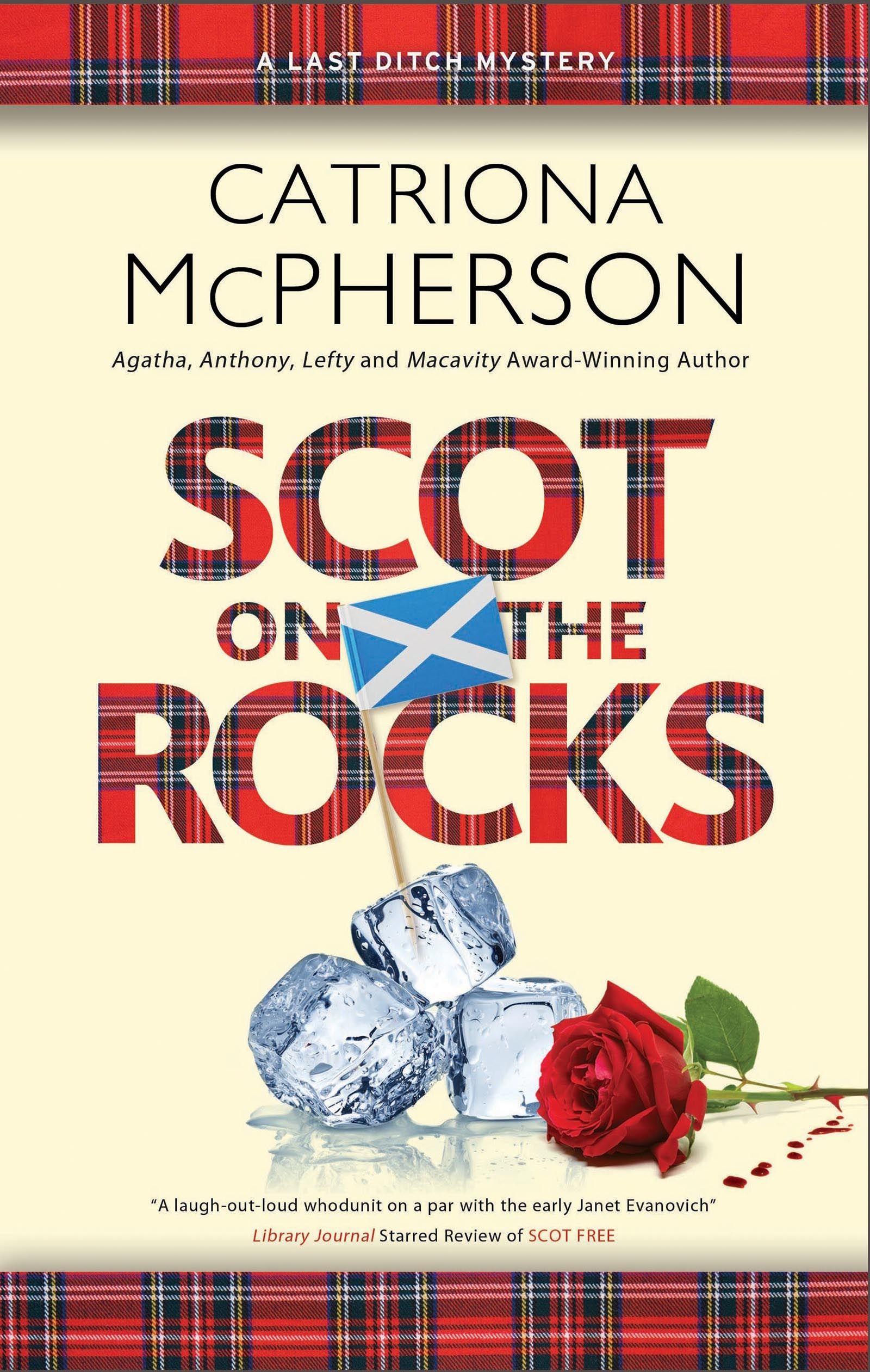 Scot on the Rocks
by Catriona McPherson
Lexy Campbell's ex-husband begs for her help finding his current wife, whose disappearance mirrors that of a number of statues around California – menacing ransom note and all.
A community is devastated when the bronze statue of local legend Mama Cuento is stolen on Valentine's Day. When Lexy Campbell arrives on the scene, a big bronze toe is found along with a ransom note – "Listen to our demands or you will never see her again. There are nine more where this came from".
Then, Lexy's ex-husband Bran turns up begging for help to find his wife, Brandee, who has disappeared. Lexy agrees to pitch in, but when she shows up at Bran's house he has just discovered one of Brandee's false nails and another ransom note with the same grisly message.
Are the two cases linked or is a copycat on the loose? Who would want to kidnap a bronze statue or, come to that, Brandee? And can Lexy put aside her hatred for Bran long enough to find out?
Reviews
"McPherson's witty third Last Ditch mystery has a line on every page to provoke a smile … Anyone who appreciates a good mystery told with nimble, sure-footed humor will have a ball"
Publishers Weekly
"Hilarious … A compendium of unusual characters and odd circumstances guaranteed to make you laugh out loud"
Kirkus Reviews
"Lexy's unfamiliarity with Americanisms and the geography of her adopted country add humor, and the story is enhanced by its large cast of eccentric characters with their close family-like relationships"
Booklist
"McPherson stands apart in her ability to tell a hilarious tale while balancing the ramifications of crime . . . Another riveting cozy starring Lexy"
Library Journal on Scot and Soda
"A hilarious romp that's dead serious when it comes to the tricky mystery and an unexpected denouement"
Kirkus Reviews on Scot and Soda
"Peppered with clever red herrings, the mystery gleefully revels in the absurd"
Publishers Weekly on Scot and Soda
"Blends jaunty pacing, a comically rendered Southern California setting, and quirky characters . . . A sure bet for fans of Janet Evanovich and Sarah Strohmeyer"
Booklist on Scot Free
"Her character-driven romp is sparked by the larger-than-life, quirky residents of the Last Ditch motel, putting this laugh-out-loud whodunit on a par with the early Janet Evanovich"
Library Journal Starred Review of Scot Free
Editions
Scot on the Rocks by Catriona McPherson is available in the following formats
| | | | | | |
| --- | --- | --- | --- | --- | --- |
| Hardback | 9780727890313 | 2nd February 2021 | 150 X 220mm | 240 | $28.99 |
| Hardback | 9780727890313 | 30th November 2020 | 150 X 220mm | 240 | £20.99 |
| Ebook | 9781448304615 | 3rd August 2020 | N/A | 240 | $6.99 |
| Ebook | 9781448304615 | 3rd August 2020 | N/A | 240 | £4.99 |
| Hardback - Large Print | 9781780291918 | 27th September 2021 | 145 X 224mm | 336 | $36.95 |
| Hardback - Large Print | 9781780291918 | 29th July 2021 | 145 X 224mm | 336 | £22.99 |
| Paperback | 9781780297392 | 31st August 2021 | 138 X 217mm | 240 | $17.95 |
| Paperback | 9781780297392 | 30th June 2021 | 138 X 217mm | 240 | £12.99 |
| Format | ISBN | Publication Date | Dimensions | Pages | Price |
The Last Ditch mystery Series