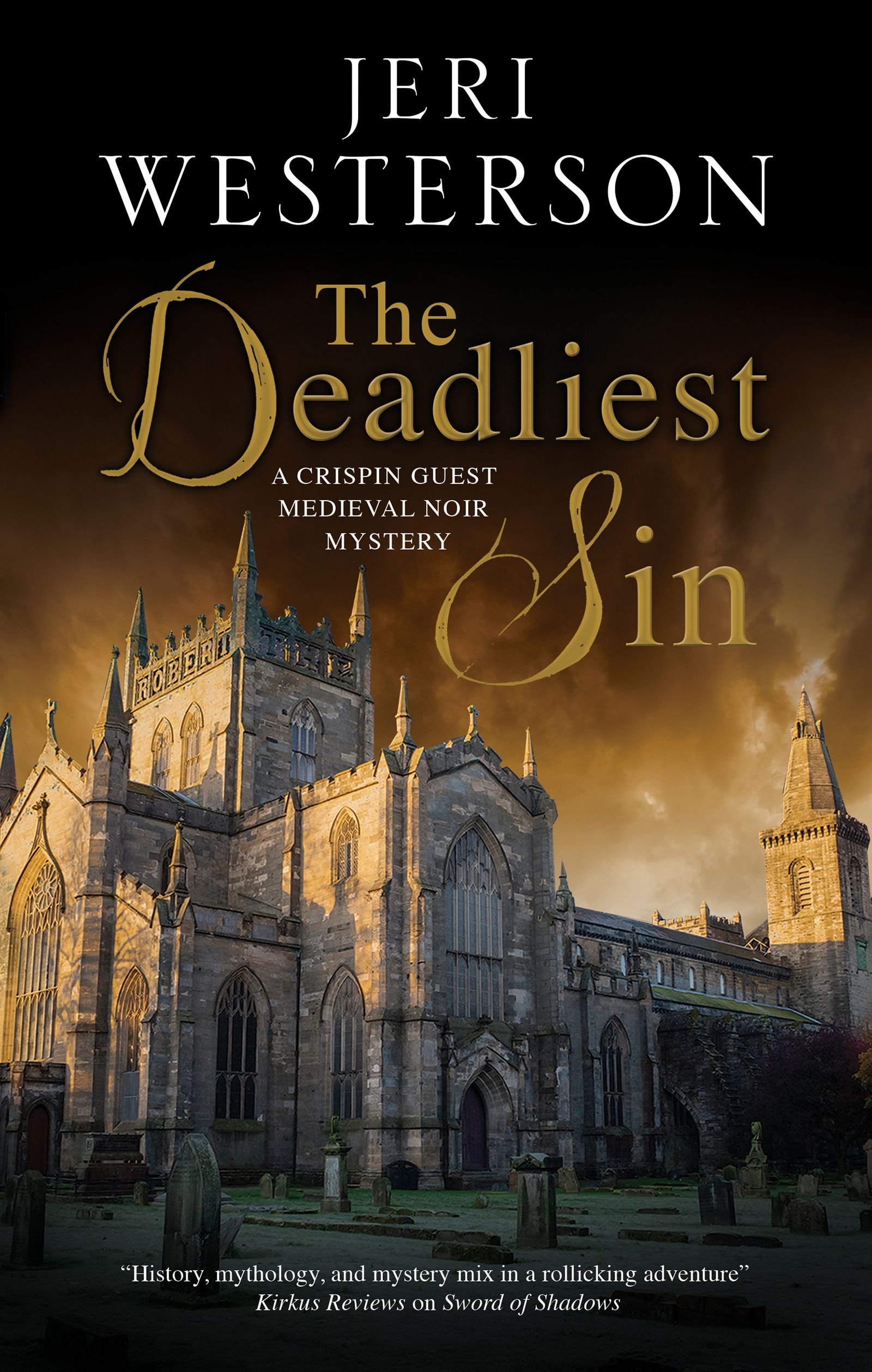 The Deadliest Sin
by Jeri Westerson
Crispin Guest is summoned to a London priory to unmask a merciless killer. Can he discover who is committing the deadliest of sins?

1399, London. A drink at the Boar's Tusk takes an unexpected turn for Crispin Guest, Tracker of London, and his apprentice, Jack Tucker, when a messenger claims the prioress at St. Frideswide wants to hire him to investigate murders at the priory. Two of Prioress Drueta's nuns have been killed in a way that signifies two of the Seven Deadly Sins, and she's at her wits end.
Meanwhile, trouble is brewing outside of London when the exiled Henry Bolingbroke, the new Duke of Lancaster, returns to England's shores with an army to take back his inheritance. Crispin is caught between solving the crimes at St. Frideswide's Priory, and making a choice once more whether to stand with King Richard or commit treason again.
Reviews
"The wheel of life comes full circle for Crispin Guest in the last of his great adventures"
Kirkus Reviews
"Westerson wraps up the series' major loose ends in a manner sure to satisfy fans"
Publishers Weekly
"Westerson's acclaimed series mixes historical detail with a deep dive into the character of a flawed but honorable hero"
Kirkus Reviews on Spiteful Bones
"This latest in the always enjoyable, crisply written series delivers an agreeable mix of adventure and atmosphere"
Booklist on Sword of Shadows
"History, mythology, and mystery mix in a rollicking adventure that offers a fresh perspective on the famous Arthurian legend"
Kirkus Reviews on Sword of Shadows
"Lively ... Brisk prose and well-drawn characters propel this nimble excursion into religious thriller territory"
Publishers Weekly on Traitor's Codex
"Grim, gritty, and utterly enthralling, Westerson's gripping narrative pulls the reader deep into the dark underbelly of the Middle Ages"
Booklist on Traitor's Codex
"Well plotted and comes with a deeply satisfying resolution. Another winner"
Booklist on The Deepest Grave
"An appropriate end to Westerson's series. Long-time fans will be eager to see if Crispin can triumph over the past, and anyone who enjoys medieval mysteries can follow it easily"
Library Journal Starred Review
Editions
The Deadliest Sin by Jeri Westerson is available in the following formats
| | | | | | |
| --- | --- | --- | --- | --- | --- |
| Hardback | 9780727889713 | 7th December 2021 | 150 X 225mm | 224 | $28.99 |
| Hardback | 9780727889713 | 30th September 2021 | 150 X 225mm | 224 | £20.99 |
| Ebook | 9781448305995 | 1st November 2021 | N/A | 224 | $14.99 |
| Ebook | 9781448305995 | 1st November 2021 | N/A | 224 | £12.99 |
| Paperback | 9781448306008 | 26th July 2022 | 140 X 213mm | 224 | $17.95 |
| Paperback | 9781448306008 | 26th May 2022 | 140 X 213mm | 224 | £12.99 |
| Format | ISBN | Publication Date | Dimensions | Pages | Price |
The Crispin Guest Mystery Series