Read an Excerpt from GONE MISSIN' by Peggy O'Neal Peden
by Severn House on 26 October 2021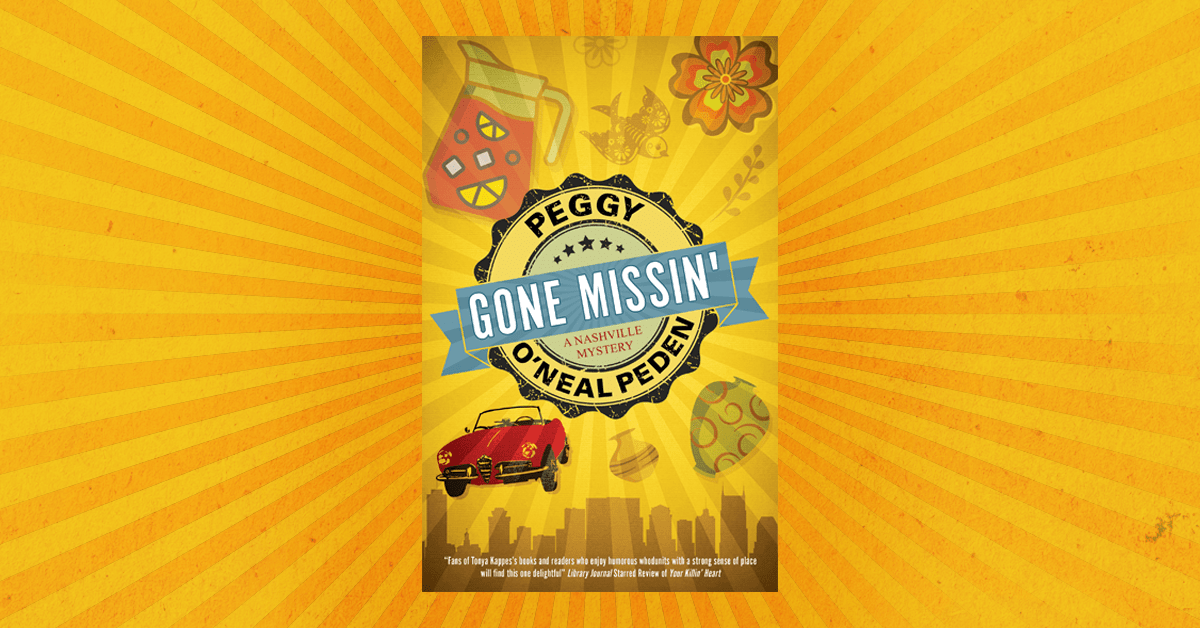 Nosy, warm-hearted travel agent Campbell Hale gets mixed up in a missing persons case in the second sparkling Nashville cozy mystery – a perfect pick for fans of Donna Andrews and Diane Mott Davidson.
Read a sneak preview from Chapter One of Gone Missin'.
---
ONE
Was it a dream
When we danced that night?
Was it a dream?
Part of the plan or just a chance?
And where are you now?
Where are you now?
Was it a dream
When you held me so tight?
Was it a dream?
Part of the plan or just being young in the night?
And where are you now?
Where are you now?
Snowflakes on your hair
Moonlight in your eyes
Magic in the air
Forever in your sighs
Stick Anderson
The night might have been ordered by the Decorations Committee, and if anyone in Nashville had the power to order the weather, these women did. They were the power behind the power in the downtown skyscrapers: the wives of the lawyers, the bankers and brokers and developers, a few distinguished physicians. Their names and their husbands' names had been calling the shots in this town for a hundred years, some longer than that. So, on a crisply cold night, the Saturday after Thanksgiving, a night that seemed too clear and sharp for precipitation, the snow fell. Beautifully, gently, it fell like confectioner's sugar from a sieve, dusting the evergreens and the roofs, catching the light from streetlights and the twinkling lights in sidewalk trees, lightly touching the perfect hair of the beautiful women, laughing as they shrugged their politically incorrect but exquisite furs more closely around their faces and dashed into the Vanderbilt Plaza Hotel. No ice on West End to slow the schedule or make the orchestra late, no ugly slush to stain the hems of the debutantes' white gowns, just lovely, white snowflakes drifting, floating, turning the whole city into a magic snow globe background for one perfect evening for fifty young women making their debut in polite Nashville society. 
It was, however, the twenty-first century. There were no statistics on how many of the twenty-ish young women in their requisite white gowns were actually virginal. The décolletage, the sequins, the slits and the beading suggested a sophistication that the ball's founders decades ago might not have approved. Watching their parents and friends beam and applaud as they were presented, though, escorted by young men, all handsome and strong in their unaccustomed tuxedos, how could one think them anything but perfect; full of promise and potential, bright and as attractive as good hairstylists and orthodontists could make them, ready to become the next generation of mothers and wives of power brokers, but now, maybe, power brokers themselves. Some things changed. Now, even the daughters could hope for a spot in Daddy's firm.
They hugged and waved, chattering from group to group, catching up with high school friends, everyone home from Auburn or Ole Miss, Virginia, Alabama or Sewanee, exclusive private colleges or even UT, a few from eastern schools, home for the holiday weekend. With the Tennessee–Vanderbilt game in Nashville this year, a few Vandy football players were escorts, although they came in a little late, their hair still damp from the rush to shower and change, cheered from a moral victory after leading UT more than once and ending with a score close enough to annoy University of Tennessee fans bent on a top bowl. There was more laughing than dancing. Montgomery Bell Academy–Brentwood Academy, Ensworth football games were replayed, and Harpeth Hall dances remembered. 
At the tables around the dance floor were families and a few invited guests, catching up with friends with whom they shared a history if not everyday routine. Mixed in with the mothers and fathers and grandparents were younger couples, too young to have children in this parade but old enough to remember their own nights like this with nostalgia or irony, depending on how life had treated them.
Bitsy and Philip were there, of course. Bitsy was co-chair this year. It had been ten years or more since her own debut, and Philip had never seen this kind of spectacle until he had married her and moved to Nashville. But this was their world, and they both moved through it, laughing, hugging, Bitsy accepting congratulations on a beautiful ball with a gracious shrug, tossing her blonde hair. 'It plans itself,' she laughed, 'we've been doing it so long.'
Philip wouldn't allow that, though. 'She's been working herself to death,' he insisted. 'The kids could tell you the table arrangements and exactly what time the orchestra was to start. Nothing about this party is an accident.'
Anyone looking at the centerpieces and favors on the tables, the twinkling lights suspended from the ceiling in cloud-like acres of net, knew it was true. But Bitsy didn't betray a moment of stress. She could make self-deprecating jokes with the absolute confidence of a woman who knew all her friends would be jealously talking over this night for weeks. She could be gracious; she could be humble because it was all perfect. And that meant she was perfectly filling the role she had chosen. Her best friend Alice from Harpeth Hall might be a pediatrician, but Bitsy was the Deb Ball chair who could make even the weather cooperate. She might look a bit more mature than the girls in white gowns this year, but no less perfect. And Philip, too, handsome, shaking hands, clapping friends on the shoulder, laughing about golf games and the sweet spots of new drivers. They were a perfect couple, the fulfillment of tonight's promise, except, of course, that Philip hadn't been born in this world, hadn't been part of it until Bitsy brought him home, hadn't been to balls like this, probably hadn't thought they still existed until after he married Bitsy. But he certainly looked as if he had always belonged here. And their two children, a girl and a boy, well, with parents like Bitsy and Philip, how could they be anything but beautiful?
---