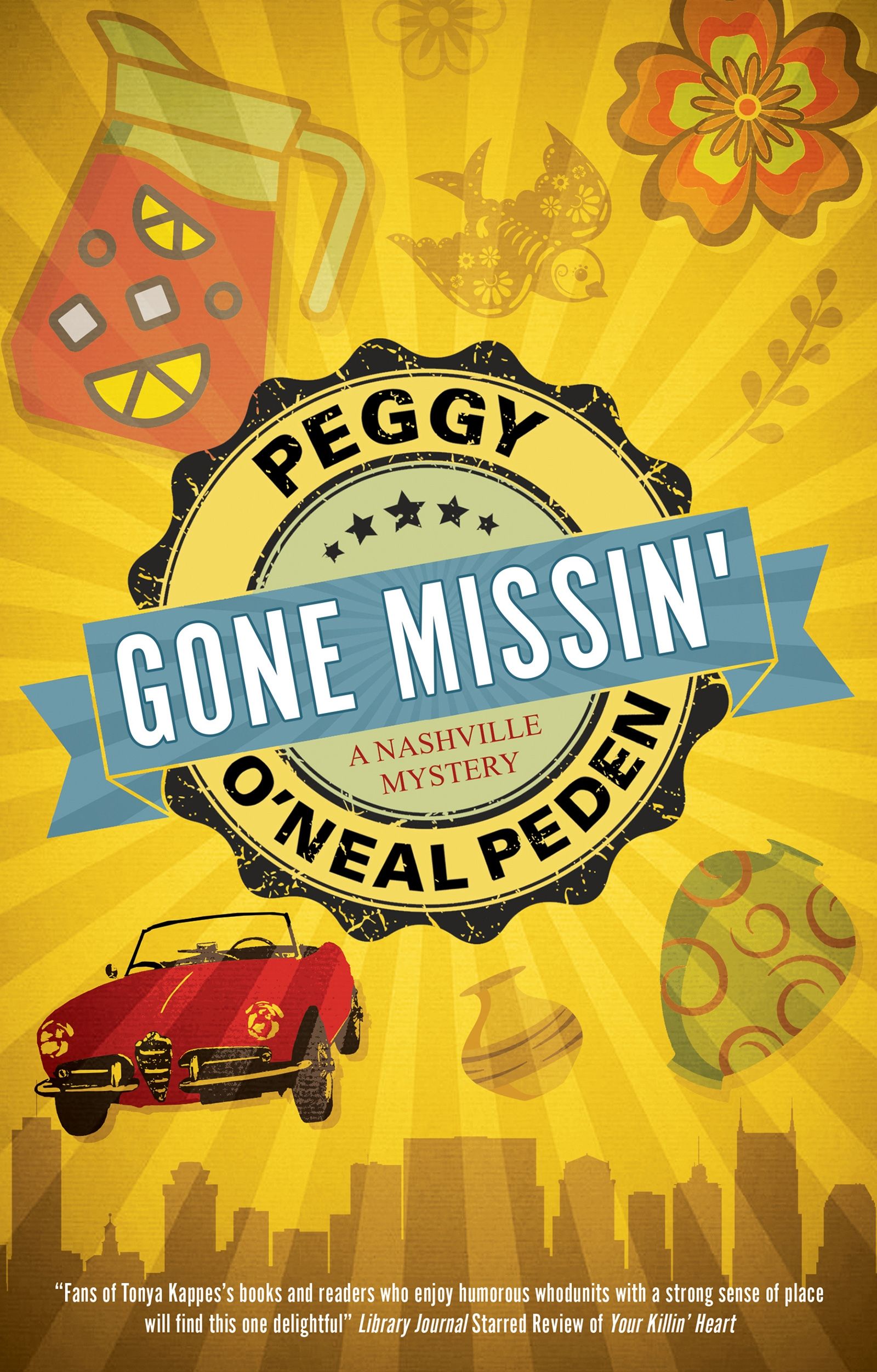 Gone Missin'
by Peggy O'Neal Peden
Nosy, warm-hearted travel agent Campbell Hall gets mixed up in a missing persons case when beloved Nashville socialite Bitsy Carter vanishes during her Mexican vacation.
"Fans of Diane Mott Davidson and Donna Andrews will enjoy this new series" – Booklist
Travel agent Campbell Hale isn't surprised when she hears her good friend, socialite and talented artist Bitsy Carter, has booked a luxury Mexican spa vacation through her agency. Bitsy often takes solo trips abroad, and who'd want to spend February in grey Nashville when they could avoid it?
She is, however, extremely surprised – and extremely worried – when Bitsy doesn't come back.
What could compel warm, friendly Bitsy to run away without telling anyone her plans? And most puzzling of all: what could make her leave her small children behind?
The answers lie in Zihuatanejo, and Campbell barely needs to twist new boyfriend Detective Sam Davis' arm to get him to agree to accompany her there. Campbell's determined to uncover the truth, but will this be a vacation to remember . . . or one to die for?
Reviews
"Peden's debut vividly captures the Nashville music scene and the city's Southern atmosphere. Campbell is a charming amateur sleuth, loyal to a fault ... Fans of TONYA KAPPES's books and readers who enjoy humorous whodunits with a strong sense of place will find this one delightful"
Library Journal Starred Review of Your Killin' Heart
"Campbell is a plucky contemporary heroine ... Fans of DIANE MOTT DAVIDSON and DONNA ANDREWS will enjoy this new series"
Booklist on Your Killin' Heart
"Peden's debut paints a matter-of-fact picture of the city that lives for music. Her heroine is a typical cozy sleuth, bright and gutsy"
Kirkus Reviews on Your Killin' Heart
"A realistic heroine of warmth and honor, Campbell Hale gets caught up in dangerous doings surrounding a country music icon's legacy. A Nashville hit!"
Mary Saums, author of the Thistle & Twigg mysteries
Editions
Gone Missin' by Peggy O'Neal Peden is available in the following formats
| | | | | | |
| --- | --- | --- | --- | --- | --- |
| Hardback | 9780727850843 | 4th January 2022 | 140 X 225mm | 192 | $28.99 |
| Hardback | 9780727850843 | 28th October 2021 | 140 X 225mm | 192 | £20.99 |
| Ebook | 9781448306343 | 1st December 2021 | N/A | 192 | $14.99 |
| Ebook | 9781448306343 | 1st December 2021 | N/A | 192 | £20.99 |
| Paperback | 9781448306350 | 30th August 2022 | 140 X 217mm | 192 | $17.95 |
| Paperback | 9781448306350 | 30th June 2022 | 140 X 217mm | 192 | £12.99 |
| Format | ISBN | Publication Date | Dimensions | Pages | Price |
The Nashville mystery Series