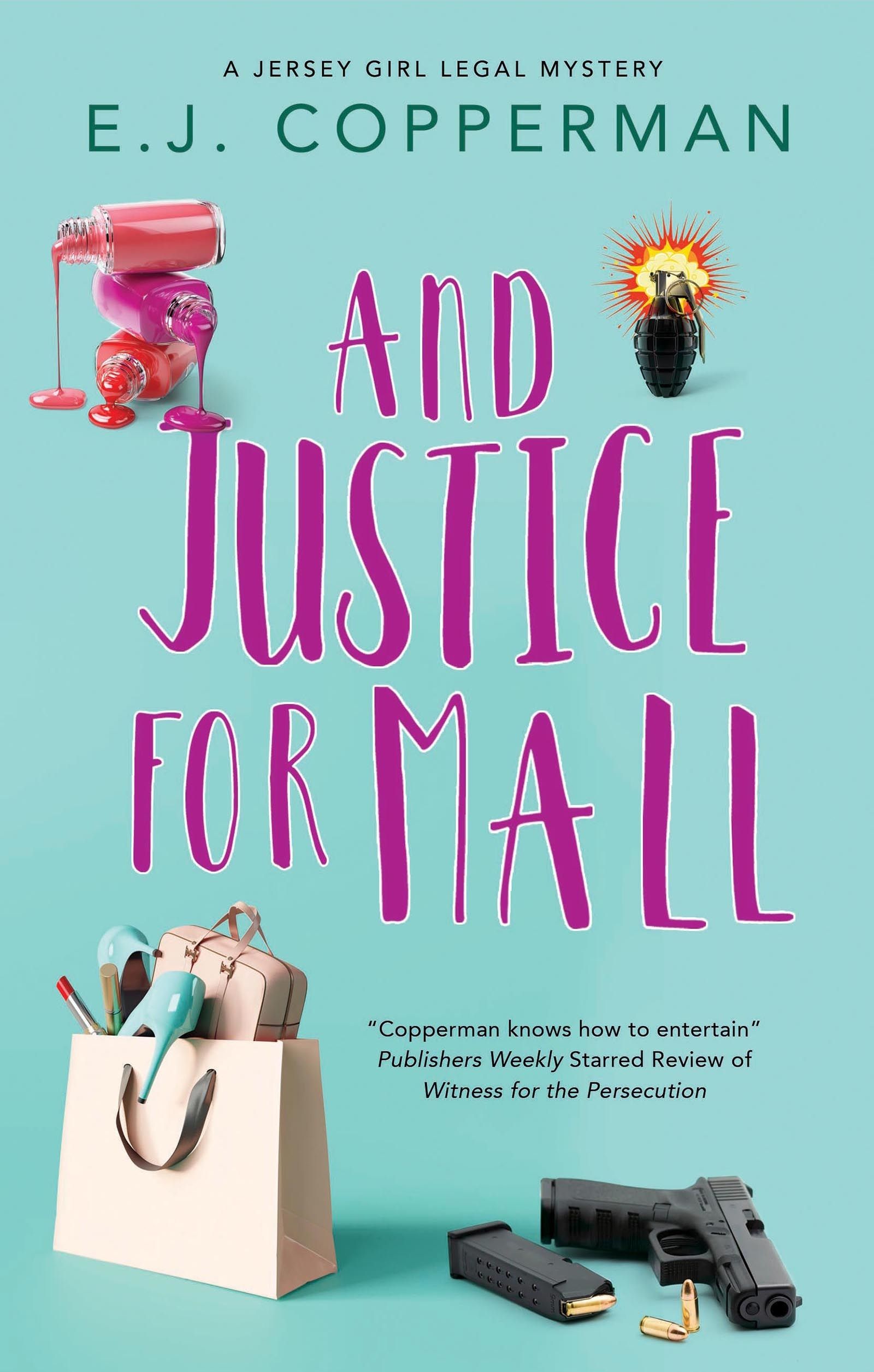 And Justice For Mall
by E.J. Copperman
Hollywood, house hunting . . . and hand grenades?! Life turns explosive for New Jersey prosecutor turned LA family lawyer Sandy Moss when she takes on an unexpected new client: pre-teen millionaire Riley Schoenberg.
When Riley Schoenberg strides into family lawyer Sandy Moss's office without knocking and coolly sits down, Sandy's more irritated than amused. She has a client meeting to prepare for, and being interrupted by an eleven-year-old girl is not on her to-do list.
But then Sandy hears Riley's pitch, and it's a killer one: Riley's father's been convicted of murdering her mother . . . and the oddly intimidating pre-teen will do anything to get him out of jail.
Sandy, in turn, will do anything to get Riley out of her office. Which includes agreeing to look into her dad's case for free. A decision she regrets when it turns out Riley's inheritance has made her a multi-millionaire.
Still, Sandy's determined to get Riley the answers she needs. There's just one tiny problem: Riley might be convinced her father's innocent, but Jack Schoenberg is insisting he did it.
Fast-paced and funny, And Justice For Mall stars a streetwise, loveable heroine who "could give Perry Mason a run for his money" (Kirkus Reviews), and is a great read for fans of cozies, legal dramas and fun!
Reviews
"Copperman has [zaniness] on tap for his latest dose of legal mayhem"
Kirkus Reviews
"Sprightly characters and smart dialogue drive the plot . . . Those seeking pure escapist fare will be delighted"
Publishers Weekly
"Fans of bizarre characters and spirited sleuths will appreciate this offbeat, humorous story"
Library Journal
"The legal frame is well constructed, and the plot has plenty of curves"
Booklist
"Copperman knows how to entertain"
Publishers Weekly Starred Review of Witness for the Persecution
"Crafty and zany, with a well-clued solution"
Kirkus Reviews on Witness for the Persecution
"Readers who enjoy streetwise protagonists and intelligent courtroom scenes will appreciate Copperman's latest"
Library Journal on Witness for the Persecution
"Terrific ... This breezy book is a pure pleasure to read"
Publishers Weekly Starred Review of Judgment at Santa Monica
"Legal mayhem at its finest"
Kirkus Reviews Starred Review of Judgment at Santa Monica
"Sandy is a Jersey girl, a competent, tenacious, yet vulnerable heroine in a cast of vividly described characters and in a story with multiple plot twists that's enlivened with humor and set against the glittering backdrop of Hollywood"
Booklist on Inherit the Shoes
Editions
And Justice For Mall by E.J. Copperman is available in the following formats
| | | | | | |
| --- | --- | --- | --- | --- | --- |
| Hardback | 9780727850775 | 1st November 2022 | 145 X 223mm | 240 | $29.99 |
| Hardback | 9780727850775 | 1st November 2022 | 145 X 223mm | 240 | £20.99 |
| Ebook | 9781448308088 | 1st November 2022 | N/A | 240 | $14.99 |
| Ebook | 9781448308088 | 1st November 2022 | N/A | 240 | £12.99 |
| Paperback | 9781448308095 | 30th April 2024 | 138 X 216mm | 240 | $18.99 |
| Paperback | 9781448308095 | 29th February 2024 | 138 X 216mm | 240 | £13.99 |
| Format | ISBN | Publication Date | Dimensions | Pages | Price |
The Jersey Girl Legal Mystery Series