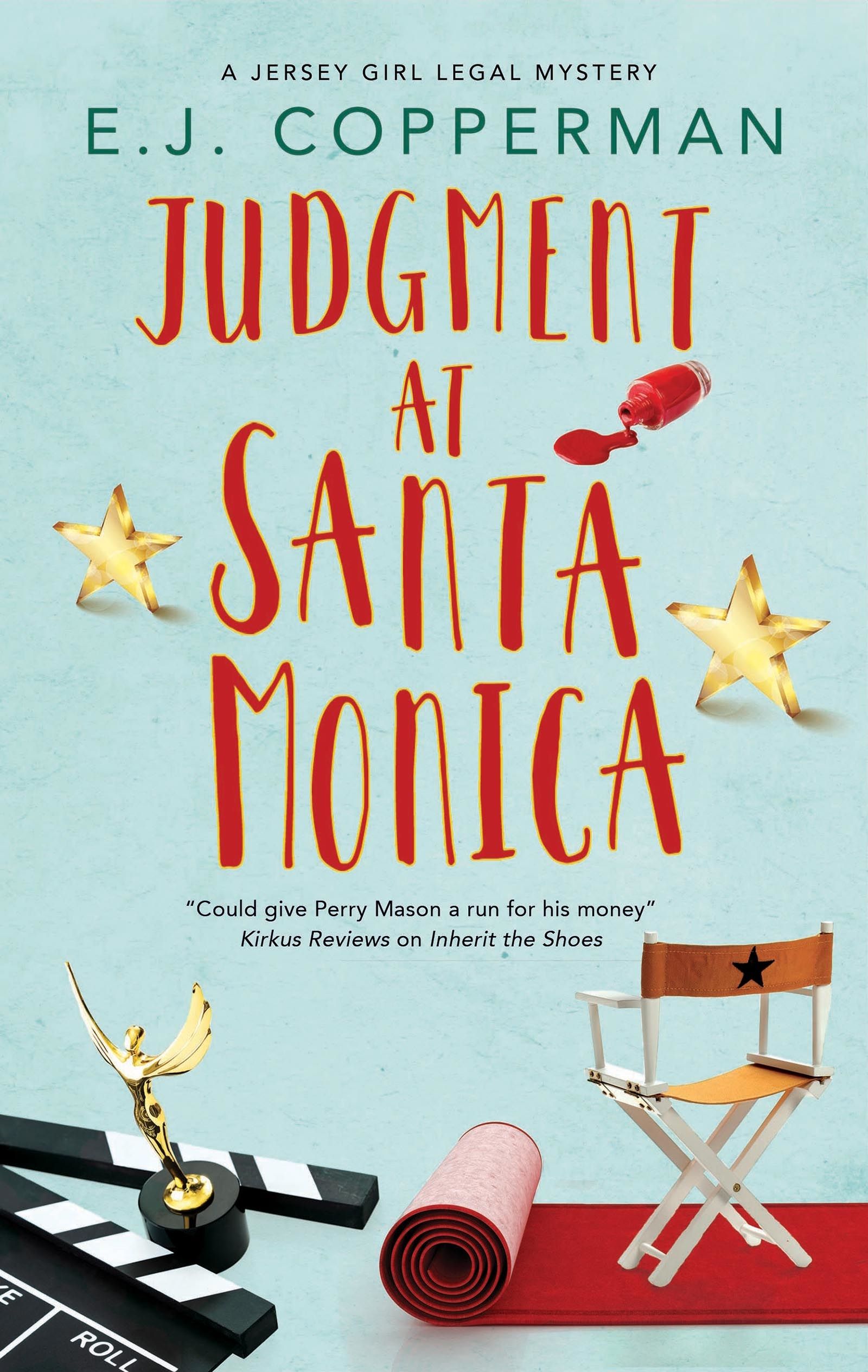 Judgment at Santa Monica
by E.J. Copperman
Hollywood stars, sunshine, stabbings . . . New Jersey prosecutor turned LA family lawyer Sandy Moss is back with a bang in the second book in this fun, witty and fast-paced cosy legal mystery series.
The last person family lawyer Sandy Moss expects to walk into her courtroom, right in the middle of a trial, is TV star Patrick McNabb: prime suspect in her first (and she hopes, last) murder case.
Sandy knows what Patrick's like. Friendly, overconfident, dazzlingly handsome . . . and a well-meaning menace. But his request seems harmless enough. His dear friend Cynthia is getting divorced, and he thinks Sandy's perfect for the job. She accepts – because he's Patrick and there is no denying him.
But of course it's not that simple. Soon Sandy's tangled up in yet another murder – and Patrick, who's currently playing a private detective on TV, believes he's essential to solving the whole thing . . .
Fast-paced, funny and larger than life, with a joy of a protagonist who "could give Perry Mason a run for his money" (Kirkus Reviews), JUDGMENT AT SANTA MONICA is a perfect escapist read and a great choice for fans of legal mysteries and TV shows.
Reviews
"Legal mayhem at its finest"
Kirkus Reviews Starred Review
"Terrific ... This breezy book is a pure pleasure to read"
Publishers Weekly Starred Review
"Readers won't want to miss a minute of the mayhem. In or out of the courtroom, Copperman's right on the money"
Kirkus Reviews on Inherit the Shoes
"Sandy is a Jersey girl, a competent, tenacious, yet vulnerable heroine in a cast of vividly described characters and in a story with multiple plot twists that's enlivened with humor and set against the glittering backdrop of Hollywood"
Booklist on Inherit the Shoes
"Delightful, witty ... Readers who appreciate Miranda James' mysteries will savor this fun cozy"
Library Journal Starred Review of Bird, Bath, and Beyond
Kirkus Reviews on Bird, Bath, and Beyond
"Charming ... Cozy readers should savor this romp through the world of animal acting and television production"
Publishers Weekly on Bird, Bath, and Beyond
Publishers Weekly on Bones Behind the Wheel
Editions
Judgment at Santa Monica by E.J. Copperman is available in the following formats
| | | | | | |
| --- | --- | --- | --- | --- | --- |
| Hardback | 9780727890986 | 5th October 2021 | 145 X 224mm | 240 | $28.99 |
| Hardback | 9780727890986 | 29th July 2021 | 145 X 224mm | 240 | £20.99 |
| Ebook | 9781448305506 | 1st September 2021 | N/A | 240 | $6.99 |
| Ebook | 9781448305506 | 1st September 2021 | N/A | 240 | £4.99 |
| Hardback - Large Print | 9781448311521 | 29th August 2023 | 146 X 222mm | 352 | $38.99 |
| Hardback - Large Print | 9781448311521 | 11th July 2023 | 146 X 222mm | 352 | £23.99 |
| Paperback | 9781780298122 | 31st May 2022 | 139 X 215mm | 240 | $17.95 |
| Paperback | 9781780298122 | 31st March 2022 | 139 X 215mm | 240 | £13.99 |
| Format | ISBN | Publication Date | Dimensions | Pages | Price |
The Jersey Girl Legal Mystery Series