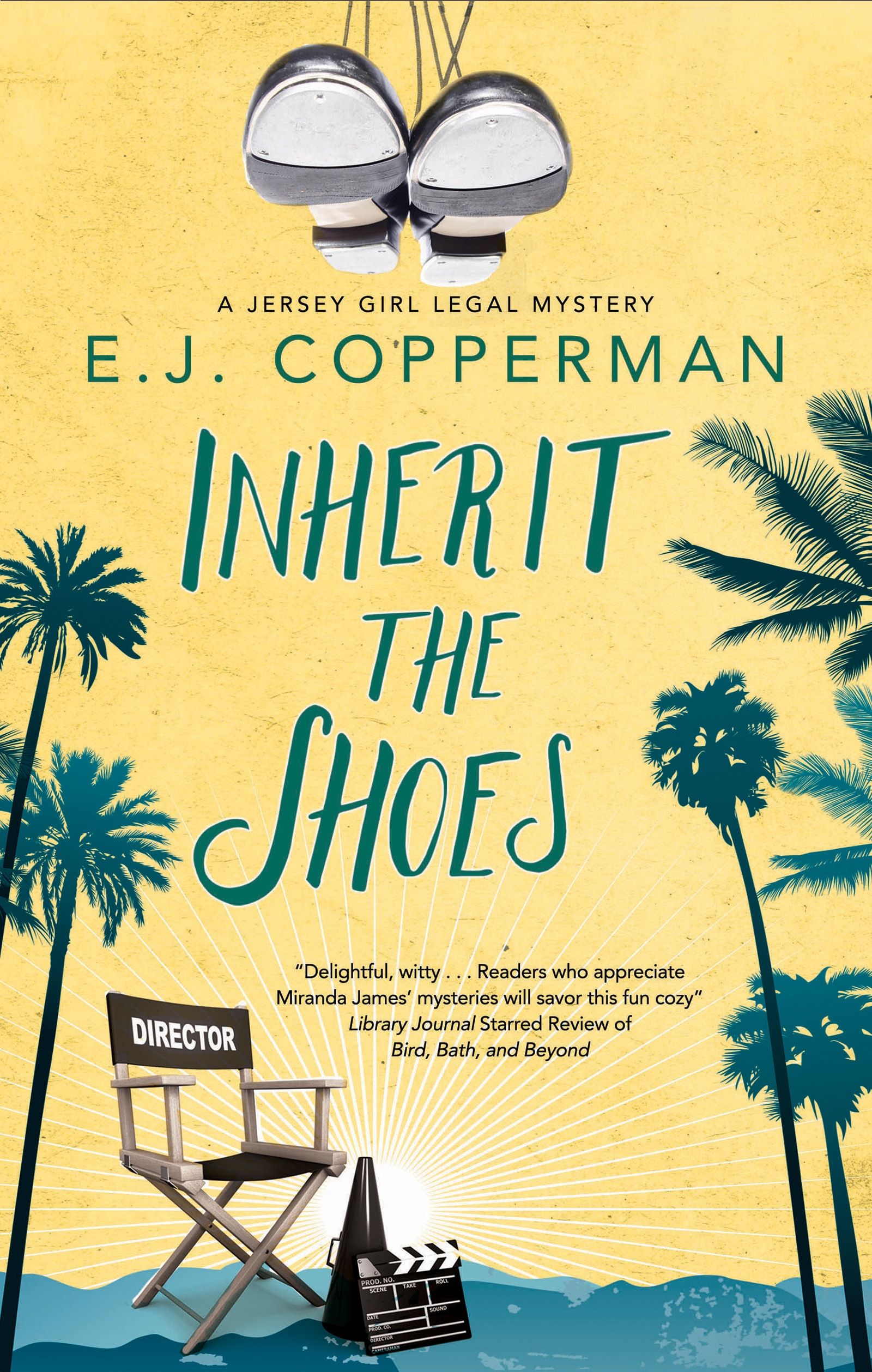 Inherit the Shoes
by E.J. Copperman
Lawyer Sandy Moss gets mixed up in a celebrity murder case in LA, in the first in a brand-new cosy legal mystery series.
New Jersey prosecutor Sandy Moss is tired of petty criminals, and a new job at a glitzy Los Angeles law firm seems the perfect career move. Putting 3,000 miles between her and her ex-boyfriend is just an added bonus.
But on Sandy's first morning as a family attorney, she inadvertently kills her new career stone dead when she offends her boss during a meeting with the firm's top celebrity client, charismatic TV star Patrick McNabb. But that's not as dead as Patrick's soon-to-be ex-wife, Patsy, is that evening, when she's discovered shot by an arrow, her husband standing over her.
Did Patrick really kill his wife in a dispute over a pair of shoes? All signs point to yes. But Patrick is determined to clear his name, using all the legal skills he's learned from playing a lawyer on TV, and to Sandy's deep dismay, she's the only person he'll allow to help . . .
Reviews
"Sandy is a Jersey girl, a competent, tenacious, yet vulnerable heroine in a cast of vividly described characters and in a story with multiple plot twists that's enlivened with humor and set against the glittering backdrop of Hollywood"
Booklist
"Readers won't want to miss a minute of the mayhem. In or out of the courtroom, Copperman's right on the money"
Kirkus Reviews
"Delightful, witty . . . Readers who appreciate Miranda James' mysteries will savor this fun cozy"
Library Journal Starred Review of Bird, Bath, and Beyond
Kirkus Reviews on Bird, Bath, and Beyond
"Charming . . . Cozy readers should savor this romp through the world of animal acting and television production"
Publishers Weekly on Bird, Bath, and Beyond
Publishers Weekly on Bones Behind the Wheel
"Anyone looking for a laugh-out-loud mystery should pick up this series launch"
Library Journal Starred Review of Dog Dish of Doom
Editions
Inherit the Shoes by E.J. Copperman is available in the following formats
| | | | | | |
| --- | --- | --- | --- | --- | --- |
| Hardback | 9780727890849 | 5th January 2021 | 135 X 190mm | 240 | $28.99 |
| Hardback | 9780727890849 | 30th October 2020 | 135 X 190mm | 240 | £20.99 |
| Ebook | 9781448304417 | 1st December 2020 | N/A | 224 | $6.99 |
| Ebook | 9781448304417 | 1st December 2020 | N/A | 224 | £4.99 |
| Hardback - Large Print | 9781780291734 | 27th July 2021 | 145 X 223mm | 368 | $36.95 |
| Hardback - Large Print | 9781780291734 | 31st May 2021 | 145 X 223mm | 368 | £22.99 |
| Paperback | 9781780297200 | 27th September 2021 | 139 X 215mm | 224 | $17.95 |
| Paperback | 9781780297200 | 29th July 2021 | 139 X 215mm | 224 | £13.99 |
| Format | ISBN | Publication Date | Dimensions | Pages | Price |
The Jersey Girl Legal Mystery Series