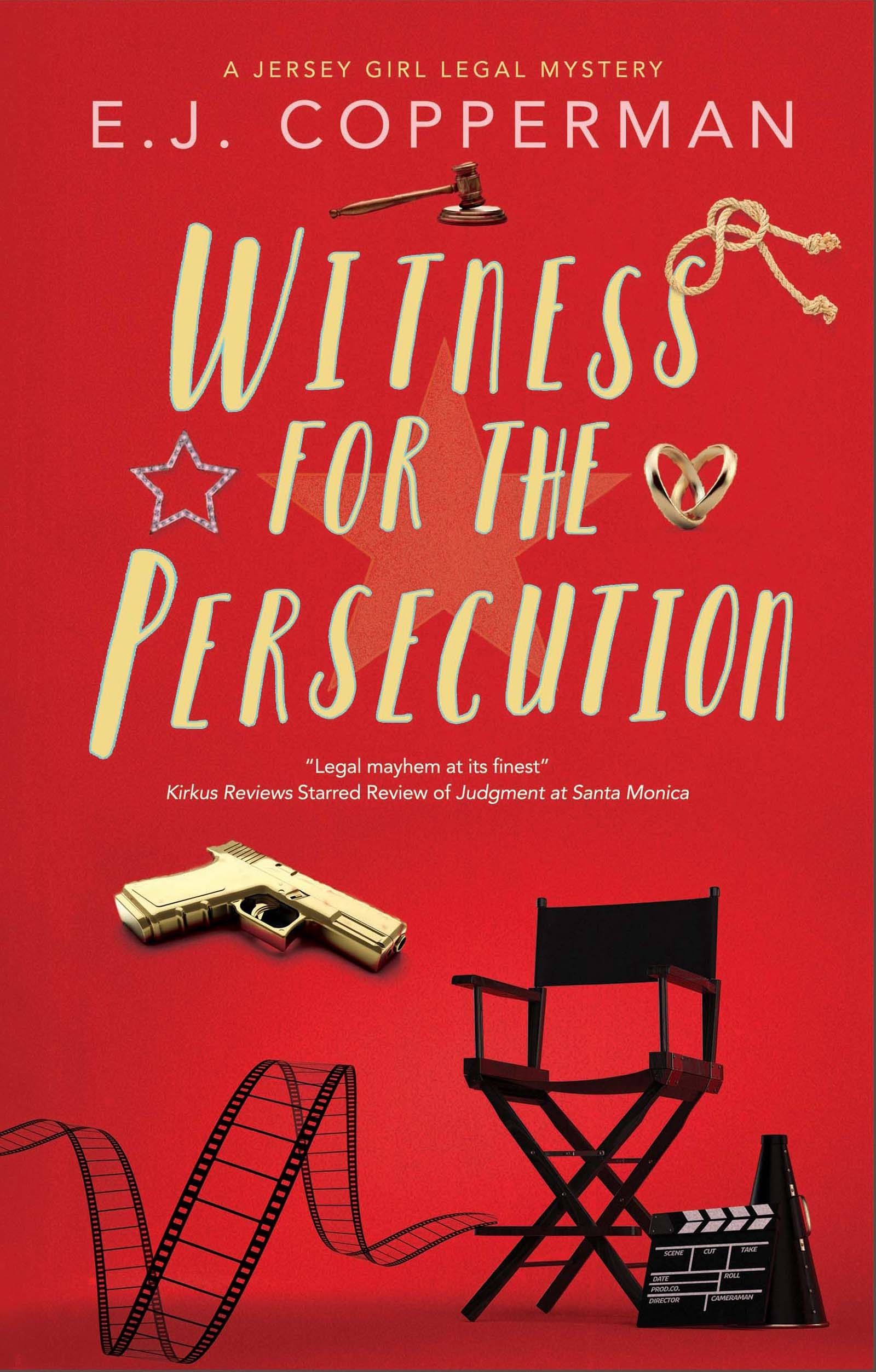 Witness for the Persecution
by E.J. Copperman
Movie premieres, murder charges and celebrity shenanigans? It's all in a day's work for New Jersey prosecutor turned LA family lawyer Sandy Moss.
"Copperman knows how to entertain" – Publishers Weekly Starred Review
Former New Jersey prosecutor Sandy Moss moved to a prestigious Los Angeles law firm to make a new start as a family lawyer. So it seems a little unfair that Seaton, Taylor have created a criminal law division specifically for her. Just because she's successfully defended two murder trials, it doesn't mean she likes them!
But when abrasive Hollywood movie director Robert Reeves is accused of murdering a stuntman on set, Sandy finds she can't say no when he demands her help. Robert might be an unpleasant, egotistical liar, but something tells Sandy that he's innocent – even if no one else can see it.
At least this time, she reassures herself, her charismatic, adorable, and oh-so annoying TV star boyfriend Patrick McNabb isn't involved in the case. He isn't . . . right?
The third in the fast-paced, funny legal mystery series starring pitch-perfect heroine Sandy Moss, who "could give Perry Mason a run for his money" (Kirkus Reviews), is a great pick for fans of cozy mysteries, legal dramas and anyone who likes to laugh!
Reviews
"Copperman knows how to entertain"
Publishers Weekly Starred Review
"Crafty and zany, with a well-clued solution"
Kirkus Reviews
"Readers who enjoy streetwise protagonists and intelligent courtroom scenes will appreciate Copperman's latest"
Library Journal
"Terrific ... This breezy book is a pure pleasure to read"
Publishers Weekly Starred Review of Judgment at Santa Monica
"Legal mayhem at its finest"
Kirkus Reviews Starred Review of Judgment at Santa Monica
"Sandy is a Jersey girl, a competent, tenacious, yet vulnerable heroine in a cast of vividly described characters and in a story with multiple plot twists that's enlivened with humor and set against the glittering backdrop of Hollywood"
Booklist on Inherit the Shoes
"Readers won't want to miss a minute of the mayhem. In or out of the courtroom, Copperman's right on the money"
Kirkus Reviews on Inherit the Shoes
"Delightful, witty ... Readers who appreciate Miranda James' mysteries will savor this fun cozy"
Library Journal Starred Review of Bird, Bath, and Beyond
"Charming ... Cozy readers should savor this romp through the world of animal acting and television production"
Publishers Weekly on Bird, Bath, and Beyond
Kirkus Reviews on Bird, Bath, and Beyond
Editions
Witness for the Persecution by E.J. Copperman is available in the following formats
| | | | | | |
| --- | --- | --- | --- | --- | --- |
| Hardback | 9780727850768 | 5th April 2022 | 145 X 224mm | 240 | $28.99 |
| Hardback | 9780727850768 | 27th January 2022 | 145 X 224mm | 240 | £20.99 |
| Ebook | 9781448308101 | 1st March 2022 | N/A | 240 | $10.99 |
| Ebook | 9781448308101 | 1st March 2022 | N/A | 240 | £7.99 |
| Paperback | 9781448308118 | 29th November 2022 | 140 X 215mm | 240 | $17.95 |
| Paperback | 9781448308118 | 29th September 2022 | 140 X 215mm | 240 | £12.99 |
| Format | ISBN | Publication Date | Dimensions | Pages | Price |
The Jersey Girl Legal Mystery Series