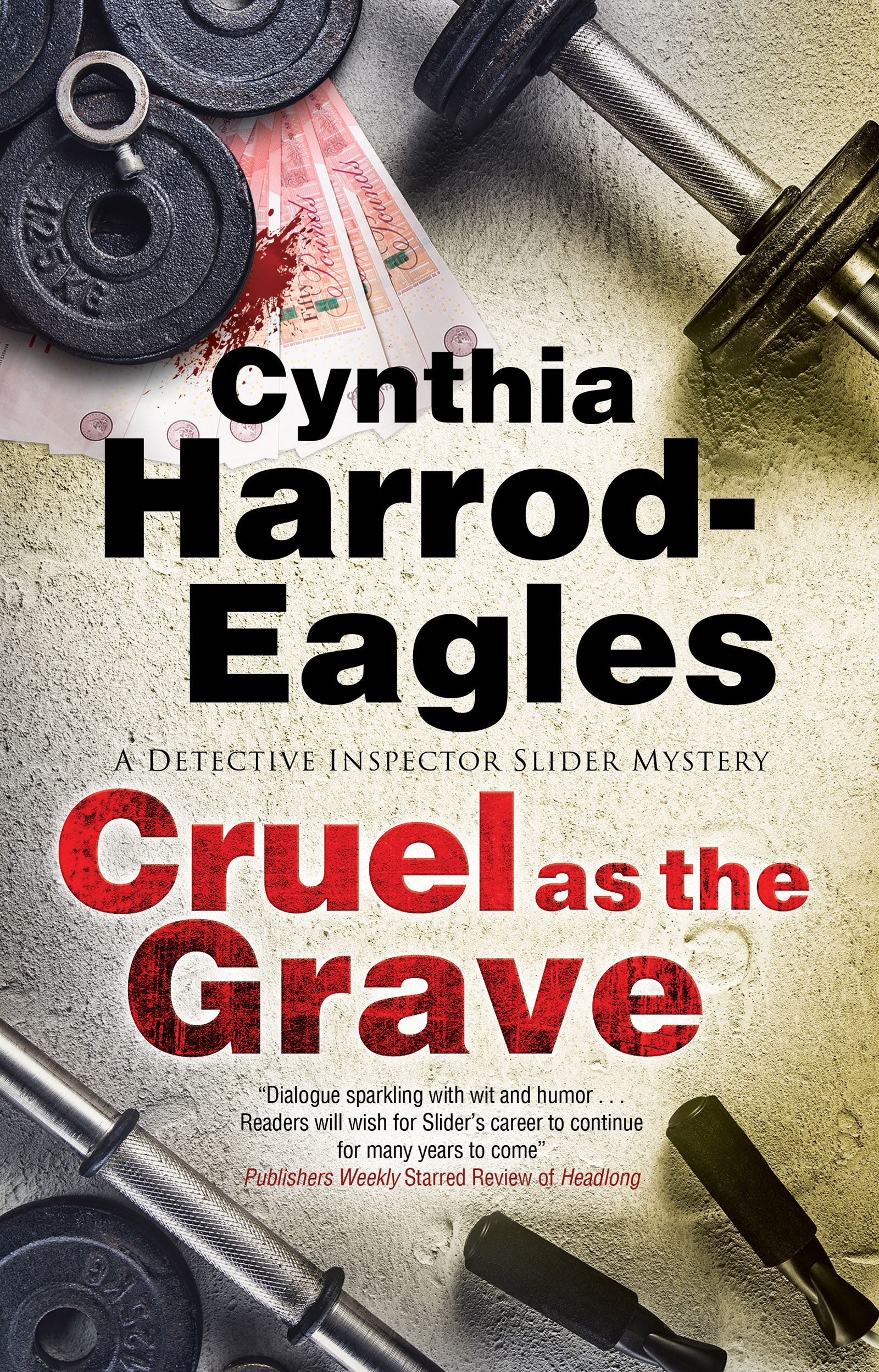 Cruel as the Grave
by Cynthia Harrod-Eagles
The murder of a personal fitness trainer draws DCI Bill Slider and his team into a baffling investigation where nothing is as it first appears.
Fitness trainer Erik Lingoss is found dead in his west London flat, his head smashed by one of his own dumbbells. His heartlessly-dumped girlfriend, blood on her clothes and hands, is the prime suspect. She had means, opportunity, and motive.
But is the case as clear-cut as it seems? Handsome Erik Lingoss had clients in high places; and he seemed to engender powerful emotions. If it was a crime of passion, there was plenty of that to go round: love strong as death, jealousy cruel as the grave.
Who did he let in to his flat that evening? Where is his missing mobile phone? Why is seven hundred pounds in cash stuffed under his pillow? The deeper Slider and his team dig, the clearer it becomes there's far more to this case than meets the eye.
Reviews
"Harrod-Eagles' latest DCI Bill Slider novel brings the series to a new level, with one of Slider's most challenging and unusual cases to date … An outstanding mix of hard-boiled action and interpersonal give-and-take, perfect for those who like something a bit different from the standard police procedural"
Booklist Starred Review
"Sparkling dialogue complements a plot that provides satisfyingly shifting motives and persons of interest. However, it's Harrod-Eagles's ability to create authentic relationships between Slider and his colleagues and family that lifts this series into a league of its own … This entry will garner new readers and delight loyal fans"
Publishers Weekly Starred Review
"A model no-frills British procedural, written with the author's cool confidence and lashes of humor"
Kirkus Reviews
"A witty, thoughtful mystery ... Fans of Deborah Crombie's 'Duncan Kincaid and Gemma James' series will be moved by this carefully constructed tale"
Library Journal Starred Review of Headlong
"Dialogue sparkling with wit and humor ... An immensely enjoyable ride through London and its publishing world in the company of thoroughly relatable characters. Readers will wish for Slider's career to continue for many years to come"
Publishers Weekly Starred Review of Headlong
"While the investigation itself makes for an attention-grabbing read, it's Harrod-Eagles' deftly drawn characters and the sheer likability of Slider and his colleagues that provide the central appeal. As always, Harrod-Eagles salts the narrative with witty repartee, including a wealth of clever puns, all of which help make reading this particular book and the entire series such a treat"
Booklist on Headlong
"Highly entertaining ... Harrod-Eagles shows once again why this series ranks high among contemporary British police procedurals"
Publishers Weekly on Shadow Play
"A cracking police procedural ... Another sterling entry in a truly outstanding series"
Booklist Starred Review of Old Bones
Editions
Cruel as the Grave by Cynthia Harrod-Eagles is available in the following formats
| | | | | | |
| --- | --- | --- | --- | --- | --- |
| Hardback | 9780727890856 | 2nd February 2021 | 145 X 220mm | 256 | $28.99 |
| Hardback | 9780727890856 | 30th November 2020 | 145 X 220mm | 256 | £20.99 |
| Ebook | 9781448304714 | 1st January 2021 | N/A | 256 | $14.99 |
| Ebook | 9781448304714 | 1st January 2021 | N/A | 256 | £12.99 |
| Hardback - Large Print | 9781780291789 | 27th July 2021 | 145 X 223mm | 368 | $36.95 |
| Hardback - Large Print | 9781780291789 | 31st May 2021 | 145 X 223mm | 368 | £22.99 |
| Paperback | 9781780297439 | 27th July 2021 | 139 X 217mm | 256 | $17.95 |
| Paperback | 9781780297439 | 31st May 2021 | 139 X 217mm | 256 | £13.99 |
| Format | ISBN | Publication Date | Dimensions | Pages | Price |
The Detective Inspector Slider Mystery Series