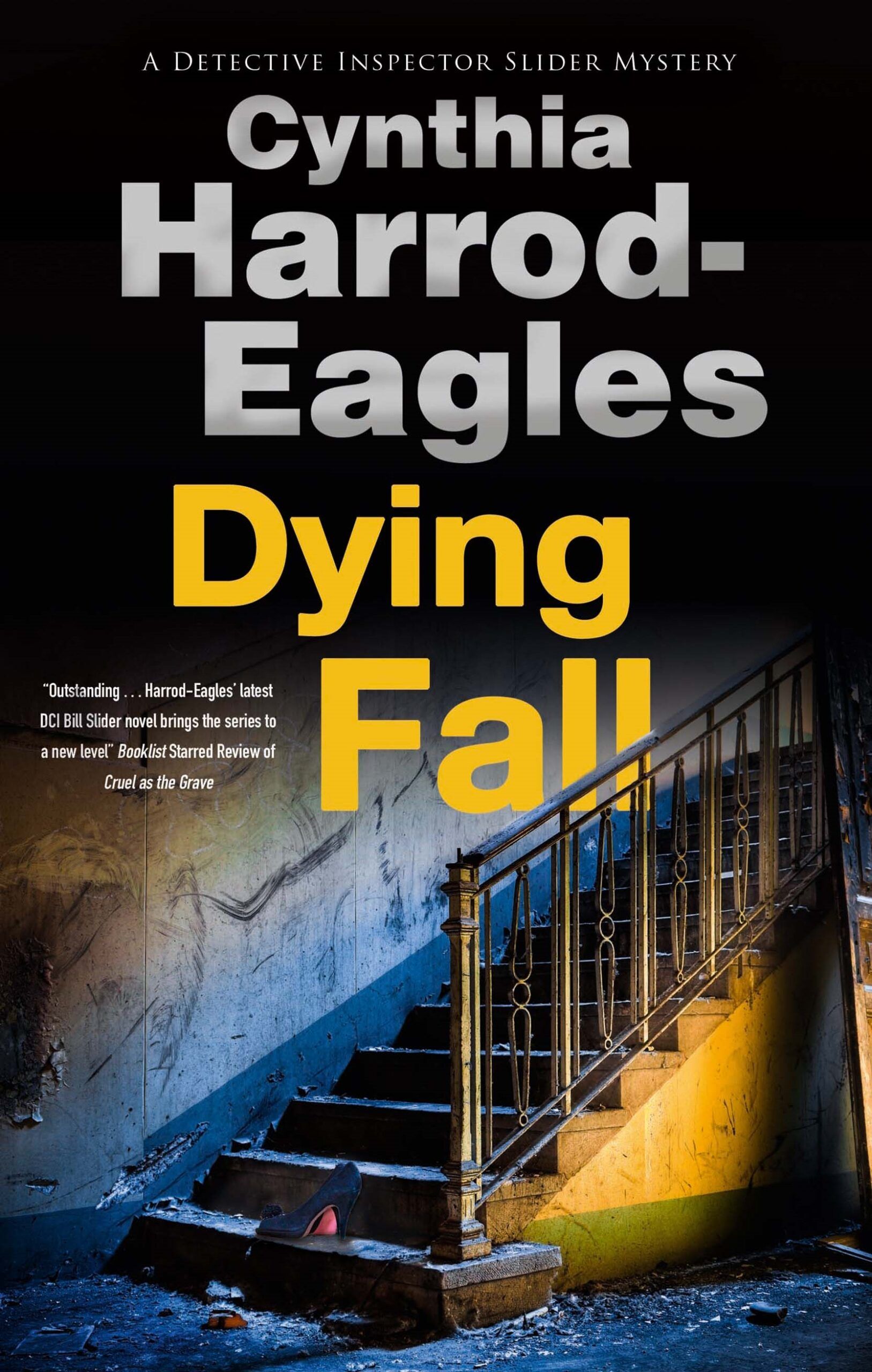 Dying Fall
by Cynthia Harrod-Eagles
Power, money, murder . . . Investigating a seemingly accidental death leads DCI Bill Slider and his team down a dark path in this gripping British police procedural.
The woman lies dead at the foot of the stairs. It's obvious what happened: she tripped and fell. But PC D'Arblay, called to the dilapidated West London villa by an anonymous tip-off, can't shake the feeling that's exactly what someone wants him to think.
It was the deep head wound that killed her – but her dying fall left no blood trail, so what was it she hit her head on?
DCI Slider, of the Shepherd's Bush murder squad, is soon convinced D'Arblay's right. But with no motive, no murder weapon and no idea even who the victim is, Slider faces steep odds to get a result . . . while each painstaking step towards the truth brings him closer to a ruthless, evil killer.
The Bill Slider series is in "a league of its own" (Publishers Weekly Starred Review). If you haven't met Slider and his team yet, why not start now?
Reviews
"Expertly paced work. . .with a particularly satisfying payoff"
Kirkus Reviews
"Another satisfying mystery starring one of Britain's most engaging coppers"
Booklist
"The follow-up to Cruel as the Grave takes murder seriously while handling the police procedural with humor and puns"
Library Journal
"Slider. . .is a refreshing alternative to the dour leads of many police procedurals. Fans of Catherine Aird's witty Inspector C.D. Sloan books will be hooked"
Publishers Weekly
"Harrod-Eagles' latest DCI Bill Slider novel brings the series to a new level … An outstanding mix of hard-boiled action and interpersonal give-and-take, perfect for those who like something a bit different from the standard police procedural"
Booklist Starred Review of Cruel as the Grave
"Sparkling dialogue complements a plot that provides satisfyingly shifting motives and persons of interest … This entry will garner new readers and delight loyal fans"
Publishers Weekly Starred Review of Cruel as the Grave
"A witty, thoughtful mystery ... Fans of DEBORAH CROMBIE's 'Duncan Kincaid and Gemma James' series will be moved by this carefully constructed tale"
Library Journal Starred Review of Headlong
"Dialogue sparkling with wit and humor ... An immensely enjoyable ride through London and its publishing world in the company of thoroughly relatable characters. Readers will wish for Slider's career to continue for many years to come"
Publishers Weekly Starred Review of Headlong
"Harrod-Eagles shows once again why this series ranks high among contemporary British police procedurals"
Booklist on Shadow Play
Editions
Dying Fall by Cynthia Harrod-Eagles is available in the following formats
| | | | | | |
| --- | --- | --- | --- | --- | --- |
| Hardback | 9780727850188 | 1st February 2022 | 145 X 223mm | 256 | $28.99 |
| Hardback | 9780727850188 | 25th November 2021 | 145 X 223mm | 256 | £20.99 |
| Ebook | 9781448307302 | 1st January 2022 | N/A | 256 | $14.99 |
| Ebook | 9781448307302 | 1st January 2022 | N/A | 256 | £12.99 |
| Hardback - Large Print | 9781448309078 | 27th September 2022 | 145 X 224mm | 368 | $36.95 |
| Hardback - Large Print | 9781448309078 | 28th July 2022 | 145 X 224mm | 368 | £22.99 |
| Paperback | 9781448307319 | 27th September 2022 | 138 X 215mm | 256 | $19.95 |
| Paperback | 9781448307319 | 28th July 2022 | 138 X 215mm | 256 | £12.99 |
| Format | ISBN | Publication Date | Dimensions | Pages | Price |
The Detective Inspector Slider Mystery Series