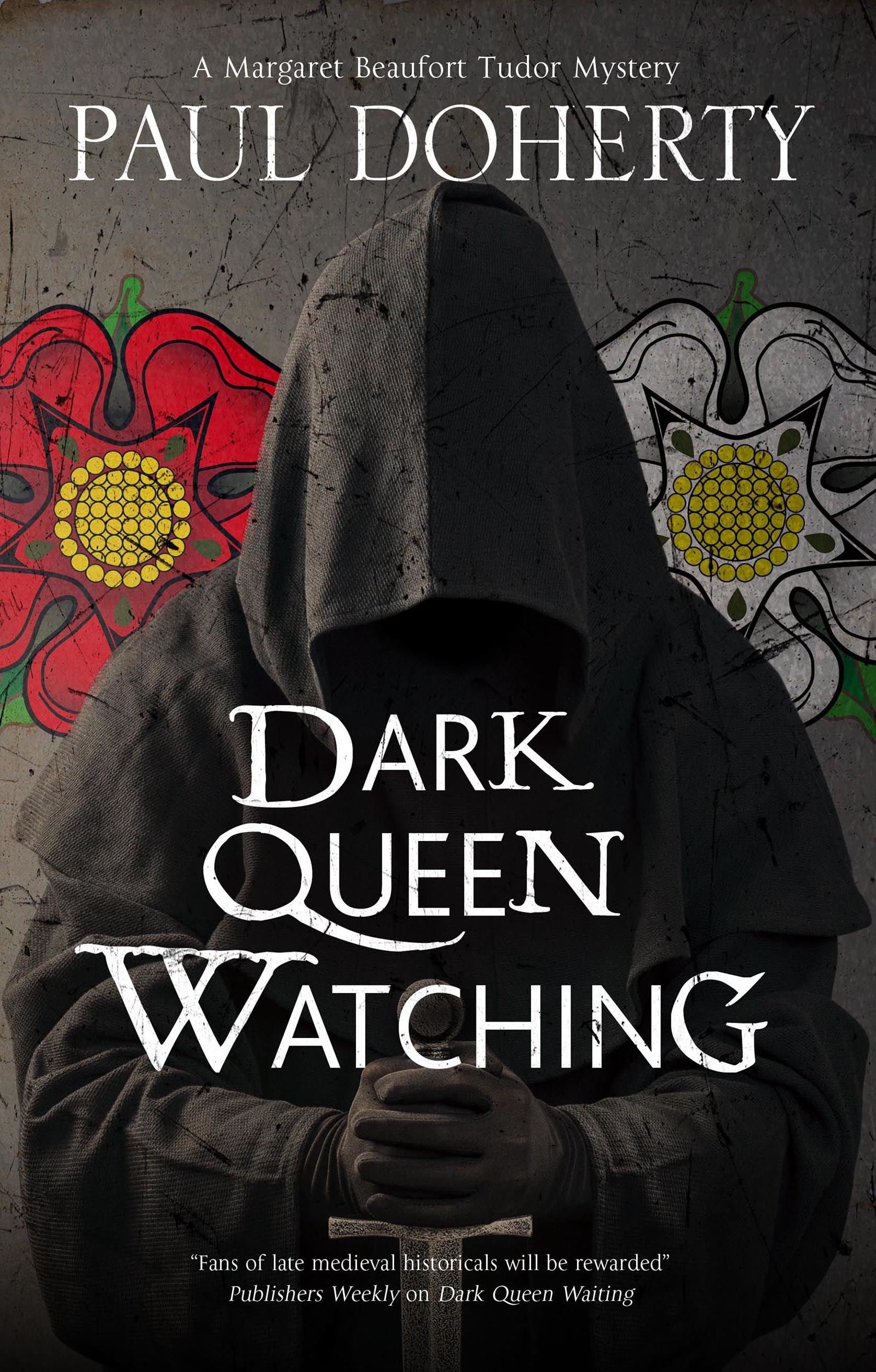 Dark Queen Watching
by Paul Doherty
The arrival of a band of Spanish mercenaries brings new danger for Margaret Beaufort and the House of Lancaster in this richly-imagined medieval mystery.
November, 1471. With Edward of York on the English throne and her son, Henry Tudor, in exile in Brittany, the newly-widowed Margaret Beaufort, Countess of Richmond, is alone, without protectors. All she can do is wait and watch, planning for a time when she's in a position to make her move.
But new dangers are emerging. En route to England is a band of Spanish mercenaries known as the Garduna. With no allegiance to prince, prelate or people, they are a lethal fighting force, utterly ruthless and implacable killers. But who has hired them . . . and why?
The discovery of the body of an unexpected visitor, found murdered in a locked room in her London townhouse, heralds the start of a series of increasingly menacing incidents which threaten Margaret and her household. Is there an enemy within? It's up to Margaret's wily clerk Christopher Urswicke to uncover the truth and ensure Margaret survives to fulfil her destiny.
Reviews
"This entry's devious and deadly plots and conspiracies make Game of Thrones look like a game of patty-cake"
Publishers Weekly Starred Review
"A deep dive into an exciting historical period replete with action-filled sequences and nefarious plots."
Kirkus Reviews
"Historical-mystery fans and those who enjoy strong female protagonists will love this fine thriller"
Booklist
"London at night – dirty, damp, brutal – makes a convincing setting. Fans of late medieval historicals will be rewarded"
Publishers Weekly on Dark Queen Waiting
"An elegantly written, historically based account of evil machinations with a surprising denouement"
Kirkus Reviews on Dark Queen Watching
"Historical mystery fans should settle in for another fine series from a genre pro"
Booklist on Dark Queen Rising
"With consummate skill and pacing, Doherty answers the plot's mysteries in a series of startling revelations, and the atmosphere of a London driven by ambition and greed is palpable. The prolific Doherty shows no sign of losing steam"
Publishers Weekly on The Stone of Destiny
"A tortuous, fascinating historical mystery whose finely honed descriptions are not for the faint of heart"
Kirkus Reviews on The Stone of Destiny
"Outstanding ... Doherty keeps the action brisk, the crimes baffling, and the deductions and solutions fair"
Publishers Weekly Starred Review of The Godless
Editions
Dark Queen Watching by Paul Doherty is available in the following formats
| | | | | | |
| --- | --- | --- | --- | --- | --- |
| Hardback | 9781780291383 | 7th December 2021 | 145 X 223mm | 224 | $28.99 |
| Hardback | 9781780291383 | 30th September 2021 | 145 X 223mm | 224 | £20.99 |
| Ebook | 9781448305858 | 1st November 2021 | N/A | 224 | $14.99 |
| Ebook | 9781448305858 | 1st November 2021 | N/A | 224 | £12.99 |
| Hardback - Large Print | 9781448308767 | 30th August 2022 | 144 X 222mm | 336 | $36.95 |
| Hardback - Large Print | 9781448308767 | 30th June 2022 | 144 X 222mm | 336 | £22.99 |
| Paperback | 9781448305865 | 26th July 2022 | 139 X 218mm | 224 | $17.95 |
| Paperback | 9781448305865 | 26th May 2022 | 139 X 218mm | 224 | £12.99 |
| Format | ISBN | Publication Date | Dimensions | Pages | Price |
The Margaret Beaufort Tudor Mystery Series