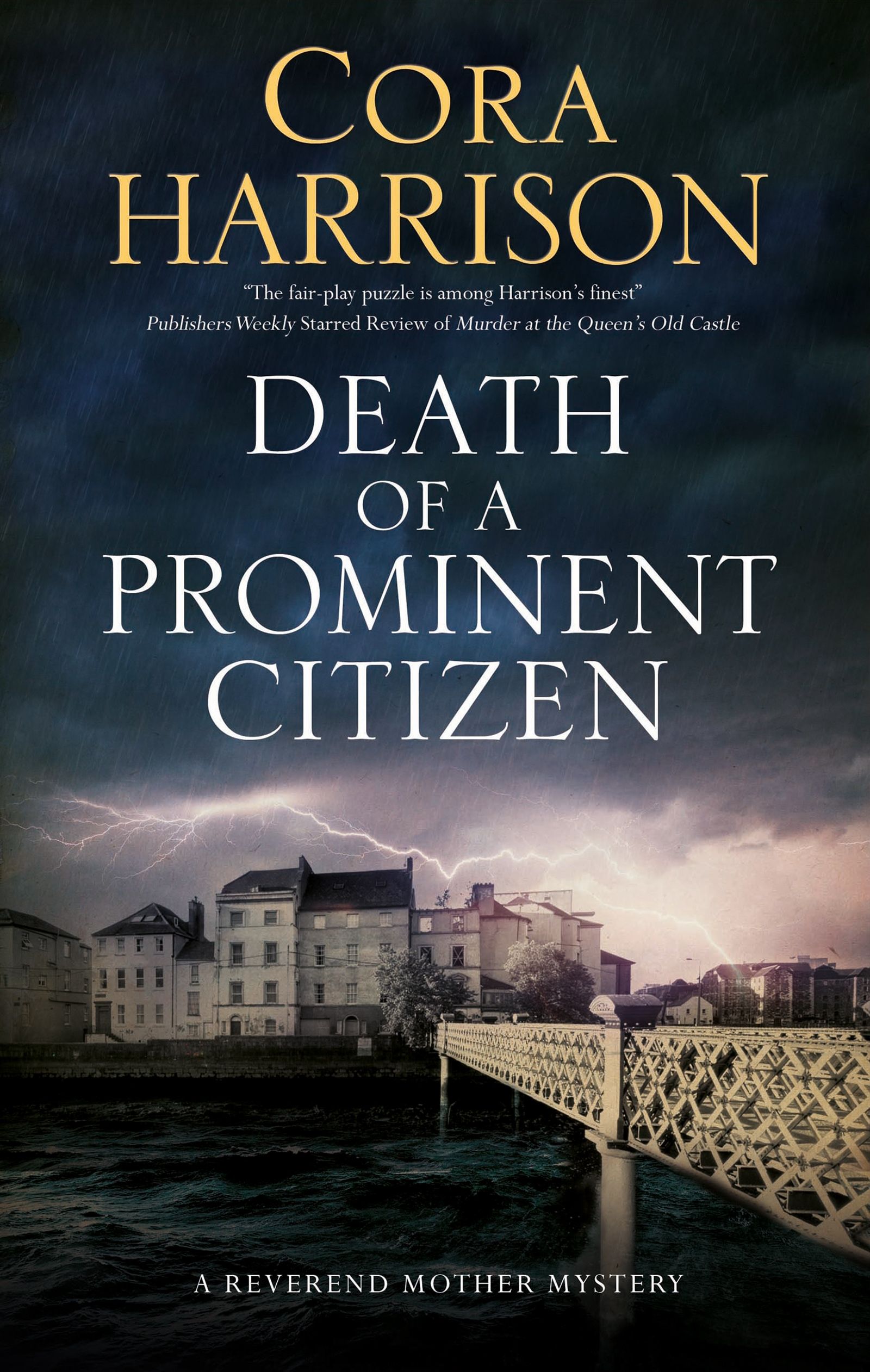 Death of a Prominent Citizen
by Cora Harrison
"Harrison's seventh Reverend Mother whodunit stands out as her trickiest yet … Fans of historical puzzle mysteries will be delighted" – Publishers Weekly Starred Review

Money is the root of all evil, according to the Reverend Mother – but is it the motive for her cousin's murder?
Wealthy widow Charlotte Hendrick had always promised that her riches would be divided equally between her seven closest relatives when she died. Now she has changed her mind and summoned her nearest and dearest, including her cousin, the Reverend Mother, to her substantial home on Bachelor's Quay to inform them of her decision. As Mrs Hendrick's relatives desperately make their case to retain a share of her wealth, riots break out on the quays outside as the flood waters rise …
The following morning, a body is discovered in the master bedroom, its throat cut. Could there be a connection to the riots of the night before – or does the killer lie closer to home? In her efforts to uncover the truth, the Reverend Mother unearths a tale of greed, cruelty, forbidden passion … and cold-blooded malice.
Reviews
"Harrison's seventh Reverend Mother whodunit stands out as her trickiest yet … Fans of historical puzzle mysteries will be delighted"
Publishers Weekly Starred Review
"A classic golden-age mystery whose shocking solution will appeal to fans of Christie and Sayers"
Kirkus Reviews
"Harrison is at the top of her game in her 6th whodunit ... The fair-play puzzle is among Harrison's finest"
Publishers Weekly Starred Review of Murder at the Queen's Old Castle
"Sparkling descriptions of life in 1920s Cork and fascinating historical details combine to ably support a clever plot and an intriguing cast"
Booklist on Murder at the Queen's Old Castle
"This highly readable historical series is perfect for fans of authors who focus on a vivid locale such as Andrea Camilleri and Ann Cleeves"
Library Journal on Murder at the Queen's Old Castle
"Harrison's 5th engrossing mystery brings to life the turbulence and politics of 1920s Ireland. Reverend Mother will appeal to admirers of Ellis Peters' Brother Cadfael mysteries"
Library Journal Starred Review of Death of a Novice
"An admirable heroine, vivid characters, and an inventive plot, combined with intriguing insights ... make for a captivating read"
Booklist on Death of a Novice
Editions
Death of a Prominent Citizen by Cora Harrison is available in the following formats
| | | | | | |
| --- | --- | --- | --- | --- | --- |
| Hardback | 9780727889249 | 7th July 2020 | 144 X 224mm | 224 | $28.99 |
| Hardback | 9780727889249 | 31st March 2020 | 144 X 224mm | 224 | £20.99 |
| Ebook | 9781448304196 | 1st May 2020 | N/A | 224 | $14.99 |
| Ebook | 9781448304196 | 1st May 2020 | N/A | 224 | £12.99 |
| Paperback | 9781780296944 | 31st May 2022 | 140 X 215mm | 224 | $17.95 |
| Paperback | 9781780296944 | 31st March 2022 | 140 X 215mm | 224 | £12.99 |
| Format | ISBN | Publication Date | Dimensions | Pages | Price |
The Reverend Mother Mystery Series