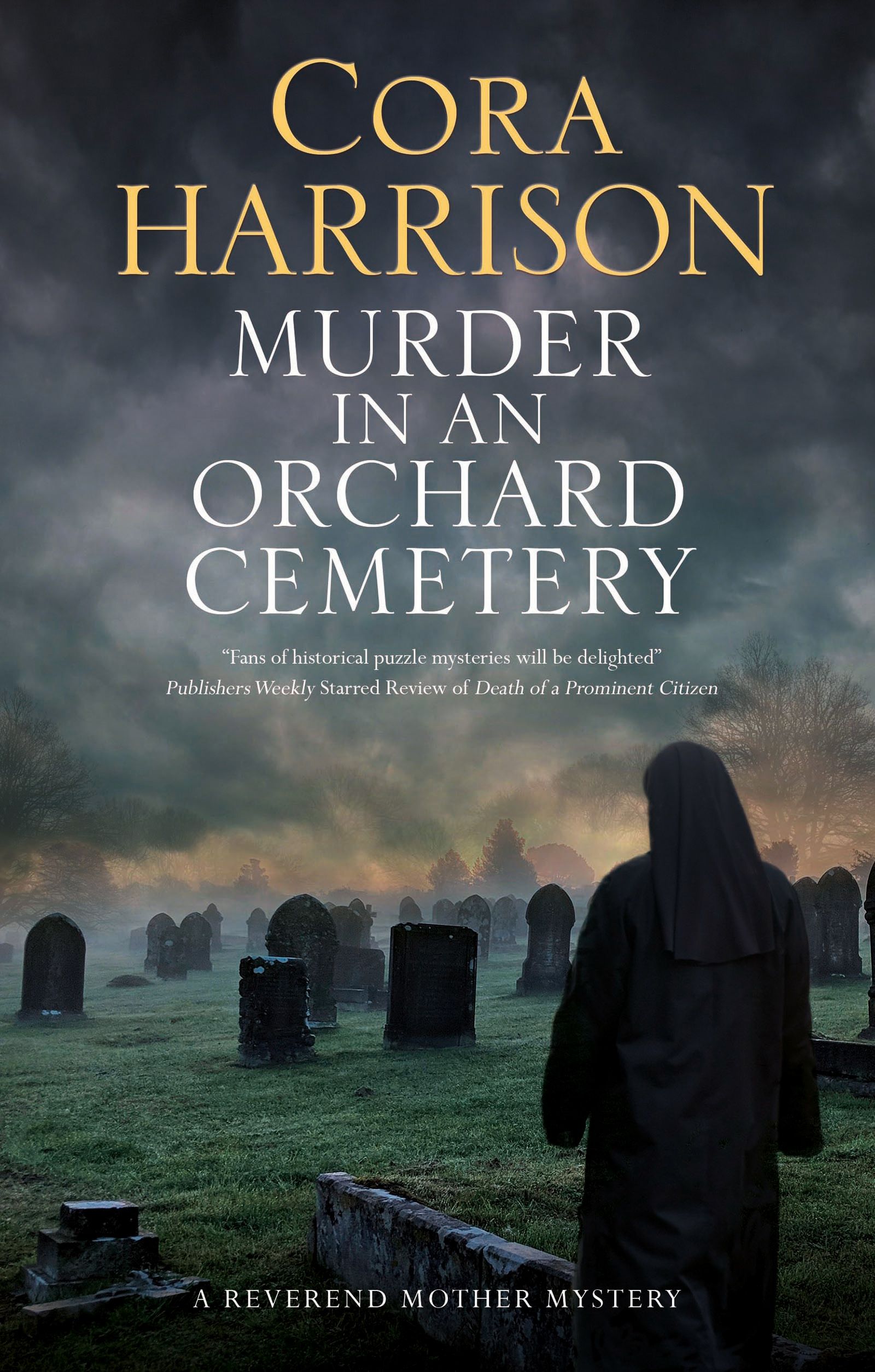 Murder in an Orchard Cemetery
by Cora Harrison
The peaceful atmosphere of the Reverend Mother's annual retreat is shattered by sudden, violent death in this gripping historical mystery.
1920s. Cork, Ireland. The Reverend Mother regrets the bishop's decision to invite the five candidates for the position of Alderman of the City Council to join them for their annual retreat. Constantly accosted by ambitious, would-be politicians hoping to secure the bishop's backing, she's finding the week-long sojourn at the convent of the Sisters of Charity anything but peaceful. What she doesn't expect to encounter however is sudden, violent death.
When a body is discovered in the convent's apple orchard cemetery, blown to pieces by a makeshift bomb, it is assumed the IRA are responsible. But does the killer lie closer to home? Was one of the candidates so desperate to win the election they turned to murder? Does someone have a hidden agenda? Once again, the Reverend Mother must call on her renowned investigative skills to unearth the shocking truth.
Reviews
"Harrison adroitly combines the Reverend Mother's clever investigation with a sympathetic portrayal of the plight of Cork's poor. Fans of historical puzzle mysteries will be delighted"
Publishers Weekly Starred Review of Death of a Prominent Citizen
"The intriguing plot, the keen insights, and the clever heroine make this a fine read for the historical-mystery crowd"
Booklist on Death of a Prominent Citizen
"A classic golden-age mystery whose shocking solution will appeal to fans of Christie and Sayers"
Kirkus Reviews on Death of a Prominent Citizen
"Harrison is at the top of her game in her 6th whodunit ... The fair-play puzzle is among Harrison's finest"
Publishers Weekly Starred Review of Murder at the Queen's Old Castle
"Sparkling descriptions of life in 1920s Cork and fascinating historical details combine to ably support a clever plot and an intriguing cast"
Booklist on Murder at the Queen's Old Castle
"Brings to life the turbulence and politics of 1920s Ireland. Reverend Mother will appeal to admirers of Ellis Peters' 'Brother Cadfael' mysteries"
Library Journal Starred Review of Death of a Novice
Editions
Murder in an Orchard Cemetery by Cora Harrison is available in the following formats
| | | | | | |
| --- | --- | --- | --- | --- | --- |
| Hardback | 9780727890405 | 7th September 2021 | 145 X 222mm | 240 | $28.99 |
| Hardback | 9780727890405 | 24th June 2021 | 145 X 222mm | 240 | £20.99 |
| Ebook | 9781448305476 | | N/A | 240 | $14.99 |
| Ebook | 9781448305476 | 1st August 2021 | N/A | 240 | £12.99 |
| Hardback - Large Print | 9781448309542 | 28th February 2023 | 146 X 224mm | 320 | $36.95 |
| Hardback - Large Print | 9781448309542 | 29th December 2022 | 146 X 224mm | 320 | £22.99 |
| Paperback | 9781780298092 | 30th May 2023 | 140 X 216mm | 240 | $18.99 |
| Paperback | 9781780298092 | 30th March 2023 | 140 X 216mm | 240 | £13.99 |
| Format | ISBN | Publication Date | Dimensions | Pages | Price |
The Reverend Mother Mystery Series