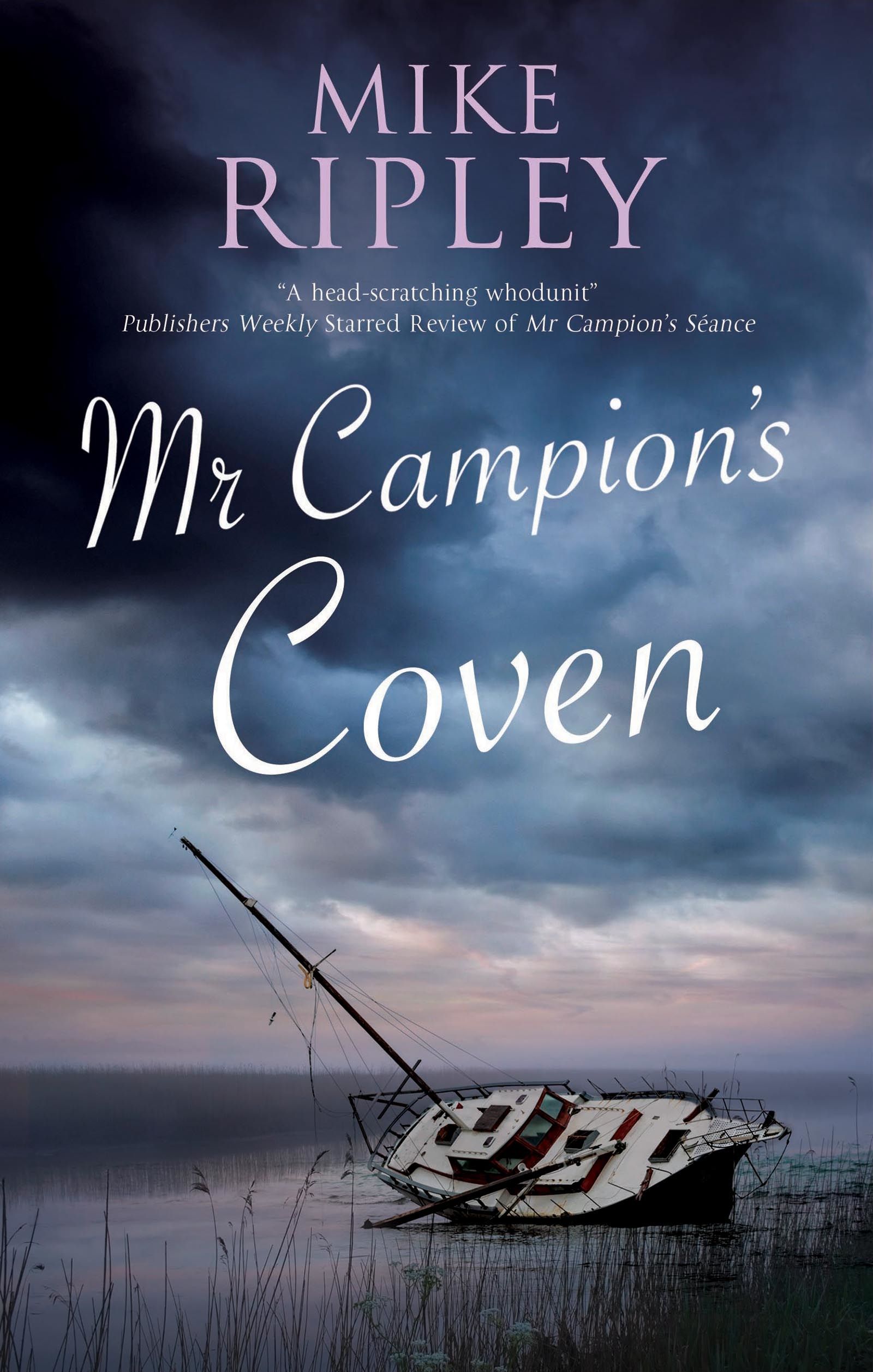 Mr Campion's Coven
by Mike Ripley
Albert Campion is in the bleak, remote and very muddy village of Wicken on the Essex coast on a mission to rescue Dame Jocasta's dog, but soon finds himself sinking into something far more dangerous.
East coast of England, 1971. Harvard student Mason Clay is writing a thesis on a group of settlers who travelled to America from the remote Essex coastal village of Wicken-juxta-Mare 300 years ago. Clay plans to visit Wicken as part of his research, and who better assist him with all things Essex than Albert Campion?
But Wicken is already firmly on Campion's radar thanks to Dame Jocasta Upcott's luxury yacht found beached on a mudbank close to the village, its captain very stuck – and very dead – in the mud. Was it a bizarre accident or something more sinister? Agreeing to Dame Jocasta's request to recover her beloved pet pooch, Robespierre, Campion finds himself in Wicken, surrounded by suspicious locals and tales of witchcraft, and soon discovers its past is linked to a number of current disturbing events . . .
Reviews
"Exceptional ... Both old and new Campion fans will hope for many more exploits"
Publishers Weekly Starred Review
"Filled with dry wit, laugh-out-loud banter, well-paced action, and quirky characters, this latest opportunity to follow in the footsteps of the ever-charming Campion will delight series fans old and new"
Booklist
"A highly satisfying showdown"
Kirkus Reviews
"Ripley spins a head-scratching whodunit while effectively recreating Allingham's tone and characters. This clever continuation of a beloved series keeps getting better"
Publishers Weekly Starred Review of Mr Campion's Séance
"Albert remains a winning protagonist, possessed of both eccentric charm and dry wit, and this time Ripley gives him a particularly meaty case, full of noteworthy twists. Another winner in a reliably entertaining series"
Booklist on Mr Campion's Séance
"Wicked fun, sedate yet intricately plotted – a highlight in the series"
Kirkus Reviews on Mr Campion's Séance
"Neatly combines humour and mystery"
Publishers Weekly on Mr Campion's Visit
Kirkus Reviews on Mr Campion's Visit
"You can trust Campion (along with his grizzly bear of an assistant, Magersfontein Lugg), just as you can trust the talented Mr Ripley"
Crime Time on Mr Campion's Visit
"Wonderfully genteel, appealingly old-fashioned, gently humorous, always entertaining, and eminently readable"
Booklist Starred Review of Mr Campion's War
Editions
Mr Campion's Coven by Mike Ripley is available in the following formats
| | | | | | |
| --- | --- | --- | --- | --- | --- |
| Hardback | 9780727890832 | 1st June 2021 | 147 X 222mm | 256 | $14.99 |
| Hardback | 9780727890832 | 31st March 2021 | 147 X 222mm | 256 | £20.99 |
| Ebook | 9781448305193 | 1st May 2021 | N/A | 256 | $14.99 |
| Ebook | 9781448305193 | 1st May 2021 | N/A | 256 | £12.99 |
| Hardback - Large Print | 9781448312276 | 28th November 2023 | 146 X 223mm | 384 | $38.99 |
| Hardback - Large Print | 9781448312276 | 12th October 2023 | 146 X 223mm | 384 | £23.99 |
| Paperback | 9781780297811 | 27th January 2022 | 140 X 217mm | 256 | $17.95 |
| Paperback | 9781780297811 | 25th November 2021 | 140 X 217mm | 256 | £13.99 |
| Format | ISBN | Publication Date | Dimensions | Pages | Price |
The Albert Campion Mystery Series