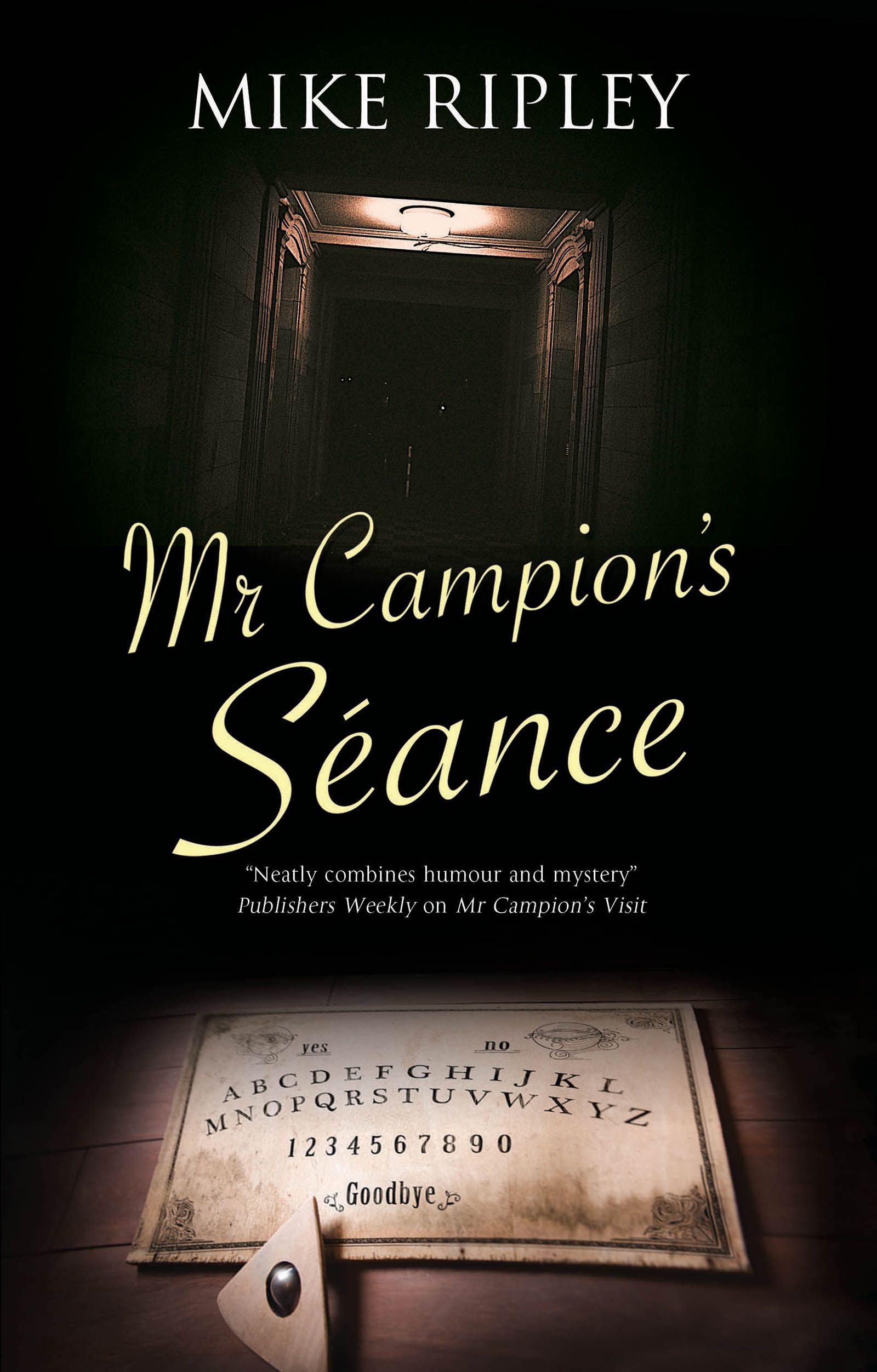 Mr Campion's Seance
by Mike Ripley
The truth is stranger than fiction for Albert Campion in this gripping mystery where murder, detective novels and the supernatural collide.
1946, London. The eagerly anticipated new detective novel from Albert Campion's godsibling, bestselling author Evadne Childe, is proving to be another runaway success. Unfortunately, it has also caught the attention of Superintendent Stanislaus Oates for reasons that go beyond its superior plotting.
The crime at the heart of The Bottle Party Murder bears a number of striking similarities to a very real, recent and unsolved murder at the Grafton Club in Soho. Evadne wrote the book before the murder occurred, yet predicts it remarkably accurately – is it just a weird coincidence, is Evadne getting her information from 'the other side', or is something more sinister afoot?
The repercussions of this extraordinary and complex case will reach out over the next fifteen years, drawing in three of Mr Campion's favourite policemen – Oates, Yeo and Luke – before finally coming to its violent conclusion in 1962.
Reviews
"Ripley spins a head-scratching whodunit while effectively recreating Allingham's tone and characters. This clever continuation of a beloved series keeps getting better"
Publishers Weekly Starred Review
"Albert remains a winning protagonist, possessed of both eccentric charm and dry wit, and this time Ripley gives him a particularly meaty case, full of noteworthy twists. Another winner in a reliably entertaining series"
Booklist
"Wicked fun, sedate yet intricately plotted—a highlight in the series"
Kirkus Reviews
"Neatly combines humour and mystery"
Publishers Weekly on Mr Campion's Visit
Kirkus Reviews on Mr Campion's Visit
"You can trust Campion (along with his grizzly bear of an assistant, Magersfontein Lugg), just as you can trust the talented Mr Ripley"
Crime Time on Mr Campion's Visit
"Wonderfully genteel, appealingly old-fashioned, gently humorous, always entertaining, and eminently readable"
Booklist Starred Review of Mr Campion's War
"Good Allingham, good war spy thriller"
Marcel Berlins in The Times on Mr Campion's War
Editions
Mr Campion's Seance by Mike Ripley is available in the following formats
| | | | | | |
| --- | --- | --- | --- | --- | --- |
| Hardback | 9780727889614 | 4th August 2020 | 148 X 224mm | 272 | $29.99 |
| Hardback | 9780727889614 | 30th April 2020 | 148 X 224mm | 272 | £20.99 |
| Ebook | 9781448304318 | 1st June 2020 | N/A | 272 | $14.99 |
| Ebook | 9781448304318 | 1st June 2020 | N/A | 272 | £8.99 |
| Hardback - Large Print | 9781780291598 | 30th March 2021 | 144 X 221mm | 400 | $36.95 |
| Hardback - Large Print | 9781780291598 | 29th January 2021 | 144 X 221mm | 400 | £22.99 |
| Paperback | 9781780297101 | 26th January 2021 | 138 X 216mm | 272 | $17.95 |
| Paperback | 9781780297101 | 30th November 2020 | 138 X 216mm | 272 | £13.99 |
| Format | ISBN | Publication Date | Dimensions | Pages | Price |
The Albert Campion Mystery Series