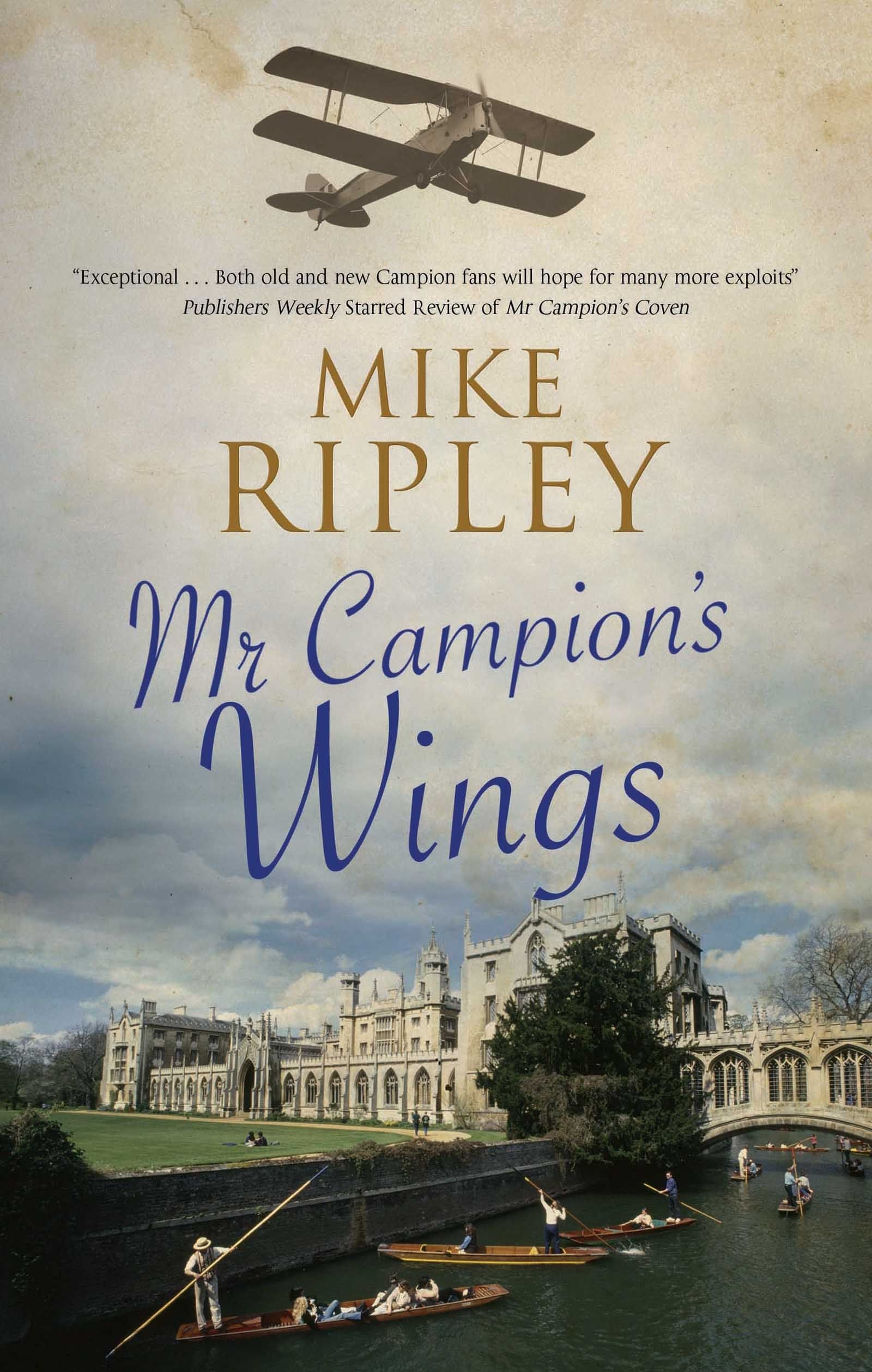 Mr Campion's Wings
by Mike Ripley
A gruesome discovery at an aircraft hanger leads Albert Campion into a turbulent mystery set in Cambridge in the middle of the Cold War.
"Ripley again marries a crafty plotline with a persuasive evocation of Allingham's style and characterizations. Fans of the originals will be delighted"- Publishers Weekly Starred Review
"I have often said that my wife is a constant surprise to me."

Cambridge, 1965. The honorary doctorate ceremony for Albert Campion's wife takes a dramatic turn when Lady Amanda is arrested by Special Branch for breaking the Official Secrets Act.
Never before having taken much interest in his wife's work in cutting-edge aircraft design, Mr Campion sets out to discover more about the top-secret Goshawk Project in which Amanda is involved. He quickly realizes he is not the only one keen to learn the secrets of the project.
When a badly mutilated body is discovered at the Goshawk Project's hangar – the result, it would appear, of a bizarre accident – Campion is drawn into a turbulent mix of industrial espionage and matters of national security. And as he attempts to get to the bottom of the deadly goings-on, it seems that the bicycles and punts are almost as dangerous as the aircraft . . .
Reviews
"Exceptional ... Both old and new Campion fans will hope for many more exploits"
Publishers Weekly Starred Review of Mr Campion's Coven
"A highly satisfying showdown"
Kirkus Reviews on Mr Campion's Coven
"Ripley spins a head-scratching whodunit while effectively recreating Allingham's tone and characters. This clever continuation of a beloved series keeps getting better"
Publishers Weekly Starred Review of Mr Campion's Séance
"Albert remains a winning protagonist, possessed of both eccentric charm and dry wit, and this time Ripley gives him a particularly meaty case, full of noteworthy twists. Another winner in a reliably entertaining series"
Booklist on Mr Campion's Séance
"Wicked fun, sedate yet intricately plotted – a highlight in the series"
Kirkus Reviews on Mr Campion's Séance
"Neatly combines humour and mystery"
Publishers Weekly on Mr Campion's Visit
Kirkus Reviews on Mr Campion's Visit
Editions
Mr Campion's Wings by Mike Ripley is available in the following formats
| | | | | | |
| --- | --- | --- | --- | --- | --- |
| Hardback | 9780727850409 | 4th January 2022 | 140 X 225mm | 288 | $28.99 |
| Hardback | 9780727850409 | 28th October 2021 | 140 X 225mm | 288 | £20.99 |
| Ebook | 9781448306381 | 1st December 2021 | N/A | 256 | $14.99 |
| Ebook | 9781448306381 | 1st December 2021 | N/A | 256 | £12.99 |
| Paperback | 9781448306398 | 30th August 2022 | 140 X 217mm | 256 | $17.95 |
| Paperback | 9781448306398 | 30th June 2022 | 140 X 217mm | 256 | £12.99 |
| Format | ISBN | Publication Date | Dimensions | Pages | Price |
The Albert Campion Mystery Series