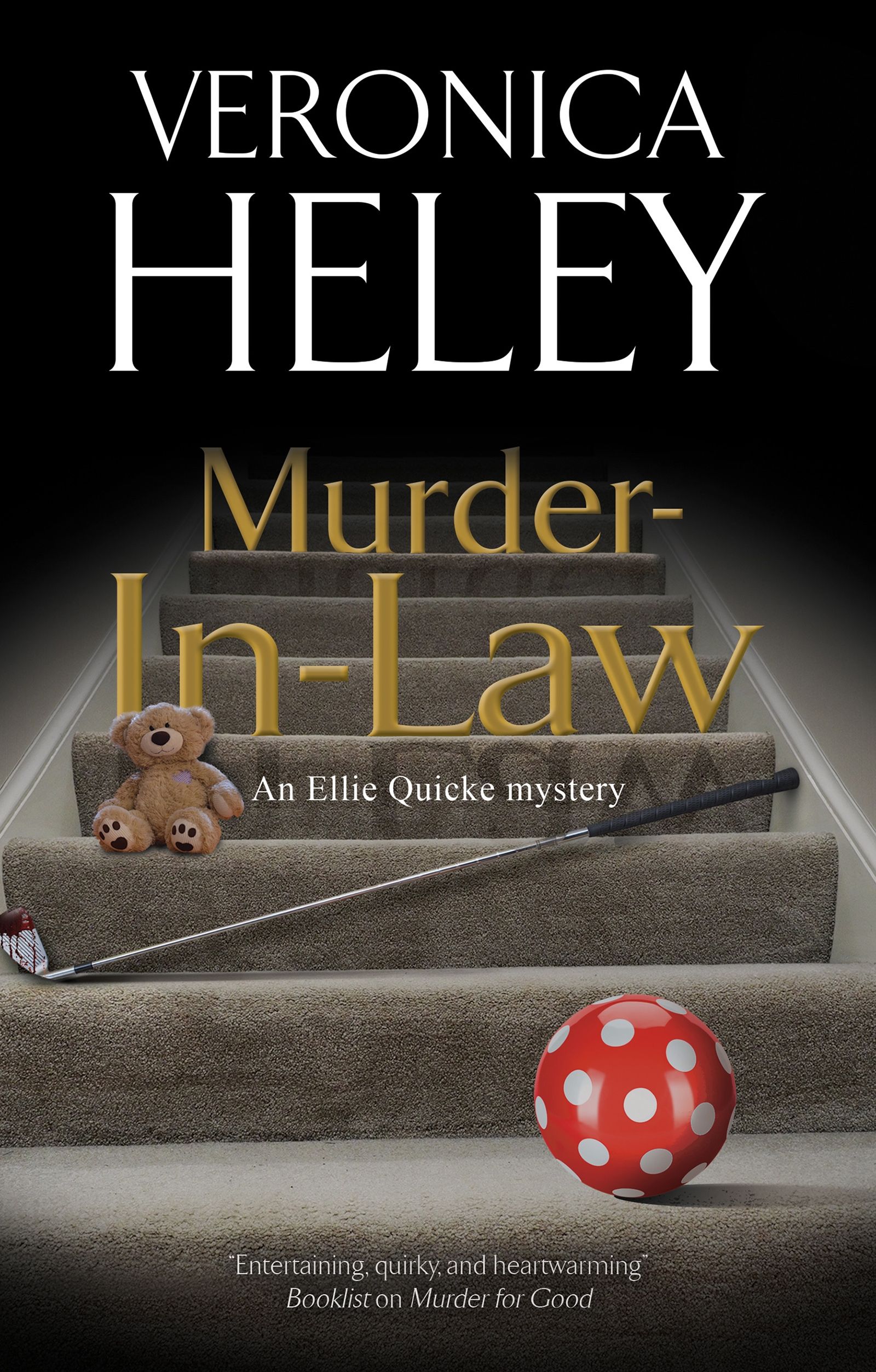 Murder-In-Law
by Veronica Heley
While Ellie's away, murder will play . . . Is the death of Ellie's son-in-law really the result of a burglary gone wrong?
Ellie's absence abroad is disastrous for her daughter, Diana – when her husband is attacked by intruders and left for dead one night, it falls to Ellie's next-door neighbour, Susan, to reluctantly pick up the pieces and take in Diana's children.
Is Evan's death really the result of a burglary gone wrong? Joining forces with her aunt, police officer Lesley Millard, Susan discovers that Diana lied to the police about her movements on the night of the murder, and soon finds herself grappling with betrayal, shady business dealings and her own distrust of Diana as she attempts to solve a chilling conundrum: could Ellie's daughter be a cold-blooded killer?
Reviews
"An entertaining plot, lively characterizations, and a quick-fire ending make this a good choice for most mystery collections"
Booklist
"A worthy successor to [Heley's] sage but aging heroine"
Kirkus Reviews
"Entertaining, quirky, madcap, and heartwarming, this is a good choice for fans of traditional mysteries"
Booklist on Murder for Good
"Frenetic, action-packed, and clever"
Booklist on Murder by Suggestion
"Once again Heley successfully melds a cozy sensibility with dark doing"
Publishers Weekly on Murder by Suggestion
"A clever plot, gentle humor, an eccentric but appealing heroine, and a thoroughly satisfying ending add up to an entertaining read"
Booklist on Murder for Nothing
"Enjoyable … Heley's strength is in creating unpleasant people that the reader loves to hate"
Publishers Weekly on Murder for Nothing
Editions
Murder-In-Law by Veronica Heley is available in the following formats
| | | | | | |
| --- | --- | --- | --- | --- | --- |
| Hardback | 9780727890979 | 1st June 2021 | 145 X 225mm | 224 | $28.99 |
| Hardback | 9780727890979 | 31st March 2021 | 145 X 225mm | 224 | £20.99 |
| Hardback | 9780727890979 | 31st March 2021 | 145 X 225mm | 224 | £20.99 |
| Hardback | 9780727890979 | 1st June 2021 | 145 X 225mm | 224 | $28.99 |
| Ebook | 9781448305155 | 1st May 2021 | N/A | 224 | $14.99 |
| Ebook | 9781448305155 | 1st May 2021 | N/A | 224 | $14.99 |
| Ebook | 9781448305155 | 1st May 2021 | N/A | 224 | £12.99 |
| Ebook | 9781448305155 | 1st May 2021 | N/A | 224 | £12.99 |
| Hardback - Large Print | 9781448308514 | 31st May 2022 | 150 X 220mm | 336 | $36.95 |
| Hardback - Large Print | 9781448308514 | 31st March 2022 | 150 X 220mm | 336 | £22.99 |
| Hardback - Large Print | 9781448308514 | 31st May 2022 | 150 X 220mm | 336 | $36.95 |
| Hardback - Large Print | 9781448308514 | 31st March 2022 | 150 X 220mm | 336 | £22.99 |
| Paperback | 9781780297774 | 31st May 2022 | 138 X 215mm | 224 | $17.95 |
| Paperback | 9781780297774 | 31st March 2022 | 138 X 215mm | 224 | £12.99 |
| Paperback | 9781780297774 | 31st March 2022 | 138 X 215mm | 224 | £12.99 |
| Paperback | 9781780297774 | 31st May 2022 | 138 X 215mm | 224 | $17.95 |
| Paperback | 9781780297774 | 31st March 2022 | 138 X 215mm | 224 | £13.99 |
| Format | ISBN | Publication Date | Dimensions | Pages | Price |
The Ellie Quicke Mystery Series