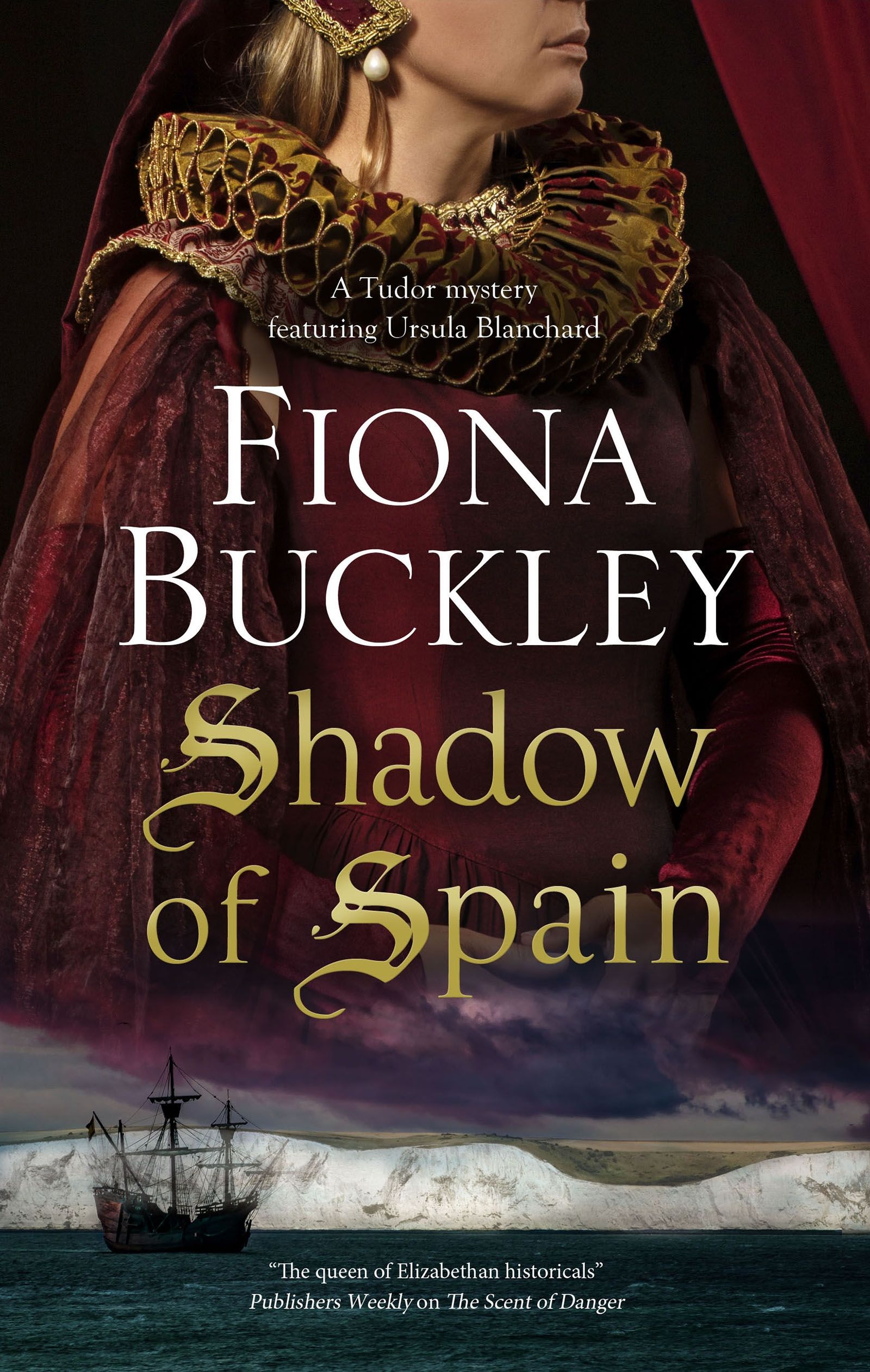 Shadow of Spain
by Fiona Buckley
As King Philip of Spain prepares to invade England, Ursula heads to Brussels on a desperate mission in this compelling Tudor mystery.
March, 1588. With England in a state of high alert as King Philip of Spain amasses a vast fleet of warships ready to invade, Queen Elizabeth and her advisors seek a possible alliance with the Duke of Parma, Governor of the Netherlands. But their plans suffer a major setback when one of their most reliable spies is found murdered in the Hertfordshire countryside, shot dead by a crossbow bolt as he was transporting secret correspondence between the queen and the duke.
The queen's half-sister and occasional secret agent, Ursula Stannard, is happy not to be involved for once. But when Ursula's ward Mildred elopes with the handsome yet mysterious Berend Gomez, Ursula is forced to follow the pair to Brussels, where she finds herself plunged into a hotbed of intrigue and rumour at the Duke of Parma's court, a place where no one is to be trusted.
Can Ursula rescue Mildred, effect an alliance with the duke, and stay alive in the process? The future of England depends on it.
Reviews
"Pagan rituals combine with a thorny mystery"
Kirkus Reviews on Forest of Secrets
"Gripping ... Buckley reinforces her place as the queen of Elizabethan historicals"
Publishers Weekly on The Scent of Danger
"An action-packed mystery bathed in impeccable historic atmosphere"
Kirkus Reviews on The Scent of Danger
"Ursula is a determined, intrepid sleuth ... Another satisfying mix of mystery and Elizabethan history"
Booklist on The Scent of Danger
"Engrossing ... Fans of Tudor historicals who value authentic period color will be rewarded"
Publishers Weekly on A Web of Silk
Editions
Shadow of Spain by Fiona Buckley is available in the following formats
| | | | | | |
| --- | --- | --- | --- | --- | --- |
| Hardback | 9780727850867 | 4th January 2022 | 140 X 225mm | 224 | $28.99 |
| Hardback | 9780727850867 | 28th October 2021 | 140 X 225mm | 224 | £20.99 |
| Ebook | 9781448306268 | 1st December 2021 | N/A | 224 | $14.99 |
| Ebook | 9781448306268 | 1st December 2021 | N/A | 224 | £12.99 |
| Hardback - Large Print | 9781448309146 | 25th October 2022 | 144 X 222mm | 304 | $36.95 |
| Hardback - Large Print | 9781448309146 | 25th August 2022 | 144 X 222mm | 304 | £22.99 |
| Paperback | 9781448306275 | 30th August 2022 | 140 X 215mm | 224 | $17.95 |
| Paperback | 9781448306275 | 30th June 2022 | 140 X 215mm | 224 | £12.99 |
| Format | ISBN | Publication Date | Dimensions | Pages | Price |
The Ursula Blanchard mystery Series