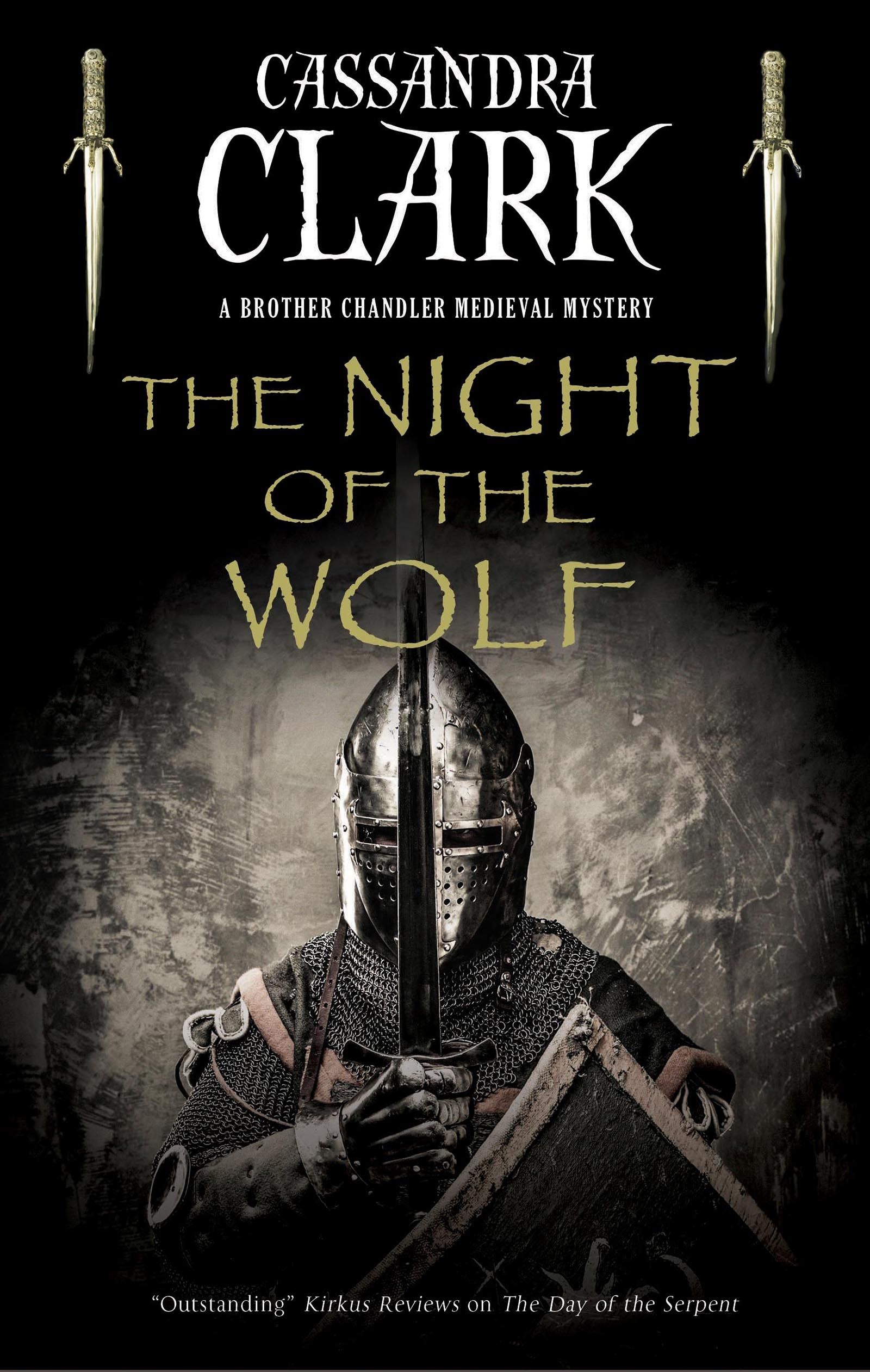 The Night of the Wolf
by Cassandra Clark
The ruthless reign of Henry IV and the clerical tyranny of Archbishop Arundel keep Brother Chandler and his friends under constant threat in this gripping medieval mystery featuring friar-sleuth Rodric Chandler.
Chester, 1400. Riding for his life, with a copy of Chaucer's heretical Canterbury Tales in his possession, friar-sleuth Brother Chandler is ambushed on the road and wakes up in a stranger's house.
Is his 'rescuer', wool merchant John Willoughby, friend . . . or foe? Willoughby declares that he, like Chandler, has renounced the self-crowned King Henry IV and will help Chandler get his dangerous belongings to safety. He seems trustworthy, but Chandler knows that if he's caught by the King's merciless censors together with the Tales, he'll be burned at the stake.
But then Willoughby's young wife perishes in a terrible accident at their house – or so it seems . . . Willoughby asks Chandler to help investigate if it was indeed an accident or if someone had a hidden agenda.
All Chandler wants to do is find safe haven for Chaucer's Tales and return to London, but he accepts the case. Little does he know that it will lead to secrets being uncovered which will put not only Chandler but also those around him in unimaginable peril.
The Night of the Wolf is the third book in the Brother Chandler mystery series, following The Hour of the Fox and The Day of the Serpent. A great read for history lovers who enjoy puzzling murder mysteries with twists!
Reviews
"Those who enjoy medieval stories of betrayal and ruthlessness will be rewarded"
Publishers Weekly on The Day of the Serpent
"The local color and historical detail are outstanding"
Kirkus Reviews on The Day of the Serpent
"The story grips. Readers will want to see more of this highly original protagonist"
Publishers Weekly on The Hour of the Fox
"The history is meticulously researched and depicted . . . Brother Chandler's sleuthing may appeal to nonfiction readers looking for variety in their reading just as much as the fans of Clark's popular Abbess Hildegard of Meaux series"
Booklist on The Hour of the Fox
"The mystery is a slender thread woven through rich historical detail in this intriguing introduction to a conflicted hero"
Kirkus Reviews on The Hour of the Fox
"Excellent . . . A Standout in the crowded medieval mystery field"
Publishers Weekly Starred Review of Murder at Whitby Abbey
"Readers who favor the political tensions and historical aspects of Ellis Peters's "Brother Cadfael" mysteries will further appreciate this [novel]"
Library Journal on Murder at Whitby Abbey
Editions
The Night of the Wolf by Cassandra Clark is available in the following formats
| | | | | | |
| --- | --- | --- | --- | --- | --- |
| Hardback | 9781448306664 | 6th June 2023 | 144 X 225mm | 256 | $31.99 |
| Hardback | 9781448306664 | 6th June 2023 | 144 X 225mm | 256 | £21.99 |
| Ebook | 9781448306718 | 6th June 2023 | N/A | 256 | $24.99 |
| Ebook | 9781448306718 | 6th June 2023 | N/A | 256 | £20.99 |
| Format | ISBN | Publication Date | Dimensions | Pages | Price |