8 Gripping New Mysteries from Severn House
by Severn House on 24 November 2021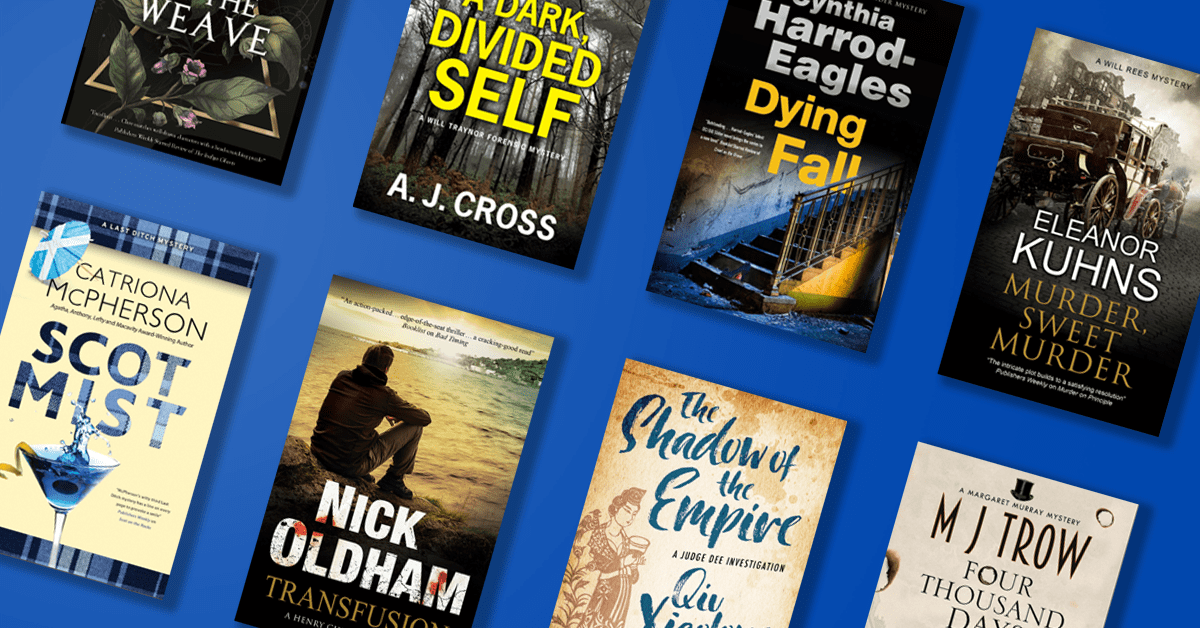 We've got 8 exciting new mysteries releasing today in the UK!
Looking for some historical intrigue?
Journey into the mystical heart of plague-ravaged 17th-century Plymouth in Alys Clare's Magic in the Weave.
Join early 19th-century sleuth Will Rees in Boston as he attempts to clear his estranged father-in-law's name in Eleanor Kuhns' Murder, Sweet Murder.
Follow the legendary Judge Dee Renjie in 7th-century China as he investigates a high-profile murder full of political intrigue in Qiu Xiaolong's The Shadow of the Empire.
Delve into a brand new series from M.J. Trow with Four Thousand Days, a Victorian mystery introducing turn-of-the-century archaeologist-sleuth Margaret Murray.
If gritty procedurals are more your speed, look no further than A.J. Cross' A Dark, Divided Self, Cynthia Harrod-Eagles' Dying Fall, and Nick Oldham's Transfusion.
In A Dark, Divided Self, A.J. Cross – herself a highly respected forensic psychologist – draws on her real-world experience to draw readers into an intricately detailed forensic investigation.
In Dying Fall, a seemingly accidental death leads DCI Bill Slider and his team down a dark path in this gripping British police procedural.
In Transfusion, Nick Oldham serves up an uncompromising, action-packed thriller set between Lancashire and Cyprus asHenry Christie and DS Debbie Blackstone are drawn into a bloody turf war between European organised crime gangs.
And finally, if you're looking for something with a little more whimsy but no less mystery, pick up a copy of Catriona McPherson's wonderful Scot Mist, starring Scottish amateur sleuth Lexy Campbell, as mysterious happenings are afoot at the Last Ditch motel during the pandemic in this hilarious yet claustrophobic mystery.
MAGIC IN THE WEAVE by Alys Clare
A theatre company bring secrets, magic and murder along with them on their 'Plague Tour', in this bewitching historical mystery starring physician-sleuth Dr Gabriel Taverner.
October, 1604. Plague has hit London, and the theatres are closed. But the capital's loss is Plymouth's gain, when a London theatre troupe, the Company, arrive on their 'Plague Tour'.
But then one of the actors collapses, and Gabriel finds himself caught in a waking nightmare, where nothing is as it appears. Death is stalking the Company – but how can Gabriel hope to catch a cold-blooded killer, if he can't even trust the evidence of his own eyes?
This page-turning historical mystery will appeal to readers who enjoy theatrical settings, head-scratching puzzles and creepy atmospherics!
A DARK, DIVIDED SELF by A.J. Cross
A gripping, intricately detailed forensic mystery from an industry professional.
When the decomposed remains of a young woman are discovered just outside Birmingham, criminologist Will Traynor is drawn into a baffling investigation.
Called in to assist the police investigation, criminologist Will Traynor believes they are looking for an intelligent, socially confident individual, someone adept at covering his tracks. But why would the killer transport the victim on an eighty-mile journey from Manchester to Birmingham? If he can find the answer to that question, Traynor believes he has the key to cracking the case.
But at every stage of the investigation, the killer seems to be one step ahead of him. If he's going to outsmart him, Will realises he's going to have to play this twisted individual at his own deadly game.
DYING FALL by Cynthia Harrod-Eagles
Power, money, murder . . . Investigating a seemingly accidental death leads DCI Bill Slider and his team down a dark path in this gripping British police procedural.
The woman lies dead at the foot of the stairs. It's obvious what happened: she tripped and fell. But PC D'Arblay, called to the dilapidated West London villa by an anonymous tip-off, can't shake the feeling that's exactly what someone wants him to think.
The Bill Slider series is in "a league of its own" (Publishers Weekly Starred Review). If you haven't met Slider and his team yet, why not start now?
MURDER, SWEET MURDER by Eleanor Kuhns
Will Rees accompanies his wife to Boston to help clear her estranged father's name in this gripping mystery set in the early nineteenth century.
January, 1801. When Lydia's estranged father is accused of murder, Will Rees escorts her to Boston to uncover the truth. Marcus Farrell is believed to have murdered one of his workers, a boy from Jamaica where he owns a plantation. Marcus swears he's innocent. However, a scandal has been aroused by his refusal to answer questions and accusations he bribed officials.
As Will and Lydia investigate, Marcus's brother, Julian, is shot and killed. This time, all fingers point towards James Morris, Lydia's brother. Is someone targeting the family? Were the family quarreling over the family businesses and someone lashed out? What's Marcus hiding and why won't he accept help?
SCOT MIST by Catriona McPherson
A laugh-a-minute mystery set in the confines of a motel during lockdown starring Scottish amateur sleuth Lexy Campbell.
Despite efforts to create a safe environment to see out the pandemic, the residents of the Last Ditch Motel face more dangers than they imagined possible in this hilarious yet claustrophobic mystery.
As California shuts down, the Last Ditchers make another gruesome discovery. They tried to create a haven but now it seems as if everyone's in danger. Is the motel under attack from someone on the outside?  Scary as that is, the alternative is worse by far. . .
TRANSFUSION by Nick Oldham
Blood will flow . . . Henry Christie and DS Debbie Blackstone are drawn into a bloody turf war between European organised crime gangs as they attempt to follow up leads in a Lancashire police Cold Case Unit operation.
Viktor Bashkim, head of one of Europe's most feared mafia gangs, is preparing to hand over power to his ruthless daughter, Sofia. But as they leave the family villa high in the Cypriot hills for business overseas, Viktor's old nemesis is watching . . .
An action-packed, uncompromising thriller set in Cyprus and Lancashire.
THE SHADOW OF THE EMPIRE by Qiu Xiaolong
The legendary Judge Dee Renjie investigates a high-profile murder case in this intriguing companion novel to Inspector Chen and the Private Kitchen Murder set in seventh-century China.
Judge Dee Renjie, Empress Wu's newly appointed Imperial Circuit Supervisor for the Tang Empire, is visiting provinces surrounding the grand capital of Chang'an. One night a knife is thrown through his window with a cryptic note attached: 'A high-flying dragon will have something to regret!'
Minutes after the ominous warning appears, Judge Dee is approached by an emissary of Internal Minister Wu, Empress Wu's nephew. Minister Wu wants Judge Dee to investigate a high-profile murder supposedly committed by the well-known poetess and courtesan, Xuanji, who locals believe is possessed by the spirit of a black fox.
FOUR THOUSAND DAYS by M.J. Trow
Introducing turn-of-the-century archaeologist-sleuth Margaret Murray in the first of a brilliant new historical mystery series.
October, 1900.  University College, London. When the spreadeagled body of one of her students is discovered in her rented room shortly after attending one of her lectures, Dr Margaret Murray is disinclined to accept the official verdict of suicide and determines to find out how and why the girl really died.
There are surprises and twists galore in this first of an intriguing new late Victorian mystery series.