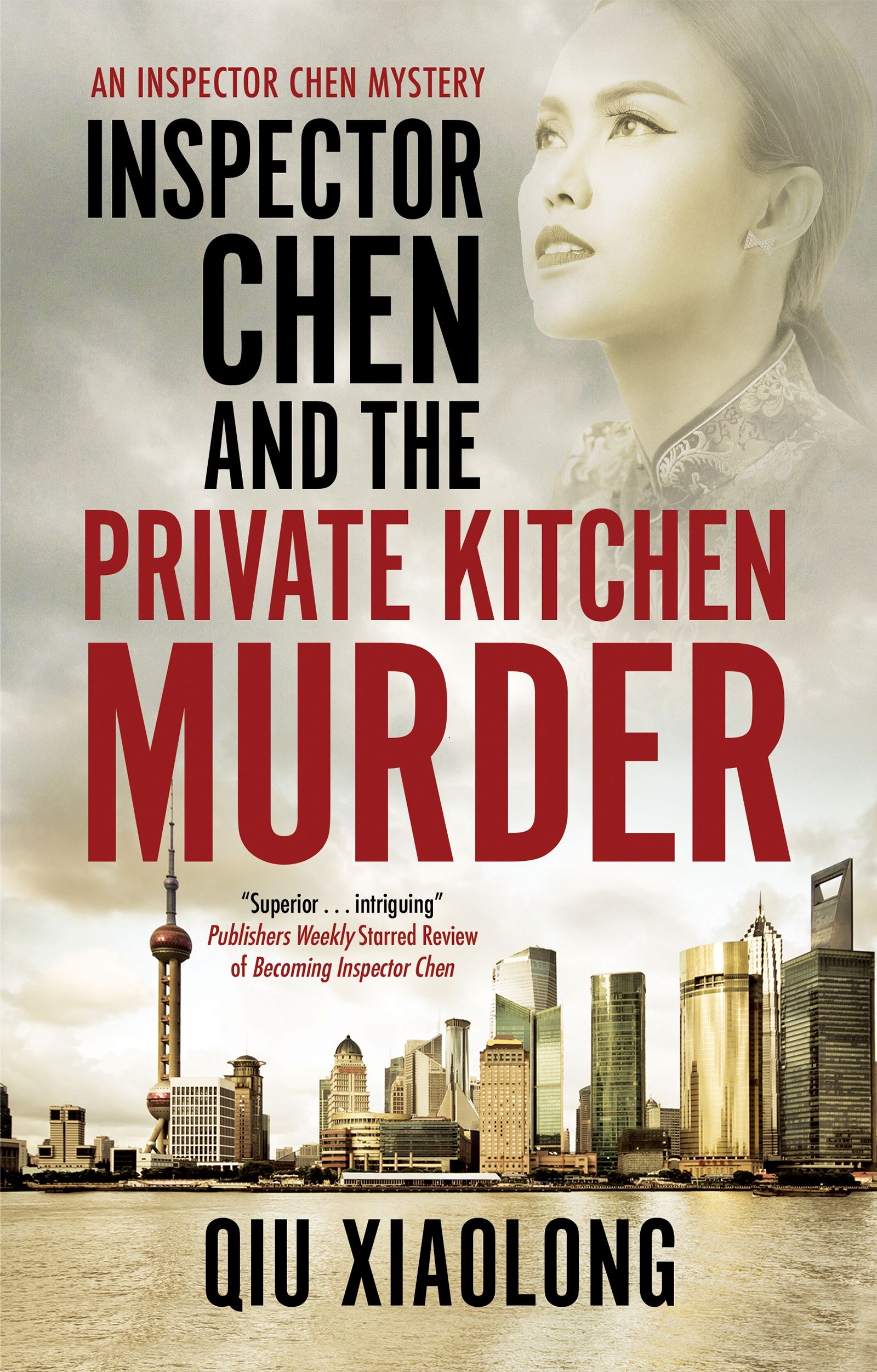 Inspector Chen and the Private Kitchen Murder
by Qiu Xiaolong
Chen Cao has been removed from his chief inspector role, but that doesn't stop him investigating a 'private kitchen' murder that has similarities to a Judge Dee story.
No longer a chief inspector, Chen Cao finds himself as director of the Shanghai Judicial System Reform Office. To outsiders it's a promotion, but Chen knows he's being removed from the spotlight as he's immediately placed on involuntary 'convalescence leave' to stop him interfering with any cases. However, with various high-profile crimes making headlines and fears escalating over vigilante reprisals, Chen's superiors know he must at least appear active.
One case revolves around Min Lihau, a mingyuan, who runs a 'private kitchen' for powerful figures in Shanghai. Min's accused of murdering her assistant, yet Chen is struck by its similarities to a historic case involving the famous Judge Dee. When an acquaintance of his is murdered in connection with Min, Chen knows he can't stand idly by . . . but he must act in secret, under the cover of writing a Judge Dee novel.
Reviews
"Newcomers and fans alike will look forward to how Qiu raises the stakes for Chen in the next book"
Publishers Weekly Starred Review
"The plot is full of unpredictable detours and sidebars that intensify the pleasure of following Chen's vibrant curiosity. An exhilarating blend of recent history, mystery, and the writer's craft"
Kirkus Reviews
"While series fans will be delighted at the background Qiu provides, this is an accessible starting point for newcomers ... in his superior 11th novel featuring Shanghai policeman and poet Chen Cao"
Publishers Weekly Starred Review of Becoming Inspector Chen
"Qiu's stylish hybrid is half fictional literary memoir and half crisp whodunit"
Kirkus Reviews on Becoming Inspector Chen
"Gripping ... A scathing indictment of contemporary China"
Booklist on Becoming Inspector Chen
"Fans of mysteries about honest cops working for compromised regimes won't want to miss this one"
Library Journal Starred Review of Hold your Breath, China
"Fascinating ... Xiaolong writes with both urgency and grace about modern China in another well-crafted mystery"
Booklist Starred Review of Hold Your Breath, China
"Inspector Chen's 10th mystery effectively uses the genre to explore China's current pollution crisis"
Kirkus Reviews on Hold Your Breath, China
Editions
Inspector Chen and the Private Kitchen Murder by Qiu Xiaolong is available in the following formats
| | | | | | |
| --- | --- | --- | --- | --- | --- |
| Hardback | 9780727850713 | 5th October 2021 | 145 X 224mm | 224 | $28.99 |
| Hardback | 9780727850713 | 29th July 2021 | 145 X 224mm | 224 | £20.99 |
| Ebook | 9781448305544 | 1st September 2021 | N/A | 224 | $14.99 |
| Ebook | 9781448305544 | 1st September 2021 | N/A | 224 | £12.99 |
| Paperback | 9781780298160 | 31st May 2022 | 140 X 220mm | 224 | $17.95 |
| Paperback | 9781780298160 | 31st March 2022 | 140 X 220mm | 224 | £12.99 |
| Format | ISBN | Publication Date | Dimensions | Pages | Price |
The Inspector Chen mystery Series