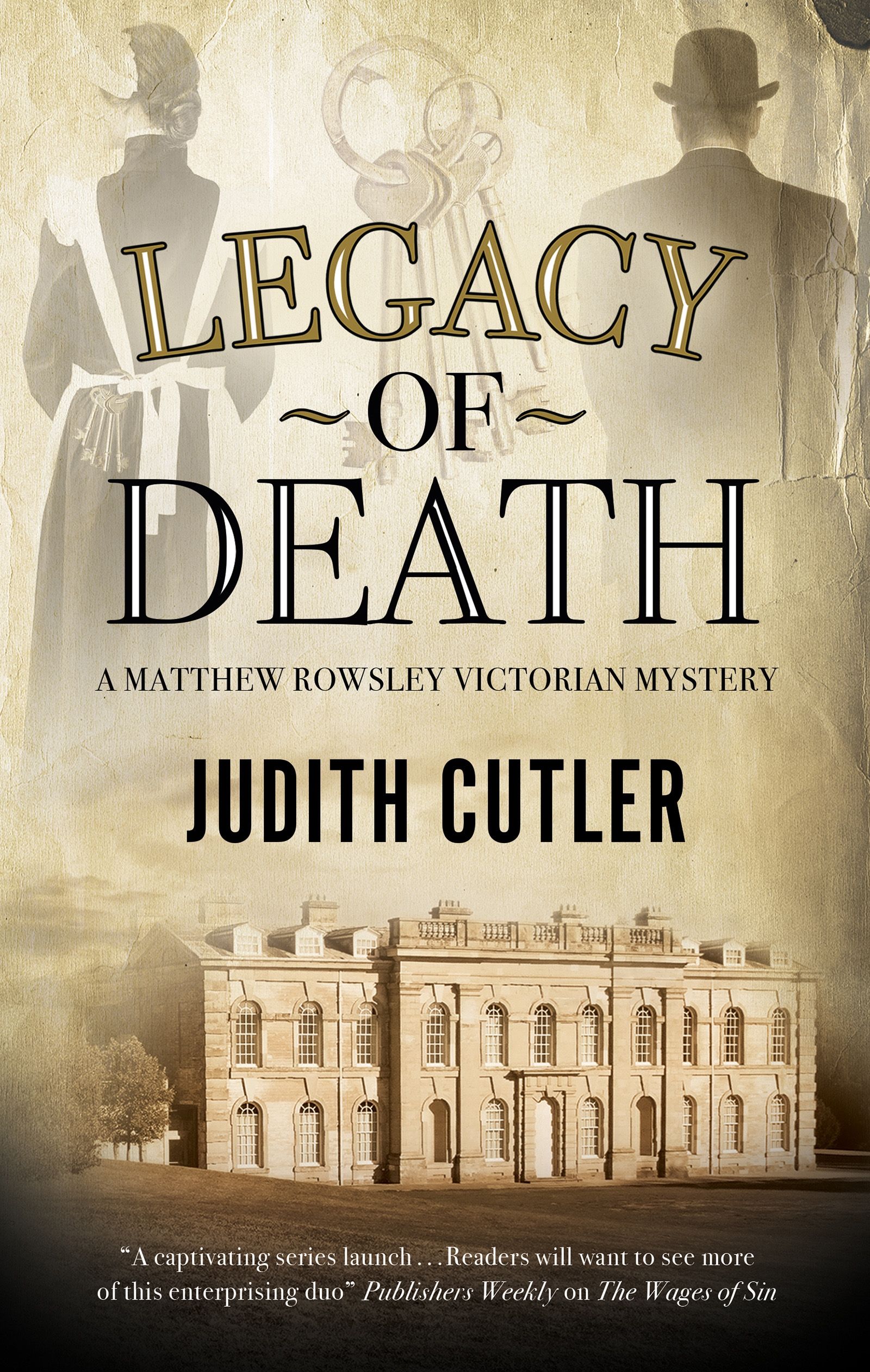 Legacy of Death
by Judith Cutler
When the family butler is brutally attacked, land agent Matthew Rowsley and his wife Harriet determine to find the culprit in this gripping Victorian mystery.
With his lordship's mental health failing, management of his grand country estate has been assigned to a group of trustees, including land agent Matthew Rowsley and his capable wife Harriet. But the smooth running of Thorncroft House is disrupted by a series of unforeseen events. Building work on the estate workers' new cottages is halted by the discovery of Roman remains. Shortly afterwards, the family butler is brutally assaulted and left for dead. A random attack – or was he deliberately targeted?
Matters take an even more disturbing turn when Lord Croft's long-lost cousin and heir, Julius Trescothick, arrives from Australia, ready to claim his inheritance. But is he who he claims to be … and what are his true intentions?
If they are to preserve Thorncroft House and a way of life that has continued for centuries, Matthew and Harriet must uncover the truth behind Trescothick's identity and solve a series of interlocking mysteries.
Reviews
"An old-fashioned account of estate life in Victorian England … for those interested in the living conditions in late-1800s England"
Library Journal
"A captivating series launch ... Readers will look forward to seeing more of this enterprising duo"
Publishers Weekly on The Wages of Sin
"A promising series debut with engaging characters, social commentary, and a Victorian twist on the ever popular upstairs-downstairs storyline"
Kirkus Reviews on The Wages of Sin
"Enjoyable ... The surprising conclusion definitely satisfies"
Publishers Weekly on Green and Pleasant Land
"Sparkling ... A tight plot complements the diverse and entertaining cast of characters"
Publishers Weekly on Death in Elysium
Editions
Legacy of Death by Judith Cutler is available in the following formats
| | | | | | |
| --- | --- | --- | --- | --- | --- |
| Hardback | 9780727889393 | 2nd March 2021 | 146 X 225mm | 240 | $28.99 |
| Hardback | 9780727889393 | 31st December 2020 | 146 X 225mm | 240 | £20.99 |
| Ebook | 9781448304875 | 1st February 2021 | N/A | 240 | $6.99 |
| Ebook | 9781448304875 | 1st February 2021 | N/A | 240 | £4.99 |
| Hardback - Large Print | 9781780291932 | 26th October 2021 | 145 X 224mm | 320 | $36.95 |
| Hardback - Large Print | 9781780291932 | 26th August 2021 | 145 X 224mm | 320 | £22.99 |
| Paperback | 9781780297491 | 31st August 2021 | 138 X 216mm | 240 | $17.95 |
| Paperback | 9781780297491 | 30th June 2021 | 138 X 216mm | 240 | £13.99 |
| Format | ISBN | Publication Date | Dimensions | Pages | Price |
The Harriet & Matthew Rowsley Victorian mystery Series