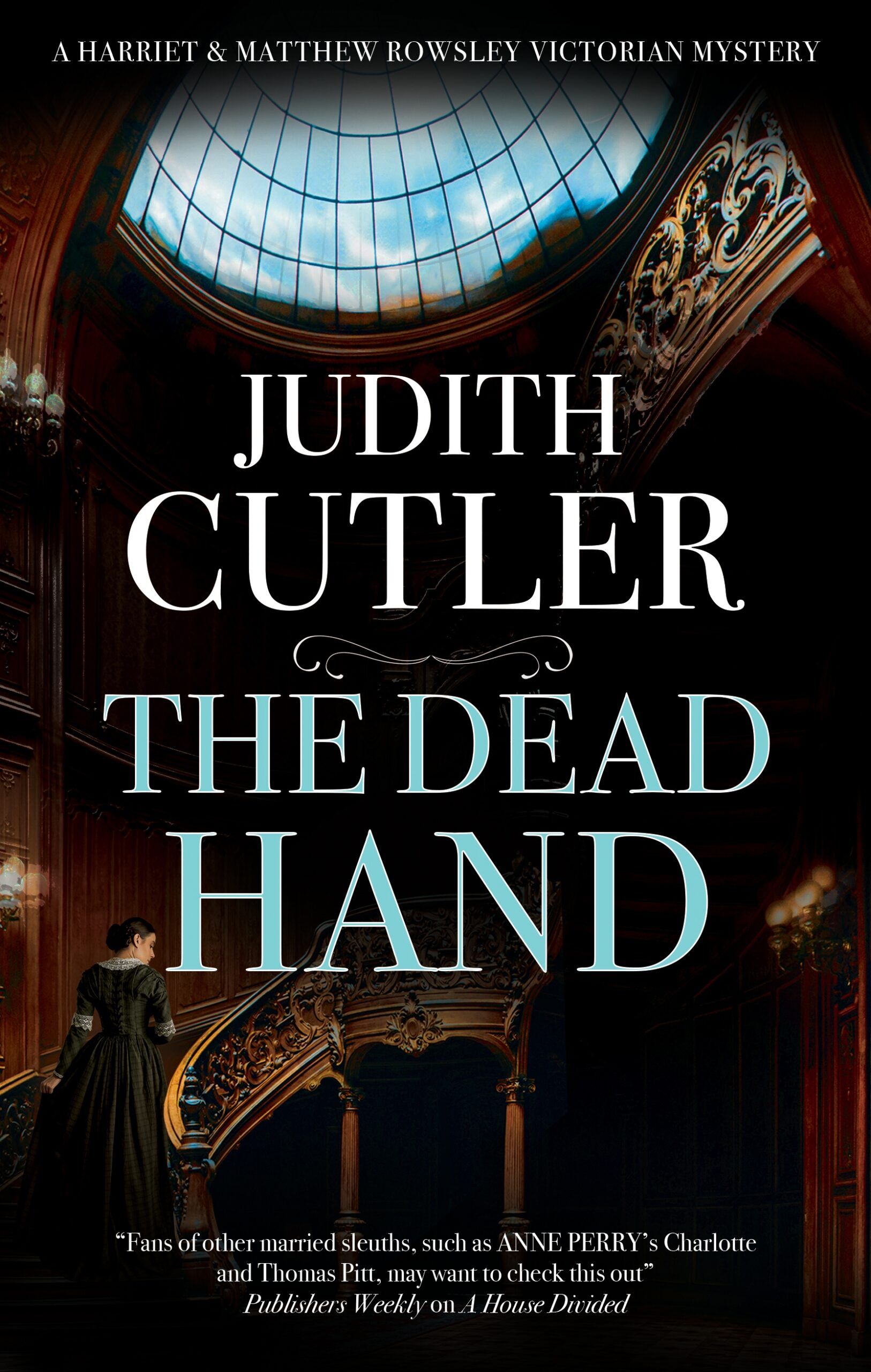 The Dead Hand
by Judith Cutler
While hosting a group of academics at Thorncroft House, Harriet and Matthew Rowsley find themselves confronted with bigger – and bloodier! – issues than unruly guests . . . The fifth instalment of the Harriet and Matthew Rowsley Victorian mystery series set in England during the great Victorian era.
June 1861, Victorian England. A house full of academics should imply calm and quiet, but much to housekeeper Harriet Rowsley's dismay some of the guests seem to have problems with the estate's unconventional practices and aren't afraid of voicing their concerns. Having Harriet and her husband and interim estate manager Matthew as the hosts of Thorncroft House, while his lordship is ill and the trustees are seeking for his heir, is obviously not to everyone's taste!
But Harriet won't let their patronising opinions get in the way of running the household as it was entrusted to her. She and her husband seem to have things under control until a series of unusual accidents occur around them. To make matters worse and more pressing, one of these accidents proves fatal . . .
With a house now full of suspects, Harriet and Matthew have to find out who is causing chaos and why. While everyone is focused on drawing out the culprit and searching for a motive, Harriet has her own theory as to why these incidents happen and decides to follow her hunch – after all, every aspect should be considered, just in case!
For fans of Downton Abbey who love a thrilling murder mystery twist and authentic depictions of the Victorian period. This is a compelling upstairs-downstairs mystery featuring a husband and wife detective duo.
Reviews
"A treat for historical mystery fans"
Booklist
"Cutler's quirky series blazes its own path"
Kirkus Reviews
"With twists and turns aplenty, Cutler's variation on the classic locked-house mystery combines the requisite cast of colorful characters — in particular, the amiable sleuths — with a vivid depiction of upstairs-downstairs life in the Victorian era"
Booklist on A House Divided
"Offbeat cozy of manners"
Kirkus Reviews on A House Divided
"Fans of other married sleuths, such as ANNE PERRY's Charlotte and Thomas Pitt, may want to check this out"
Publishers Weekly on A House Divided
"Thrilling, engaging and enjoyable from beginning to end"
Mystery People on A House Divided
"A gripping locked-room mystery with a suitably twisty plot, Cutler's latest also offers an intriguing look at social customs and gender roles during the Victorian period"
Booklist on Death's Long Shadow
"
A lively, enjoyable book . . . Recommended for fans of Downton Abbey
"
Library Journal on The Wages of Sin
"
A captivating series launch . . . Readers will look forward to seeing more of this enterprising duo
"
Publishers Weekly on The Wages of Sin
"
A Victorian twist on the ever popular upstairs-downstairs storyline
"
Kirkus Reviews on The Wages of Sin
Editions
The Dead Hand by Judith Cutler is available in the following formats
| | | | | | |
| --- | --- | --- | --- | --- | --- |
| Hardback | 9781448311323 | 7th November 2023 | 145 X 225mm | 240 | $31.99 |
| Hardback | 9781448311323 | 7th November 2023 | 145 X 225mm | 240 | £21.99 |
| Ebook | 9781448311330 | 7th November 2023 | N/A | 240 | $24.99 |
| Ebook | 9781448311330 | 7th November 2023 | N/A | 240 | £20.99 |
| Format | ISBN | Publication Date | Dimensions | Pages | Price |
The Harriet & Matthew Rowsley Victorian mystery Series