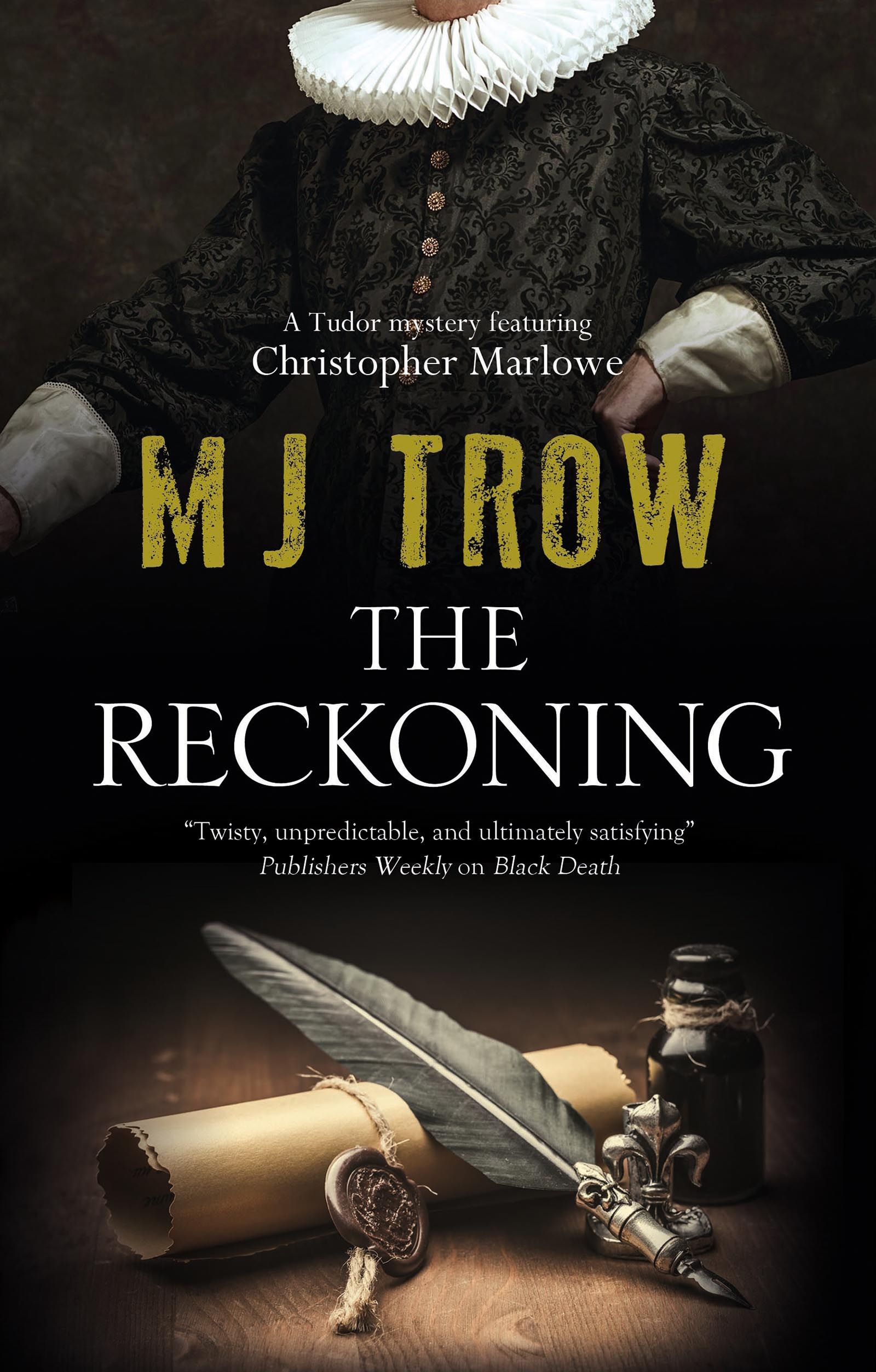 The Reckoning
by M.J. Trow
"Trow goes out on a high note with his sterling 11th and final mystery starring English playwright Kit Marlowe … Trow reinforces his place at the top of the Elizabethan mystery subgenre" – Publishers Weekly Starred Review

The inaugural performance of Christopher Marlowe's controversial new play is marred by sudden, violent death in this lively 16th century mystery.
December, 1592. England is entering dangerous waters as thoughts turn to the question of the ageing Queen Elizabeth's successor. Christopher Marlowe meanwhile is leading a troupe of the Lord Chamberlain's Men on tour with a controversial new play.
Marlowe expects his latest play, Edward II, to ruffle feathers. What he doesn't expect is it to lead to is sudden, violent death. The morning the tour is due to begin, the newest member of the cast is found stabbed to death in the local brothel. And when a second murder, and then a third, disrupt rehearsals for the inaugural performance in the Great Hall at Scudbury Manor, it becomes clear that someone is determined to prevent this play from being performed – at any cost. But who … and why?
Reviews
"Trow goes out on a high note with his sterling 11th and final mystery starring English playwright Kit Marlowe … Trow reinforces his place at the top of the Elizabethan mystery subgenre"
Publishers Weekly Starred Review
"Vividly evokes the Tudor era … Subtle humor, colorful characters, and a shock ending are all on display in abundance"
Booklist
"Readers will find themselves intrigued by Trow's fine tale, which is full of ribald humor, high-spirited adventure, intriguing twists, and realistic period ambience"
Booklist on Black Death
"Atmospheric ... This is a strong entry in a series that's gotten better with each book"
Publishers Weekly on Black Death
"Twisty, unpredictable, and ultimately satisfying"
Kirkus Reviews on Black Death
"A rich and imaginative storyline, leavened with humor ... at the forefront of Tudor historicals"
Publishers Weekly Starred Review of Queen's Progress
"Realistic period details, a lively and often humorous plot, and a dashing and likable hero ... Another engaging entry in this fine historical mystery series"
Booklist on Queen's Progress
"Fascinating period authenticity, a crackling plot, strong characters, and plenty of twists. Must reading for devotees of Elizabethan crime"
Booklist on Eleventh Hour
Editions
The Reckoning by M.J. Trow is available in the following formats
| | | | | | |
| --- | --- | --- | --- | --- | --- |
| Hardback | 9781780291291 | 7th July 2020 | 146 X 222mm | 208 | $28.99 |
| Hardback | 9781780291291 | 31st March 2020 | 146 X 222mm | 208 | £20.99 |
| Hardback | 9781780291291 | 7th July 2020 | 146 X 222mm | 208 | $28.99 |
| Hardback | 9781780291291 | 31st March 2020 | 146 X 222mm | 208 | £20.99 |
| Ebook | 9781448304240 | 1st May 2020 | N/A | 208 | $14.99 |
| Ebook | 9781448304240 | 1st May 2020 | N/A | 208 | £12.99 |
| Ebook | 9781448304240 | 1st May 2020 | N/A | 208 | $14.99 |
| Ebook | 9781448304240 | 1st May 2020 | N/A | 208 | £12.99 |
| Hardback - Large Print | 9781780291659 | 27th April 2021 | 144 X 221mm | 288 | $36.95 |
| Hardback - Large Print | 9781780291659 | 26th February 2021 | 144 X 221mm | 288 | £22.99 |
| Hardback - Large Print | 9781780291659 | 27th April 2021 | 144 X 221mm | 288 | $36.95 |
| Hardback - Large Print | 9781780291659 | 26th February 2021 | 144 X 221mm | 288 | £22.99 |
| Paperback | 9781780296999 | 26th October 2021 | 140 X 215mm | 208 | $17.95 |
| Paperback | 9781780296999 | 26th August 2021 | 140 X 215mm | 208 | £12.99 |
| Paperback | 9781780296999 | 26th October 2021 | 140 X 215mm | 208 | $17.95 |
| Paperback | 9781780296999 | 26th August 2021 | 140 X 215mm | 208 | £12.99 |
| Format | ISBN | Publication Date | Dimensions | Pages | Price |
The Kit Marlowe Mystery Series