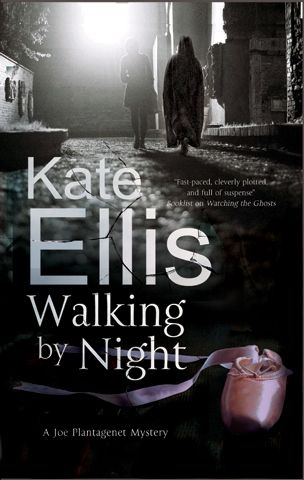 Walking by Night
by Kate Ellis
A missing body, a ghostly nun, a heretical play . . . Detective Inspector Joe Plantagenet investigates a mystery where nothing is as it first appears.
Taking a shortcut home beneath the ruined abbey in the centre of the city, a teenage girl reports stumbling across a body. She also claims to have seen a mysterious nun-like figure watching her from the shadows. But during the subsequent search, no body is found.
The girl's inebriated state and her troubled history make the police sceptical, and only Detective Inspector Joe Plantagenet is inclined to believe her. Then a woman is reported missing, and Joe finds himself caught up in a complex investigation involving a production of The Devils at the local Playhouse. Could the play, with its shocking religious and sexual violence, have something to do with the woman's disappearance? Nothing is as it first appears.
Editions
Walking by Night by Kate Ellis is available in the following formats
Hardback

*

9781780290737
1st June 2015
141 X 222mm
224
$28.99
Hardback

*

9781780290737
27th March 2015
141 X 222mm
224
£20.99
Ebook

*

9781780106434
1st July 2015
N/A
224
$14.99
Ebook

*

9781780106434
1st July 2015
N/A
224
£12.99
Paperback
9781780295565
1st December 2015
138 X 216mm
224
$28.99
Paperback

*

9781780295565
30th September 2015
138 X 216mm
224
£13.99
Format
ISBN
Publication Date
Dimensions
Pages
Price
* Out of print
The Joe Plantagenet Mystery Series