A Sneak Preview of the Thrilling New Instalment in Humphrey Hawksley's Rake Ozenna Series
by Severn House on 11 May 2022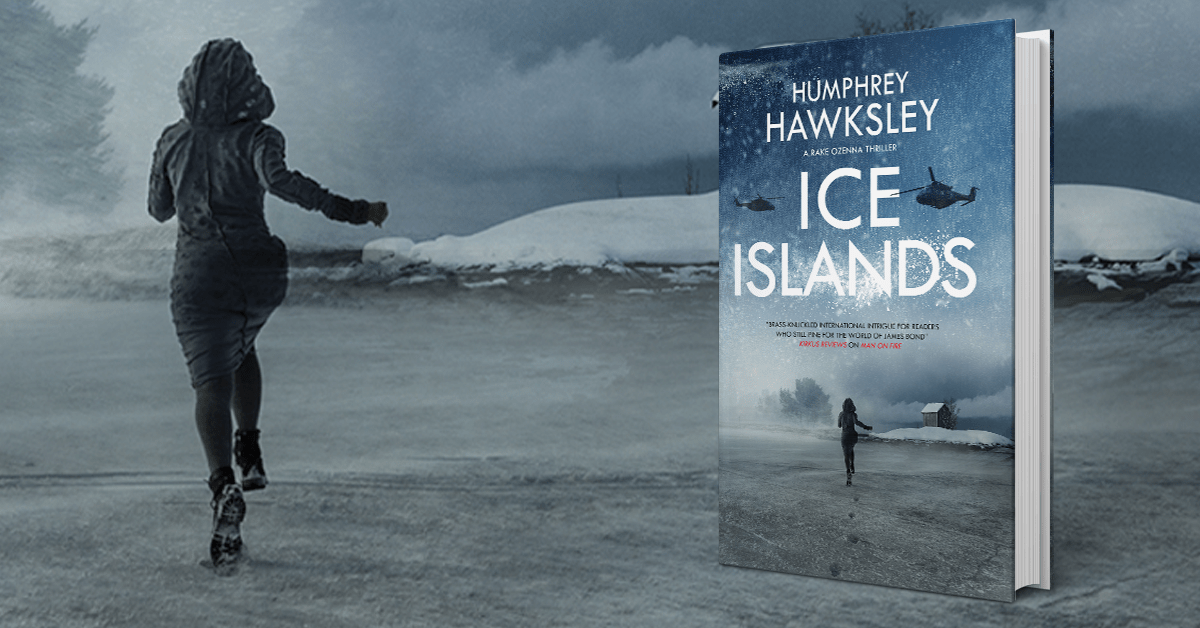 Humphrey Hawksley returns with the fourth book in his gripping Rake Ozenna political thriller series with Ice Islands.
Major Rake Ozenna's mission is simple: gain access to the Kato family – Japan's most dangerous crime empire. But when the son of the Russian leader is executed and Rake's target, Sara Kato, is implicated in the murder, a political crisis between Russia, Japan and the US is set in motion.
It's a race to protect Sara and earn her trust whilst escaping the inhospitable terrain of the icy Aland Islands. Meanwhile, Russia wants revenge for the murder, a catastrophic move when it is revealed that Japan is not the trusted ally America thought it was.
As Rake learns the true extent of their deadly plans, he must draw on every ounce of his training to succeed. Because if he fails, it won't just be his life that will be lost . . . the consequences will be global.
Read on for a sneak preview from the prologue of Ice Islands.
---
PROLOGUE
Tokyo
She was out, clear of the death house. She had to get away. Completely. Long distance. Free from dread. From guilt. From paralyzing fear. An airport. Another country. Sara Kato rode in the back of one of the family sedans, her brother Michio beside her, window down, city noise in her ears and drizzle splattering on her face. In the bag strapped around her shoulder was her passport, credit cards, vaccination certificates, a few hundred euros and her phone from London which worked in Japan. She still had the American soldier's phone in her jeans pocket.
Shibuya's lights shone around her, massive futuristic images of gadgets, celebrities, fashion wrapped around skyscrapers. Umbrellas bobbed up and down as people ducked around each other in the rain. It would be so easy to slip away, vanish in the crowds. Easy, if she did it right.
'Why don't we walk?' she suggested. 'And I need an ATM to get some yen. I only have euros.'
'There you are.' Michio peeled off a wad. 'That'll keep you going.'
'Thank you, but no.' Sara lay a hand on his arm, trying to hide a repulsive shiver on showing any affection. 'I need to do something normal, be on the street, go to an ATM, get some money, feel people around me, feel cold.' After the horror in that stifling house, she made it sound believable. First step, out of the car. Second step, run as fast as she could.
'Of course. I wasn't thinking.' He squeezed her hand and instructed the driver to pull up. 'We'll get out here. The rain, getting a bit wet doesn't worry you?'
'It'll be refreshing.' She took her hand off his arm.
The driver turned into a narrow road and stopped behind a green taxi. Sara pulled the handle to open her door. It was locked. The driver glanced at Michio who gave a single nod. There was a click. The door opened. She gripped her bag's shoulder strap and stepped out. She drew in the bustle and buzz, eyes scanning on how best to escape. 'There's an ATM.' Michio pointed to a bank of three along the sidewalk, green and yellow lights glowing from their screens.
She saw two men ahead. She turned. Another two behind. A motorcyclist, engine running, foot on the sidewalk, looked toward her. They would be trained to stop her going anywhere. She needed to slow down and work out how to get past them.
'They're with us?' she asked.
'Sorry.' Michio shrugged. 'If you're a Kato in this city, you can't just go for a walk.' He took her arm. 'Ignore them. Come. Get your money.'
She stood in front of the cash machine, the cordon around her, taking her time, checking her PIN, her balance. Michio was a man she adored more than any other, her brother whom she trusted completely. What she had just seen shook her to the core, even though it wasn't against her. Michio was picking up as if nothing had happened, which made it worse, more confusing. She craved to understand him.
She concealed trembling, fought hard against a choking sense of more despair. She withdrew 50,000 yen. Turning to Michio, she forced a smile, 'Now, at least I can buy my big brother a drink.'
Michio led her into a tiny, winding street with poky counter bars and sushi places crammed next to each other. The same six or seven men trailed or went ahead of them. They were recognized. Bar owners bowed or raised hands in greeting. Not just to Michio, also to the men with him. They moved from place to place. One moment they were in an old red-light district of hodgepodge narrow streets. The next they were guests of honor at a bar decked out like a film set, with cameras, spotlights, fake sand dunes and thumping music.
She let Michio talk. Justifying. Explaining. Most in Japanese. Some in English. About being Japanese. Bloodlines, Family.
They kept moving from place to place, sometimes on foot to a bar or café nearby, a couple of times, a short journey by car. She lost track of where they were. She had never known Tokyo well, hadn't lived here since she was ten. The security cordon stayed. Even in the rest room, a woman appeared from nowhere to keep watch.
She tried to leave. They were perched on stools in a tiny counter bar, Michio discussing with the owner the outcome of the Pacific War. Sara touched him warmly on the shoulder and spoke in English, 'I'm beat, Michio. We both know why I can't go back to the house. You stay. I'll check into a hotel.'
Michio laid a hand on hers, gently but firmly. 'It's late. We're all tired. There's a hotel just around the corner.'
She was terrified to show anger. To survive, she had to show she supported him in his evil. She felt suffocation. Her mind didn't know where to go. Stop, she wanted to scream. Stop controlling me. Stop giving me surprises. Stop being so bloody nice.
'Let me treat you. Just tonight.' He smiled at her.
'I need to—'
'I know,' interrupted Michio. 'You need to be by yourself. You will be, and early tomorrow morning I want to show you something about our family.'
She didn't want to hear anything more about her family. Her father had banished her from Japan when she was just ten. He was a monster. She knew the Kato family were stinking rich. She had never asked details because she had never felt part of them. She had been smart enough to keep her distance, but not smart enough to stay completely away. She had come back because she loved Michio, her elder brother and her protector. Everyone needs family. Now, she had seen that Michio was a monster, too.
'Our businesses are much more than just hotels, golf clubs, airlines and karaoke joints,' Michio was saying. 'We help people all around the world. I want you to see that, then you can decide what you want to do. Let's all get a good night's sleep.'
Her hotel room was vast with a huge bed, a sunken bath, a rain shower and windows with a surround view of the city. Sara walked around and around, sinking her bare feet into the thick yellow carpet. Michio's men were outside the door. Her brother had taken the room next door with an adjoining door to hers. She knelt and lowered her head to the carpet like in prayer. She let her mind go blank for five seconds, ten, more, until she realized that Michio could be watching her every move. She tried to rid herself of the thought that he would harm her. She couldn't. She had seen his eyes, his determination, the way he wiped blood off his hand. She pushed herself up, went to the bed and, fully clothed, enveloped in exhaustion, she crawled under the covers, pulling the sheet over her head.
She pulled the American's phone from her jeans pocket and scrolled through to see how it worked. She recognized neither iPhone nor Android technology. It was something different. Surely, they could pinpoint where she was. The American had made her register a thumbprint. It worked. She remembered the four-number pass code. The screen lit. Her heart pounded as she typed out a message in capitals. HELP. She thought a moment on how to make it clearer so it didn't get lost in some bullshit American bureaucracy. She deleted it, rewrote the message and sent it.
R-A-K-E O-Z-E-N-N-A. H-E-L-P M-E P-L-E-A-S-E.
Ice Islands is released worldwide on 2nd August 2022 and is available for preorder now.
Catch Up On the Rake Ozenna Series
---