7 New Mystery Books Out Today in the US (June 2022)
by Severn House on 7 June 2022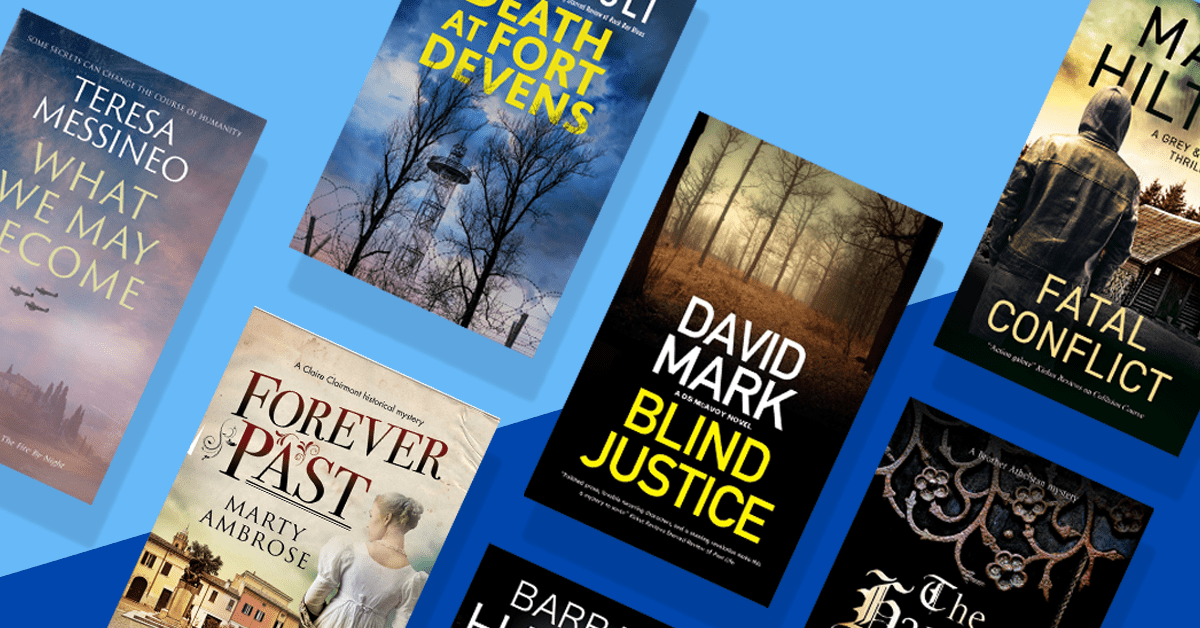 It's US Pub Day! Congratulations to these seven amazing crime and mystery books that are hitting US shelves today. Check out this collection of historical mysteries and hard-boiled thrillers.
What We May Become by Teresa Messineo
In 1945 secrets hidden at an Italian estate could prove just as vital to humanity's fate as the war efforts on the frontlines . . . if nurse Diana Bolsena can get to them first.
'A brutally atmospheric tale of the horrors of war' –Kirkus Reviews
Blind Justice by David Mark
Hull's DS Aector McAvoy investigates a deeply sadistic killer in this dark, gritty instalment of the Sunday Times bestselling, Kindle chart-topping British police procedural series.
'[Delivers] the kind of grisly torture and murder scenes that have rightly linked his work with that of Val McDermid' –Booklist
Forever Past by Marty Ambrose
Claire Clairmont's perilous quest to learn the fate of her daughter with Lord Byron enters its final stages in this last in a captivating historical trilogy based on the 'summer of 1816' Byron/Shelley group.
'Even more than the atmosphere-rich suspense, the novel's strength is in its dealing with the question that tormented Claire her whole long life: Was her reckless, passionate pursuit of Lord Byron ultimately worth it?' –Publishers Weekly
Death at Fort Devens by Peter Colt
It's a race against time to find a teenager missing on the mean streets of Boston, in this hardboiled mystery featuring Andy Roark, Vietnam veteran turned Private Investigator.
'A classical mystery with an honor-bound detective and a keen sense of place . . . Roark is genuinely likeable (not too tough, but not a patsy)' –The New York Times on Back Bay Blues
The Hanging Tree by Paul Doherty
Brother Athelstan must solve a theft from the royal treasure chamber and the murders of six executioners in this gripping medieval mystery.
'Hair-raising descriptions of life in the Middle Ages enhance a challenging puzzle' –Kirkus Reviews
Death and Hard Cider by Barbara Hambly
New York Times-bestselling author Barbara Hambly is back, with the new instalment in her critically acclaimed historical mystery series featuring talented amateur sleuth and free man of colour, Benjamin January.
'This masterly portrayal of smoldering racial tensions deserves a wide readership' –Publishers Weekly Starred Review
Fatal Conflict by Matt Hilton
Private Investigator Tess Grey comes to the aid of a pregnant teenage girl in the ninth entry in the fast-paced Grey & Villere series.
'Just right for the Hammett and Chandler crowd' –Booklist