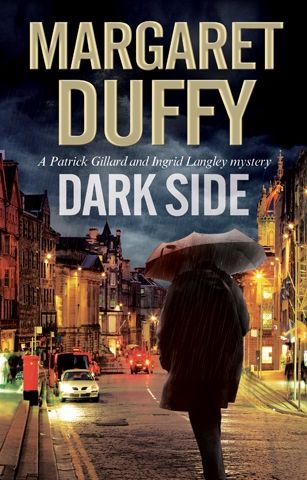 Dark Side
by Margaret Duffy
Do even the best of men have a dark side?
When several shots are fired into the bistro where husband and wife crime-fighting duo Patrick Gillard and Ingrid Langley, both of whom work for the Serious Organised Crime Agency, are meeting their boss, they discuss the shooting with their friend, Detective Chief Inspector James Carrick. Carrick was also personally attacked, several years previously, by Benny Cooper, who was eventually convicted of involvement in child pornography.
Benny and his accomplice are now out of prison, and soon the intimidation of Carrick and his family returns. When Cooper is found murdered, Carrick's bloodstained clothing, when he is found unconscious at the murder scene, makes him a prime suspect. Ingrid and Patrick take up the case, plunging themselves and their careers into grave danger. But how far is Patrick prepared to go in order to prove James' innocence?
Reviews
""This is a popular series, and it's easy to see why. Patrick and Ingrid are an excellent team, their relationship a nice mixture of personal and professional, and their stories are dramatic and exciting""
Booklist
"Gillard and Langley showcase their superspy routine well, exhibiting a bit of humor and palpable tension"
Library Journal
"An exciting combination of police procedural and thriller, Duffy again provides the daring duo with plenty of cerebral and physical challenges"
Kirkus Reviews
Editions
Dark Side by Margaret Duffy is available in the following formats
Ebook

*

9781780104812
1st March 2014
N/A
208
$10.99
Ebook

*

9781780104812
1st March 2014
N/A
208
£8.99
Paperback

*

9781847518972
3rd April 2018
140 X 215mm
208
$17.95
Paperback

*

9781847518972
31st January 2018
140 X 215mm
208
£12.99
Format
ISBN
Publication Date
Dimensions
Pages
Price
* Out of print
The Gillard & Langley Mystery Series