10 Exciting New Mysteries Out Today in the US
by Severn House on 7 December 2021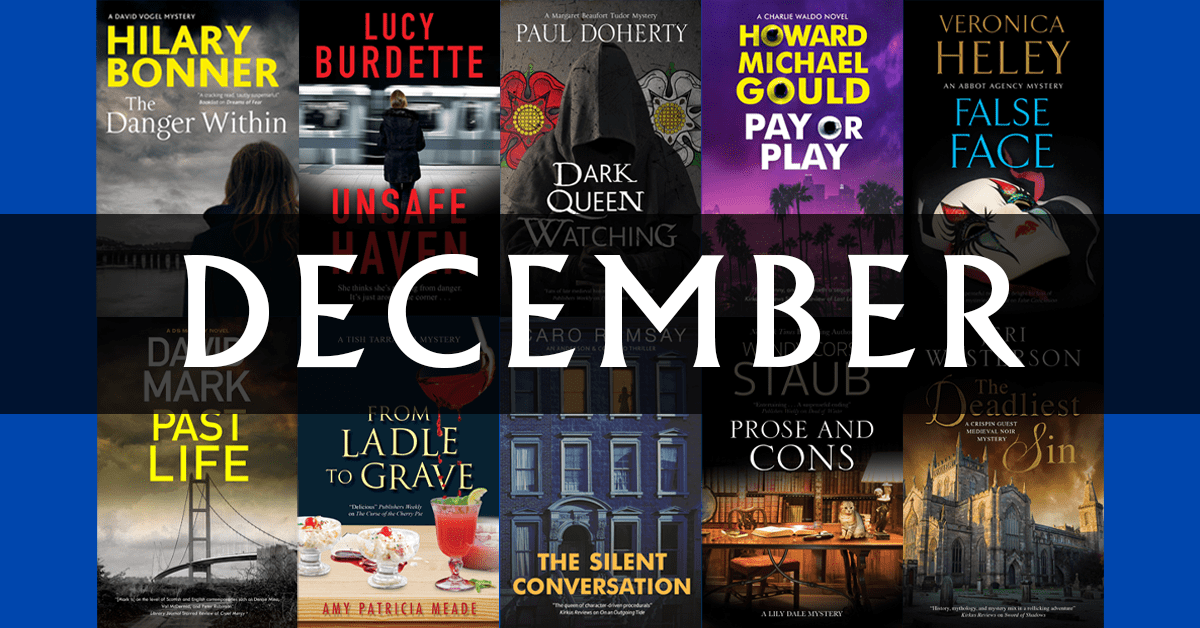 THE DANGER WITHIN by Hilary Bonner
A seemingly straightforward domestic tragedy leads to something deeper and darker for DCI Vogel and his team in this gripping police procedural.
'A crisp crime yarn: no muss, no fuss, no stone unturned' –Kirkus Reviews
'This insightful exploration of the physical and emotional toll of domestic violence will resonate with many' –Publishers Weekly
'The pacy, twist-filled narrative boasts excellent writing, vividly drawn characters, an eye-opening depiction of domestic violence, and a tragic yet satisfying ending' –Booklist
UNSAFE HAVEN by Lucy Burdette
A chance meeting on the New York subway leads to the destinies of two very different women becoming intertwined with terrifying consequences.
'Devastating, heartbreaking and completely immersive. This riveting story of fear and redemption, motherhood and second chances, and our responsibility to strangers is a  powerful thriller proving one split-second decision can change our lives forever' –Hank Phillippi Ryan, USA Today bestselling author
'A page-turner highlighting the problem of exploited runaways' –Kirkus Reviews
DARK QUEEN WATCHING by Paul Doherty
The arrival of a band of Spanish mercenaries brings new danger for Margaret Beaufort and the House of Lancaster in this richly-imagined medieval mystery.
'This entry's devious and deadly plots and conspiracies make Game of Thrones look like a game of patty-cake' –Publishers Weekly Starred Review
'A deep dive into an exciting historical period replete with action-filled sequences and nefarious plots' –Kirkus Reviews
'Historical-mystery fans and those who enjoy strong female protagonists will love this fine thriller' –Booklist
PAY OR PLAY by Howard Michael Gould
Blackmail, sexual harassment, murder . . . and a missing dog: eccentric, eco-obsessed L.A. private eye Charlie Waldo is on the case in this quirky, fast-paced mystery.
'Gould brings his story along in smart, professionally smooth prose that's a joy to read' –Booklist
'Who needs 101 possessions when you've got Waldo's savvy, grit, and luck?' –Kirkus Reviews
'Readers will want to see a lot more of the obsessively virtuous Waldo' –Publishers Weekly
FALSE FACE by Veronica Heley
Bea Abbot's newly married bliss is short-lived when she is dragged into a deadly game involving a famous actress, theft and murder.
'The urban equivalent of a British village cozy … A likeable heroine, who can play the dithery old lady while cracking challenging cases, combines with suspenseful twists, quirky supporting characters, and a satisfying ending to make this a delight for fans of British mysteries' –Booklist on False Conclusion
PAST LIFE by David Mark
DS Aector McAvoy must face the dark, disturbing secrets of his past if he's to keep his family safe.
'Polished prose, lovable recurring characters, and a stunning revelation make this a mystery to savor' –Kirkus Reviews Starred Review
'Ian Rankin fans will be pleased' –Publishers Weekly
FROM LADLE TO GRAVE by Amy Patricia Meade
Could a body found in a graveyard be linked to a tragic murder twenty-five years ago? Tish Tarragon is plunged into a new case when a fundraising dinner in the local church hall leads to a dark discovery.
'A charming cozy with plenty of suspects for the romantically inclined sleuths to winnow out' –Kirkus Reviews Starred Review
'Meade keeps the reader guessing to the end. Established fans and newcomers alike will adore this cozy' –Publishers Weekly
THE SILENT CONVERSATION by Caro Ramsay
When DNA evidence links a present-day murder to the disappearance of a young boy four years earlier, detectives Anderson & Costello are plunged into a baffling mystery.
'An intelligent nail-biter' –Publishers Weekly
'With a complex storyline and protagonists to match, this procedural-plus keeps you guessing to the end' –Kirkus Reviews
'This is both an outstanding police procedural and a complex and intense psychological cop drama, with danger and dark humor that also shows the vulnerability and resilience of human beings in the face of unspeakable tragedy' –Booklist
PROSE AND CONS by Wendy Corsi Staub
Young widow Bella Jordan investigates a mystery with a literary twist in this charming, magical small-town cozy mystery from New York Times bestseller Wendy Corsi Staub.
'Cozy fans will enjoy the company of Bella and crew' –Publishers Weekly
THE DEADLIEST SIN by Jeri Westerson
Crispin Guest is summoned to a London priory to unmask a merciless killer. Can he discover who is committing the deadliest of sins?
'An appropriate end to Westerson's series. Long-time fans will be eager to see if Crispin can triumph over the past, and anyone who enjoys medieval mysteries can follow it easily' –Library Journal Starred Review
'Readers who have followed Guest through 14 mysteries will be sad to see him go but pleased with his ultimate fate' –Kirkus Reviews