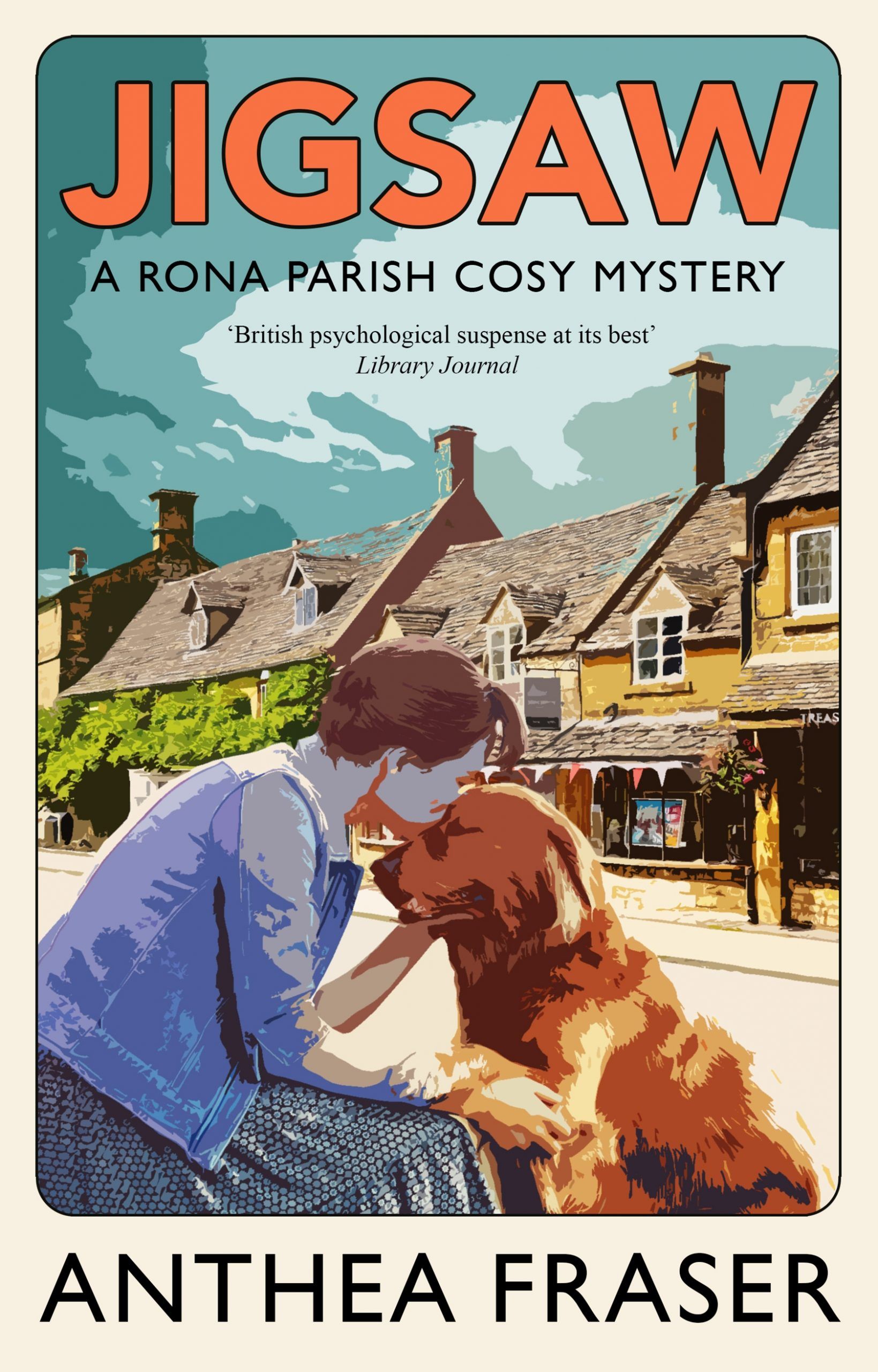 Jigsaw
by Anthea Fraser
Meet Rona Parish, a talented biographer who has a skill for writing about the past and encountering danger along the way, and her adorable golden retriever, Gus.

Rona Parish pieces together the history of a charming English town for a series of articles, but soon finds herself trying to solve a deadly puzzle.

The genteel town of Buckford is about to celebrate its nine-hundredth anniversary, and biographer Rona Parish is planning a series of articles for Chiltern Life magazine to coincide with the festivities.
Dark secrets lurk beneath the surface of this picturesque town . . .
Rona hopes to find people that are a little out of the ordinary to focus on for her project. But when she starts to explore the town and interview its residents, she quickly discovers that Buckford is anything but ordinary. Dark secrets are lurking under its tranquil exterior, including a past tragedy that continues to haunt the present, and her project soon takes a chilling twist.
Rona is thrown into danger when she delves into a shocking event from the past.
Can she put the jigsaw of clues together to reveal the truth about the past before disaster strikes again?
A page-turning cosy mystery set in the fictional English market town of Marsborough in the stunning Chiltern Hills.

Fans of M.C. Beaton, Richard Osman, Reverend Richard Coles, G.M. Malliet, Margery Allingham, Betty Rowlands and Faith Martin will love this series.
READERS ADORE RONA PARISH:
"If you like crime and mystery novels with well-drawn characters and backgrounds and interesting plots then try this series"
"I love this book series"
"Another lovely story in this series"
"Excellent"
"Clever plotting, appealing characters, and a dash of suspense make Fraser's latest a fine choice for fans of the traditional British village mystery" Booklist
"British psychological suspense at its best" Library Journal
The Rona Parish mysteries
1. Brought to Book
2. Jigsaw
3. Person or Persons Unknown
4. A Family Concern
5. Rogue in Porcelain
6. Next Door to Murder
7. Unfinished Portrait
8. A Question of Identity
9. Justice Postponed
10. Retribution
Reviews
"Clever plotting, appealing characters, and a dash of suspense make Fraser's latest a fine choice for fans of the traditional British village mystery "
Booklist
"British psychological suspense at its best"
Library Journal
Editions
Jigsaw by Anthea Fraser is available in the following formats
| | | | | | |
| --- | --- | --- | --- | --- | --- |
| Ebook | 9781780103143 | 15th July 2012 | N/A | 256 | $2.99 |
| Ebook | 9781780103143 | 15th July 2012 | N/A | 256 | £2.99 |
| Format | ISBN | Publication Date | Dimensions | Pages | Price |
Rona Parish ebooks Series