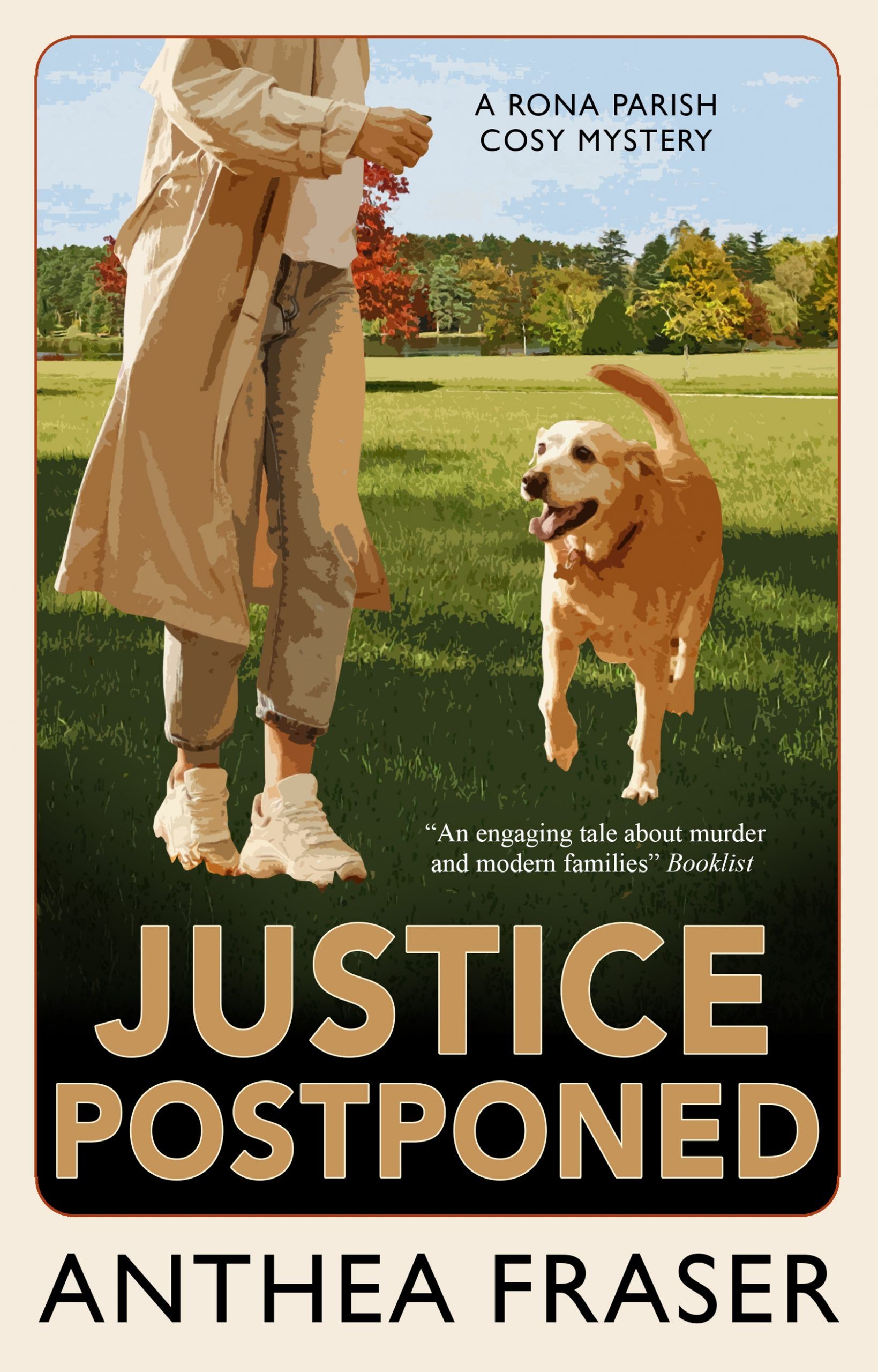 Justice Postponed
by Anthea Fraser
Meet Rona Parish, a talented biographer who has a skill for writing about the past and encountering danger along the way, and her adorable golden retriever, Gus.
When Rona Parish is asked to look into an ongoing investigation involving a car crash, she feels in over her head – she even might lose it if she isn't careful!
Biographer and freelance journalist Rona Parish has a new idea for a series in local magazine Chiltern Life: Moments That Changed My Life, featuring people with exceptional stories to tell. Her father's old friend, Frank Hathaway, witnessed the 1990 invasion in Kuwait. A great first story!
Frank Hathaway led an interesting life, but not all of it was pleasant . . .
After meeting Frank, Rona discovers that his life contains a series of dark streaks too, including his recent failed rescue attempt following a stranger's car accident.
Rona Parish is determined to bring the culprits to justice, but at what cost?
Frank, suffering from flashbacks, remembers details about the crash that suggest it might not have been an accident after all, and his son Steven appeals to Rona to look into the fatal incident. Not knowing what to expect, Rona soon finds herself drawn into another gripping mystery . . .
A page-turning cosy mystery set in the fictional English market town of Marsborough in the stunning Chiltern Hills.

Fans of M.C. Beaton, Richard Osman, Reverend Richard Coles, G.M. Malliet, Margery Allingham, Betty Rowlands and Faith Martin will love this series.
READERS ADORE RONA PARISH:

"This is a well written novel with believable characters and a well plotted storyline with a tense ending"
"Five stars . . . always enjoyable"
"I enjoyed it immensely"
"The Rona Parish series never fails to entertain"
"An engaging tale about murder and modern families" Booklist
"Series fans will be glad to see her troubled house next door occupied by the owners at last, and to find most of Rona's family settling down" Publishers Weekly
The Rona Parish mysteries
1. Brought to Book
2. Jigsaw
3. Person or Persons Unknown
4. A Family Concern
5. Rogue in Porcelain
6. Next Door to Murder
7. Unfinished Portrait
8. A Question of Identity
9. Justice Postponed
10. Retribution
Reviews
"An engaging tale about murder and modern families"
Booklist
"Series fans will be glad to see her troubled house next door occupied by the owners at last, and to find most of Rona's family settling down"
Publishers Weekly
Editions
Justice Postponed by Anthea Fraser is available in the following formats
| | | | | | |
| --- | --- | --- | --- | --- | --- |
| Ebook | 9781780105697 | 1st November 2014 | N/A | 192 | $2.99 |
| Ebook | 9781780105697 | 1st November 2014 | N/A | 192 | £2.99 |
| Hardback - Large Print | 9780727872548 | 1st October 2015 | 143 X 223mm | 304 | $36.95 |
| Hardback - Large Print | 9780727872548 | 30th June 2015 | 143 X 223mm | 304 | £23.99 |
| Paperback | 9781847515285 | 30th January 2015 | 138 X 216mm | 192 | £12.99 |
| Paperback | 9781847515285 | 30th January 2015 | 138 X 216mm | 192 | £13.99 |
| Format | ISBN | Publication Date | Dimensions | Pages | Price |
Rona Parish ebooks Series